Gucci Group announced on Friday that its top two executives–creative director Frida Giannini and Chief Executive Patrizio di Marco–will be leaving the company early next year. The change in management comes after a period of declining sales as the pair struggled to revitalize the 93-year-old Florentine fashion house amid growing competition.
After six years at the helm, Di Marco will be replaced January 1 by Marco Bizzarri, who was named chief executive of Gucci's parent company Kering's luxury couture and leather goods division last April. Giannini, who has been chief designer for more than 10 years, will leave in February, after showing her fall/winter 2015 collection. Her replacement has not yet been announced, and the news has sparked a fervent guessing game about who will become her successor.
What went wrong at Gucci? The shakeup is a lesson in the necessity of constant reinvention in fashion as the brand hadn't balanced its classic looks with newer, edgier designs in recent years.
Where did di Marco go wrong in his business strategy?
Di Marco's design and branding strategy had included decreasing Gucci's reliance on the double-G logo: "If you use the logo as if it were the only thing you've got, it's wrong," he said in a recent interview. He also raised Gucci's average handbag prices in attempt to win back a high-end consumer base, whose loyalty to the brand had flagged after it began offering a broader range of prices in effort to cater to a wider audience.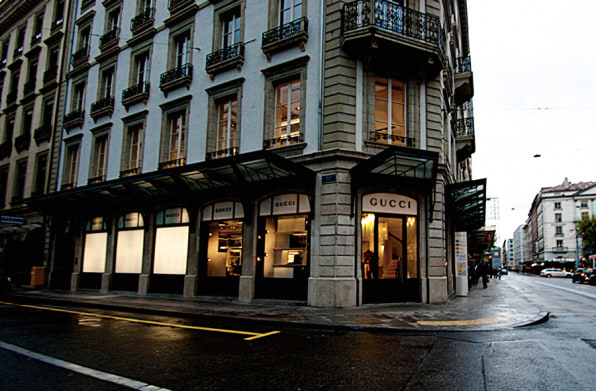 But because the brand had offered lower price points before di Marco's strategic price hikes, the Gucci logo stopped carrying the luxury cachet it once had, and it's hard to regain an aura of exclusivity once it's lost. (It's a lesson Coach has learned the hard way as well.) Despite di Marco's efforts, Gucci, which accounts for nearly 30% of Kering's overall revenue, experienced a 4.5% decline in revenue in the first half of 2014, down to €1.7 billion ($2.12 billion), and then a 1.6% year-over-year decline in revenue in the third quarter. This decline reflects a larger trend of decelerating global sales in the luxury accessories market: sales of handbags and shoes grew by 7% in 2013, compared with 16% in 2012. They're expected to rise just 5% this year, the Wall Street Journal reported in October. It's not unique to Gucci: every major luxury goods maker has been suffering from "the worst spending slump in five years," as Business of Fashion reported.
Where did Giannini go wrong in her designs?
Giannini's designs often drew inspiration from Gucci's almost century-long archive. She revived the Jackie handbag, named after Jacqueline Kennedy Onassis, with ads featuring Kate Moss. Then there was her relaunch of Flora, a floral print designed in 1966 for Princess Grace of Monaco. By hiring artist Kris Knight to reinterpret the print, Giannini gave Flora an updated, contemporary spin. But while it reiterated Gucci's status as a classic brand, Giannini's design strategy had started to become stale. Simply recycling old designs didn't give the company an edge over labels like Bottega Veneta, Kering's most upscale leather-goods brand.
"Clearly, they haven't been able to excite consumers enough," Exane BNP Paribas analyst Luca Solca told the "But it's good news for the company. The firm needs a new start to remain competitive."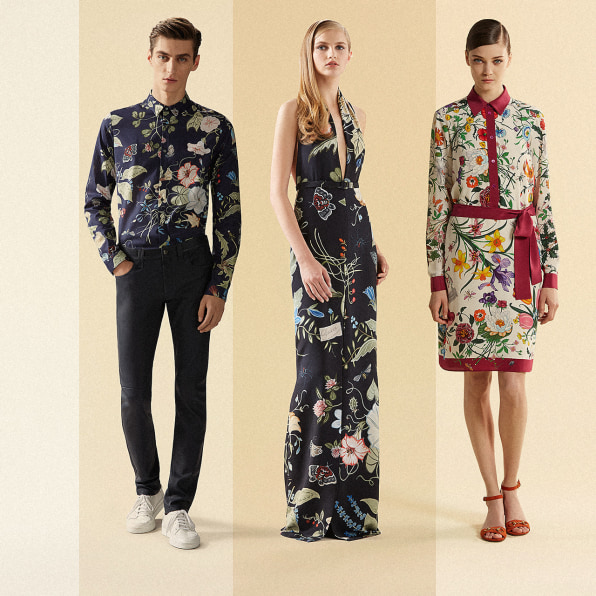 What's next for Gucci?
It's unclear as of yet exactly what Gucci's new start will look like, but Kering's chairman and CEO, Francois-Henri Pinault, said there will be "no change in terms of strategic approach for Gucci. We will continue to pursue the implementation of the brand elevation strategy." This strategy doesn't necessarily address Gucci's deeper identity crisis, though–is the brand classic or edgy? Solving that issue will largely be up to the as yet unnamed new creative director.
Gucci has high hopes for Bizzarri as the company's new CEO. Bizzarri first joined Kering in 2005, as president and chief executive of Stella McCartney. In 2009, he became CEO of Bottega Veneta, which subsequently "enjoyed one of the most exceptional growth stories in the luxury industry in the past decade," as Thomas Chauvet, luxury analyst at Citi, told Women's Wear Daily. Kering hopes Bizzarri will grace Gucci with a similar reversal in fortunes.
Di Marco and Giannini's exit isn't as sudden as it might seem, analysts say–it's symptomatic of fashion's out with the old, in with the new pattern. "This was a change that was a long time in the making," analyst Luca Solca, managing director of equities and head of luxury goods at Exane BNP Paribas, told Women's Wear Daily. "Di Marco and Giannini have presided over Gucci for a whole era, taking it to new heights. It is in the nature of the business that managers go, and brands remain. Gucci is one the most prominent luxury mega-brands. It will benefit from new ideas and fresh energy. The key to stay relevant in luxury goods is continuing reinvention."