Now, the ICP's devotees have inspired the world's first Juggalo-themed art exhibition, called Where the Juggalo Roam, on view until December 20th at Start Gallery in Detroit.
The works are comprised entirely of oil paintings by British artist Lucy Owen, who immersed herself in juggalo culture for several months after learning of Insane Clown Posse for the first time last year. She would soon find herself drawing unlikely inspiration from the band–not just visual fodder for her paintings, but ideas on how to live one's life, too (although she's still not sure how magnets work).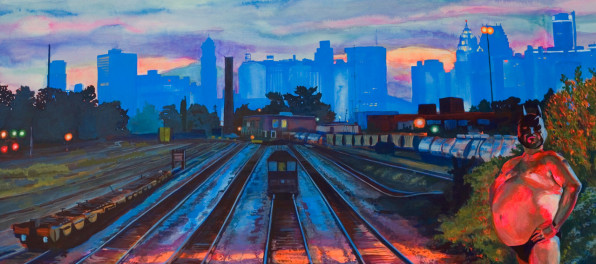 "I was online one day, and saw a self-proclaimed juggalo getting tons of abuse from posters on a forum," Owen tells Co.Design. A bit of online research revealed "widespread mockery" of juggalo culture. "It was like watching poor little fat kids get bullied on the playground," she says.
Owen started to listen to ICP and Twiztid, the band's proteges, to better understand this killer clown band's cult following and its haters. While she found some of their violent lyrics hair-raising (a random sampling: "I'm hating sluts/Shoot them in the face, step back and itch my nuts"), she decided she had to come to America "to see some real live juggalos." Off she went to The Gathering, a three-day festival in Detroit.
Though she was initially terrified ("What if the juggalos turn on me?"), Owen ultimately found The Gathering "magical." "They were lovely," she says. "Everyone was deeply charming and polite and respectable. I was impressed–that wasn't the case at more mainstream music festivals I'd been to."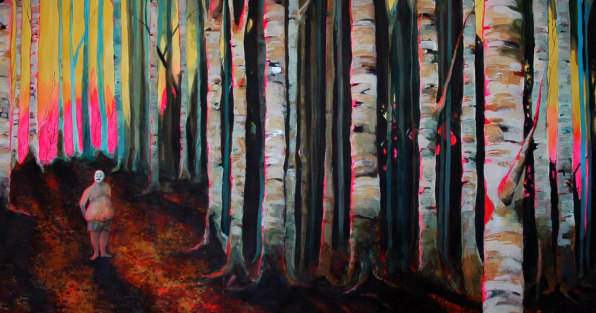 The paintings in "Where the Juggalo Roam" resulted from Owen's experience becoming not a full-on juggalette, but what she describes as "a friend of the family." They portray these maligned, deliberately clownish characters in a fantastical but humanizing light.
"As a creative person, I learned a lot of things from Twiztid and Insane Clown Posse's business model," she says. Theirs is a business strategy that flies in the face of hard-sell, self-promoting models most pop stars use. Here you have two guys from financially depressed backgrounds in Michigan–known as Violent J and Shaggy 2 Dope–who have openly called themselves "The least talented band in the world," a designation Owen disagrees with. They disturb and disgust people, yet "they've created an empire out of nothing."
The Insane Clown Posse has sold more than 7 million releases and earns upwards of $10 million a year (insert evil clown laugh).
"The message in their lyrics and in the way they operate is to just keep trying, and not to worry if people don't like you or your work. I took a lot from that," Owen says. "It's kind of strange." It's a valuable lesson for any artist or designer, struggling and face-painted or otherwise. Owen tried to live by this sentiment while making her paintings, which draw from photographs she took at The Gathering, photographs she found online, and her imagination.
Her paintings convey the feeling of disenfranchisement common among juggalos and the strength they find in a community of like-minded outsiders. (It's a welcoming clan: according to Shaggy 2 Dope, "[Juggalos come] from all walks of life–from poverty, from rich, from all religions, all colors. It doesn't matter if you're born with a silver spoon in your mouth, or a crack rock in your mouth.")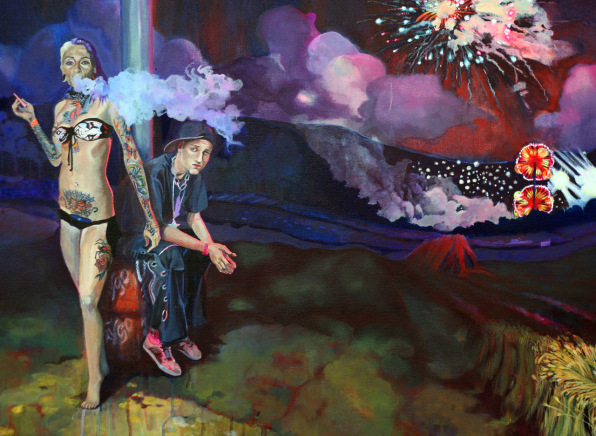 "Fuck Gainsborough," for example, is Owen's satirical take on a famous painting by Thomas Gainsborough, called "Mr. and Mrs. Andrews." Now at London's National Gallery, the original portrait was commissioned by a wealthy 18th-century British couple, meant to hang in their home "to show guests how wealthy they are," Owen says.
In Owen's painting, the wife in an expensive frock is replaced with a bikini-clad, tattooed juggalette blowing clouds of cigarette smoke, and the nobleman with his hunting dog is replaced with a disaffected juggalo in baggy black clothing, sitting on a lamppost. Instead of posing in rolling, pastoral fields, the pair stands in front of The Gathering's ferris wheel. "It's my way of putting juggalos into the art historical canon," says Owen, who studied painting at the University of Capetown. Having dabbled in gothdom in high school, Owen herself sympathizes "with almost any subculture."
While she's aware that juggalo culture is complicated and controversial, Owen suggests that the Insane Clown Posse's detractors just aren't getting the joke. Juggalos might be an easy target, but "they're self-aware," she says. "They don't seriously think The Gathering is Shangri-la. They know they're ridiculous, putting on clown makeup and dressing up and dragging sticky drink around. It's a very comedic thing." Perhaps we're all juggalos, somewhere deep down.
Where the Juggalo Roam is on view until December 20 at Start Gallery in Detroit. Click the slide show above to see Owen's paintings with her commentary on their creation.
[h/t: Vocativ]