Fluorescent-lit cubicles are so last century. The latest in corporate office design is about creating more than just a place for employees to sit and stare at their computers, and the Googles of the world aren't the only companies investing in awesome office spaces (though Google continues to build zany offices all over the world). More and more, companies are hiring designers to outfit their headquarters with sleek interiors and productivity- and happiness-boosting amenities for workers like running tracks, cocktail bars, and more. Check out some of the quirky, cool, and colorful workplaces we coveted most this year.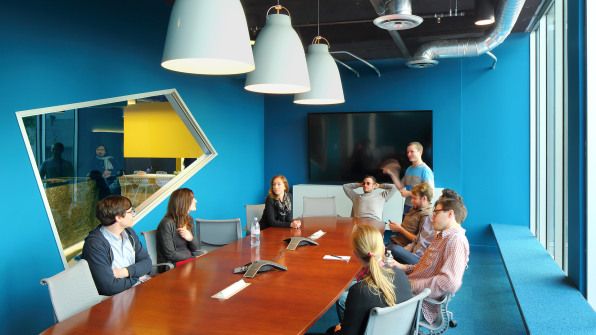 Corporate Funhouse
The new West Hollywood headquarters of comedy website Funny or Die can only be described as funhouse chic. Designed by Clive Wilkinson Architects, these offices have astro-turf-lined meeting rooms, concrete floors perfect for skateboarding, and eye-popping colors. While the whimsical decor may reflect the company's not-so-mature ethos, it does have what most fun-obsessed startups' headquarters do not: plenty of private space to work in teams or get on the phone with a celebrity.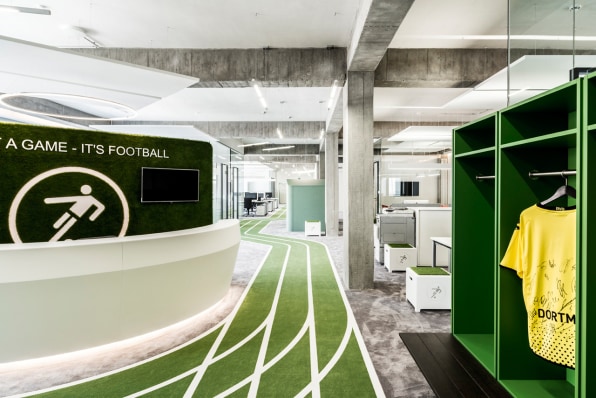 Ready For The Rat Race
A love of sport is infused into the Berlin offices of Onefootball, an app for worldwide soccer news and updates. Created by Munich-based architecture firm TKEZ, the app's home base features a running track that snakes through the 15,000-square-foot space, bookended by goal posts on either end. Adding to the sporty aesthetic are locker-room-style cabinets, stadium seating, game tactics decorating the floors, and of course, foosball tables.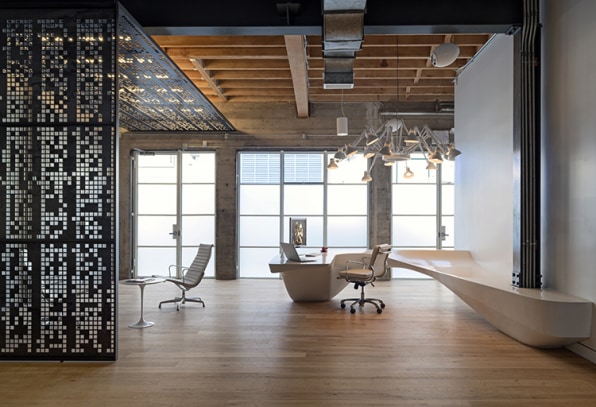 An Office For A Galaxy Far, Far Away
An office that reflects the corporate culture of a software developer is bound to get a little nerdy. For Giant Pixel's San Francisco offices, Studio O+A encoded nerdom into the architecture. The space's entryway features a perforated-steel screen that spells out the opening crawl from Star Wars (A long time ago in a galaxy far, far away…) in binary code. But even nerds sometimes need to get their drink on, so the office also has a basement speakeasy with a full cocktail bar.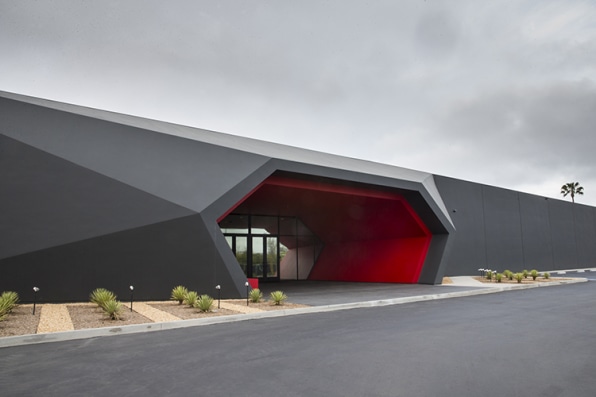 Chasing Thrills Outside The Cubicle
Motocross apparel company Fox Head's Irvine, Calif., headquarters, designed by Clive Wilkinson architects, is an 82,000-square-foot warehouse shaped like a futuristic bike helmet. Three different tracks just outside the office give employees the opportunity for a quick BMX or dirt bike break. Inside, mock storefronts allow the company to test out its displays, and an open-office plan gives workers plenty of options to escape the cubicle life.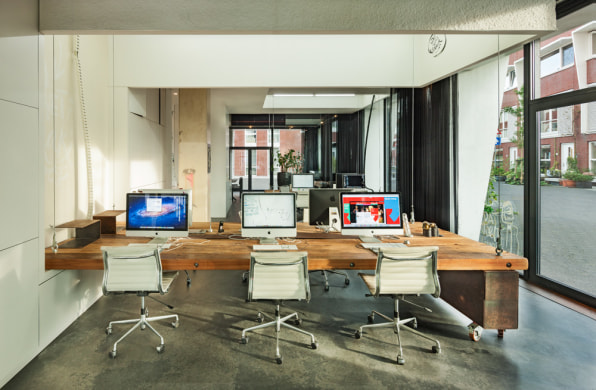 An Office That Forces You To Leave
Plenty of office workers have trouble leaving the office on time. Amsterdam-based design studio Heldergroen took on worker hours as a design challenge: at the end of the workday, the office disappears. When 6 p.m. rolls around, all the desks–computers and paperwork included–get pulled up into the ceiling via steel cables designed for theater productions.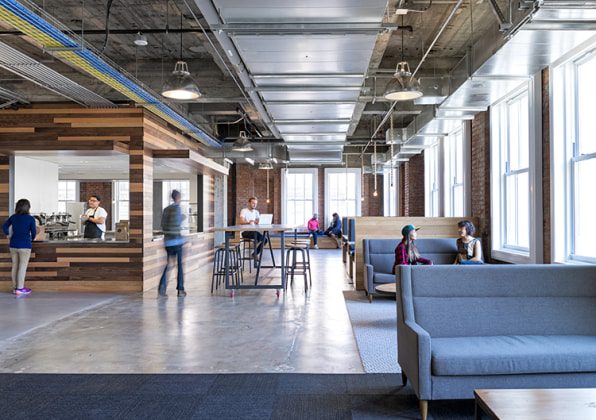 Yelp's Historic Move
Yelp's new San Francisco headquarters take up 13 floors of the historic Pacific Telephone Building, remodeled by prolific office designers Studio O+A. A historic staircase connects employees across all 12 floors, with the reception area on the ninth floor to ensure people actually circulate. Old-timey general store decor pays tribute to the vintage architecture.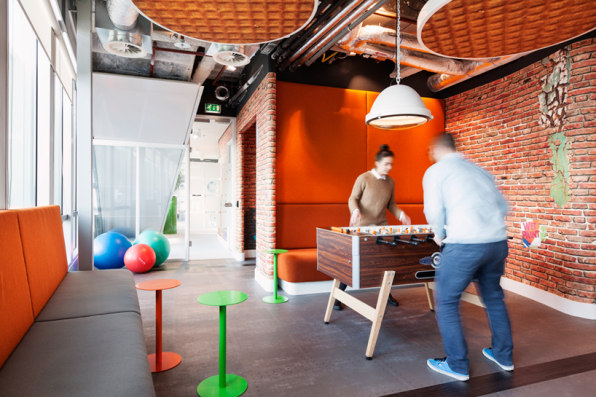 Going Dutch
Google's Amsterdam digs, designed by local studio D/DOCK, are perfectly crafted for a Netherlands outpost of the web giant. Stroopwafel ceiling tiles, meeting rooms carved out of 1960s caravans, and neon signs lend the offices an undeniably Dutch touch of whimsy.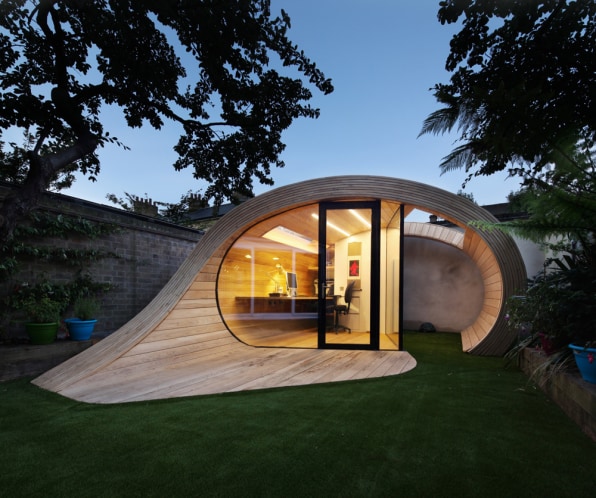 Working From Home The Right Way
For those who don't report to headquarters every day, this gorgeous home office will make you swoon. Designed for a London backyard by the architects at Platform 5, the curved timber structure is the perfect home office not-too-far from home.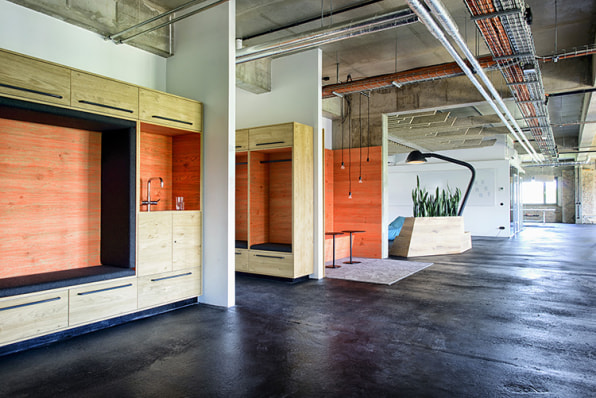 Resorting To Work
Soundcloud's Berlin offices, housed in Google-funded startup incubator The Factory, are just as swank as you'd expect from a startup with millions of users and millions more dollars in valuation. A library, indoor garden, yoga room, soundproof nap room, and a tech-free zone complete with a wood-burning fireplace make this the most relaxing office around.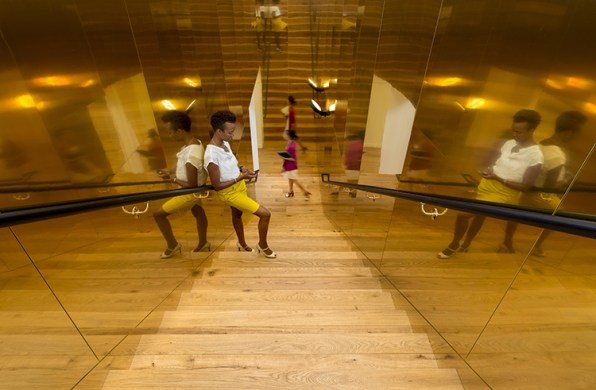 Offices By Dre
The design of Beats By Dre's Culver City headquarters proves that not everything Apple touches turns to all-white minimalism. Los Angeles-based architect Barbara Bestor turned what was once the home of a Southern California dental equipment manufacturer into a bright office space complete with op-art wallpaper, a brass-lined staircase, and brightly colored nooks. Beats Music and Beats Electronic employees have their choice of workspaces that range from simple and peaceful to full-on daytime disco.