Posting an attendant in a McDonald's bathroom. Showing up to a no-name band's gig with a group of fans who somehow know all the words to its songs. Riding the subway without pants.
These were the types of spontaneous performances that Improv Everwhere concocted when it started in 2001. "The agents were in their street clothes, had no plan of action, and possessed no props to aid their cause," explained one description of an early prank. "But this is Improv Everywhere, right? We don't need things like 'props,' 'costumes,' 'scripts,' or 'game plans'."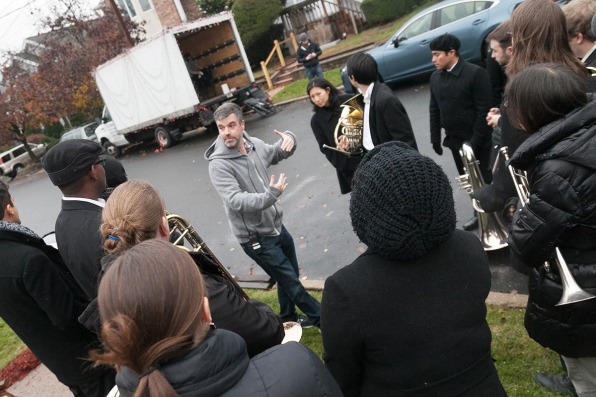 Back then, Improv Everywhere's public presence was a GeoCities site that documented pranks in blog form. Charlie Todd, Improv Everywhere's founder, could not have foreseen that YouTube would be born in 2005 or that his project would go on to amass 1.7 million subscribers on that platform. Or that 13 years after the no-pants subway ride began with eight friends and a camera hidden under a magazine, it would become an annual stunt in over 60 cities around the world. This year, about 4,000 people participated in New York alone.
Improv Everywhere has, in short, become big business. Videos created by Improv Everywhere now cite producers, photographers, and production assistants in the credits. There's an Improv Everywhere documentary. An official book. An NBC TV show pilot (it was not picked up). An online merch store. And far from having no props and no game plan, some projects from the company (Todd incorporated in 2012) now have the luxury of big budgets from big brands.
Target sponsored its latest project. It involved a 20-person orchestra, 13 singers, four Santa Clauses, two snowmen, a production company, and a quaint home in the New Jersey suburbs that belongs to one of the video producer's grandmothers.
When I arrive several hours before the prank, a surprisingly epic Christmas carol, grandma's yard has already been re-landscaped and lined with conspicuously neat Christmas lights. Her backyard has been co-opted for crew headquarters, with a heated tent housing cold catered pasta, and her basement has been converted into a mission-control headquarters complete with video feeds from the six cameras posted outside.
Todd recruited families in the area using the 65,000 email addresses he had collected from Improv Everywhere fans in the New York City area, and he chose five to participate. The mothers in each family are in on the prank, and have told their children and husbands that they're going to the house to have a family photo taken. As they walk inside, the band huddles in a white moving truck parked across the street (the one with the least graffiti available, I'm told). The "photographer" tells the family he's waiting on a battery delivery and, would they answer the doorbell if it rings?
The doorbell, of course, rings. A small group of suspiciously talented carolers dressed in Victorian era costumes begins to sing. Then a larger group of singers, wearing alternating green and red sweaters, joins them. Tuxedoed men and women with brass instruments creep out of the truck and set folding chairs on the lawn. A soloist emerges from the crowd. Finally, dancing Santas—complete with foam bellies—and snowmen joyfully toss fake snow like it's their job (which, considering they are being paid to do so, it is).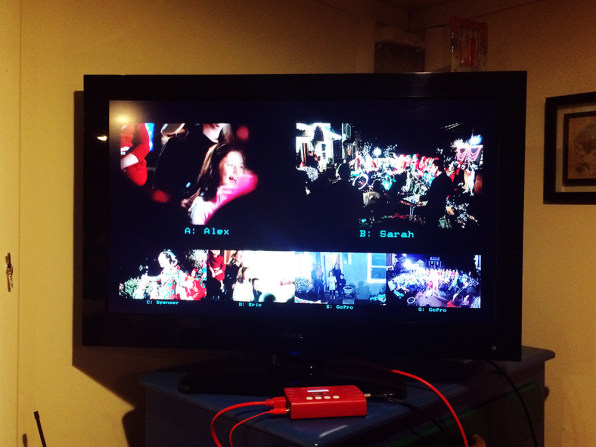 This spectacle is not anywhere near as simple as riding the subway without pants or getting 100 people to show up at a Best Buy dressed as employees (another Improv Everywhere prank). It is the most Christmas-y of a Christmas scene that money can buy, set on a random street in New Jersey.
One young girl, upon the orchestra's arrival, covers her ears. Some family members just look confused. But Improv Everywhere has their bases covered. They've invited multiple families to run through the prank, with enough time to clean up the fake snow between each act; it's not devastating if someone messes up the magic or is not appropriately delighted. One family, they hope, will have the right reaction to make a good final video. And just in case, producers ask the families to act out their surprise again after the prank wraps.
Todd, who founded Improv Everywhere when he was 22, still does mostly low-budget "missions" with only one take. This summer, for instance, he turned a hot subway platform into a "spa" complete with infused water, towels, and hot-stone massage. But he also produces stunts for organizations like TED and other festivals, and is frequently contacted by brands to produce videos like this one. "I realized at a certain point that this thing I've been doing for fun is what I do now," he says. "It just snowballed and got to the point where I don't want to audition for somebody else's thing, because I'm doing this thing, and I like it. And it did turn into a business."
He's careful not to turn a commercial-scale production into a typical commercial. For the epic carol, the soloist sang "A Marshmallow World," the song Target features in its holiday campaign this year. Aside from that, and a note at the end of the video that Target sponsored the stunt, it's about all you'll notice of the brand. Todd says the key, even in his paid ads, is to simply "surprise and delight."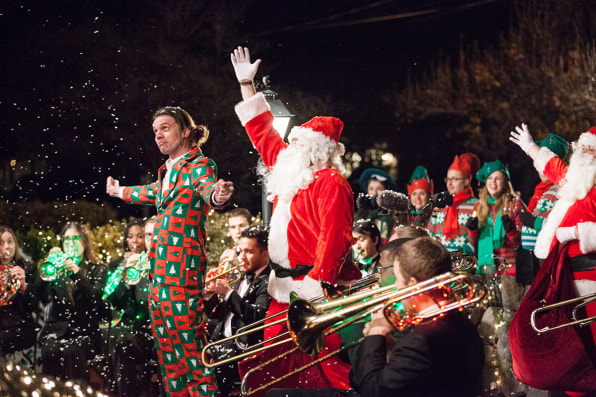 It's also the goal of his clients, and, in some cases, the word-for-word phrasing of their marketing-approved mantras. "Target is a brand that looks to surprise and delight our guests. It's something we pride ourselves on," Dustee Jenkins, Target's VP of PR and social media, explains over the phone. Yahoo, another of Improv Everywhere's brand clients, has hit the "inspire and delight" line so hard that it has begun to sound like a broken record.
They're not alone. Facebook, Twitter, and Apple, have also proclaimed their missions to "delight," leading New York Magazine to declare that "magic is out, and "delight" has taken hold." Add this trend to the list of things that Improv Everywhere could not have anticipated would one day work to its advantage.
"I feel like a lot of people like that phrase," Todd says. "But we've been doing it for a long time."