You could sift through piles of dense data sets in an attempt to understand the trends and discoveries that emerged in history, psychology, current events, and even fictional dragons in 2014. Or you could look at these infographics, which visualize otherwise overwhelming data as beautiful charts, graphs, and maps. Co.Design's Infographic of the Day series regularly showcases the best in data visualization, and this past year saw many stellar examples of the power of the well-designed visualization to illuminate information about nearly any subject, from the serious (the daily activities of Congress) to the frivolous (a visual compendium of the world's best dogs). We couldn't resist promoting Co.Design's own in-house data visualizations: the Great Wheel of Food Mashups and a map of each U.S. state's weirdest eating patterns (we're a bit food-fixated, apparently). Here, our favorite infographics from the past year.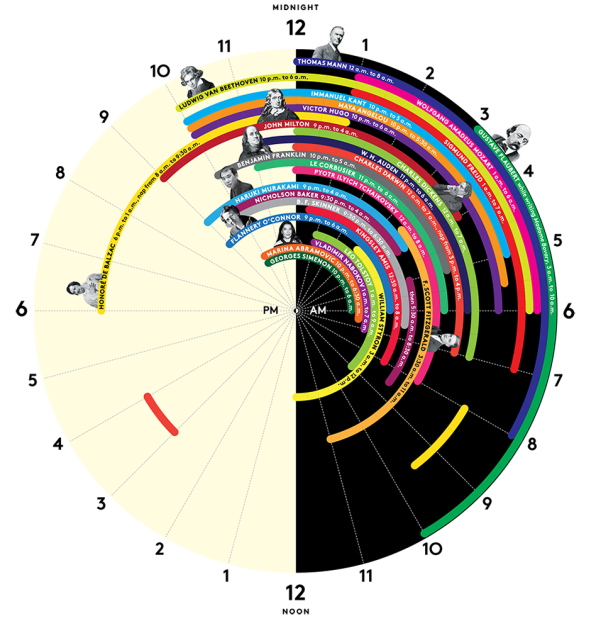 When history's greatest minds went to bed and woke up are inventively illustrated in this New York infographic based on Mason Currey's book Daily Rituals: How Artists Work. The infographic seems to debunk the myth that geniuses stay up through the wee hours working manically, and that you're more creative when you're tired—most of these 27 luminaries got a wholesome eight hours a night. The colorful infographic is cleverly illustrated as a wall clock for intuitive reading. See the full graphic here.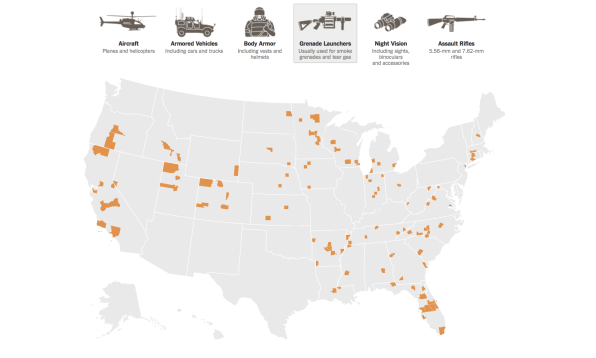 After protests of unarmed teenager Michael Brown's shooting by police officer Darren Wilson, the media was flooded with images of Ferguson, Mo., cops outfitted in camouflage and gas masks, heavily armed and standing in front of armored vehicles. It was a reminder of a disturbing truth: the majority of local police departments in U.S. counties across the country are provided with the military's surplus war gear. The New York Times received Pentagon data on all the military transfers of equipment since 2006, and mapped where their 1033 Program is sending this extra gear. This interactive map shows the number of planes, helicopters, armored vehicles, body armor, grenade launchers, night vision accessories, and assault rifles transferred to local and state agencies in each county. Explore the map for yourself over at the New York Times.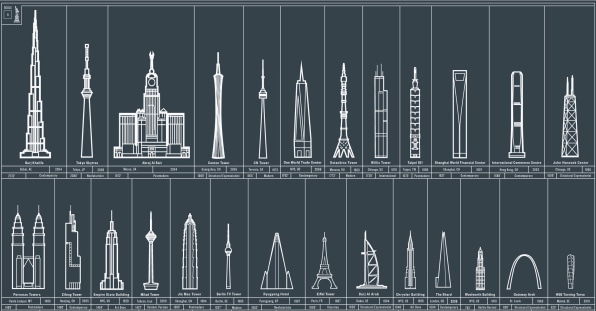 The Schematic of Structures, by the inimitable Pop Chart Lab, organizes what the designers describe as "90 eminent edifices erected and perfected throughout history." Arranged by height, the infographic lines up some of the greatest man-made structures since prehistory, from the Neolithic Cairn of Barnenez and the Parthenon to contemporary buildings, like London's Gherkin and the Burj Khalifa. The White House even gets a shoutout. Check it out here.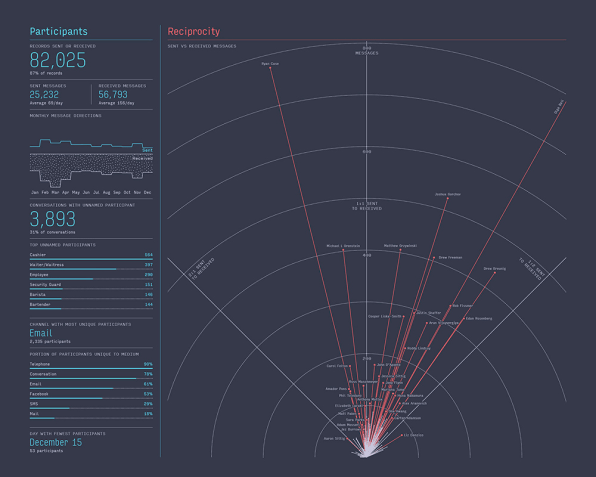 In 2013, obsessive self-quantifier Nicholas Felton tracked every last bit of communication he had: SMS, Facebook message, telephone call, email, or snail mail, as well as spoken or nonverbal acknowledgements. It added up to 94,842 interactions containing 7,673,242 words in all. The portrait that ensued is a universe of conversation that, Felton says, "overshadows the communication sphere of our ancestors." See the full graphic here.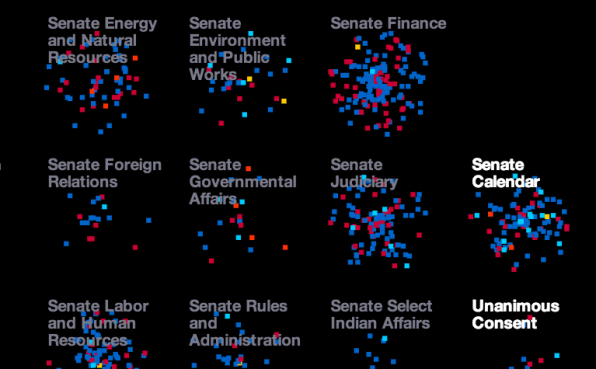 To answer that eternal question, researchers at the University of Washington's Center for American Politics and Public Policy worked with the Seattle-based design studio Schema to create LegEx, a handy visualization of Congressional lawmaking over the past 40 years. See it here.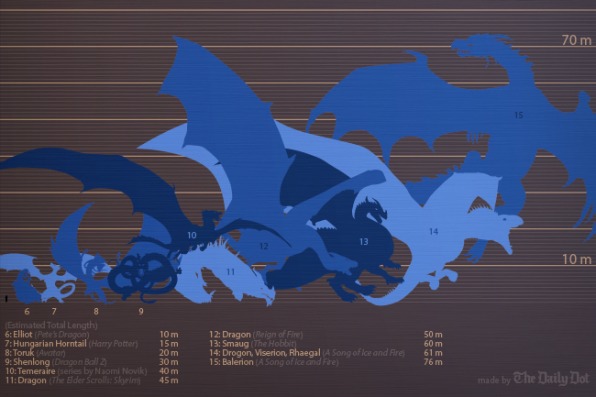 Who'd win in a fight, Smaug from Tolkien's The Hobbit or Balerion in Game of Thrones? To settle hypothetical dragon-fight scores, the awesomely geeky folks over at The Daily Dot researched the sizes of famous dragons across various fantasy universes. From Mushu in Mulan to Harry Potter's Hungarian Horntail to Shenlong from Dragon Ball Z, the dragons are ordered smallest-to-largest in a playful infographic by Max Fleishman and Fernando Alfonso III. Check it out here.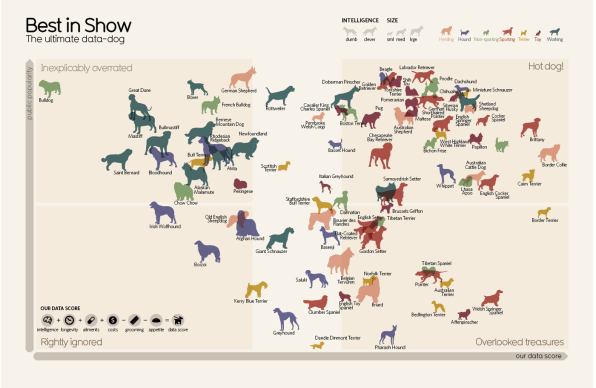 London-based data journalist and designer David McCandless has created some of the most thought-provoking data visualizations of the past decade. With this infographic, he turns his hand to a more lighthearted topic: What dog breed is quantitatively the best? Dog breeds are rated by beneficial traits (intelligence, longevity, lack of genetic ailments) and negative ones (cost, grooming, size of appetite). That's right: you didn't know being a dog was a contest, but according to math, it is.
Inspired by her work at an insect lab as an undergrad, twenty-two-year-old Seattle-based designer Eleanor Lutz visualized the flight patterns of various winged animals: bat, dragonfly, Canada goose, hummingbird, and hawk moth. Lutz examined five slow-motion videos of these creatures, then tracked the path of the articulated points on each one's wings to reveal the invisible path each wing beat traces. In the case of the hummingbird, that's as much as 200 times per second. See the animation here.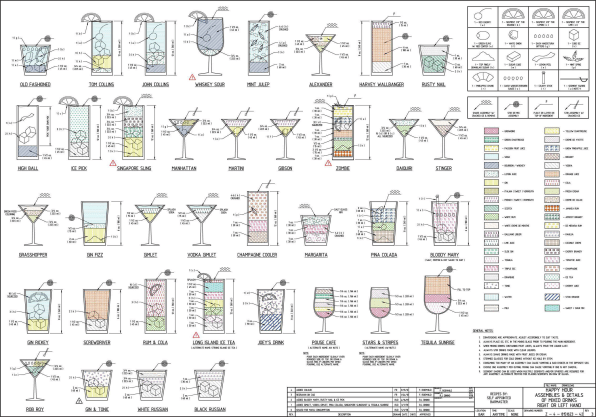 Created by engineer Shaan Hurley, CAD Drinks is an engineer's breakdown of how to make more than 70 different cocktails, from a Tom Collins to a Sex on the Beach. Divided between whiskey and non-whiskey-based cocktails, the schematics can be downloaded and opened in any AutoCAD reader. Check out the impressively thorough chart here.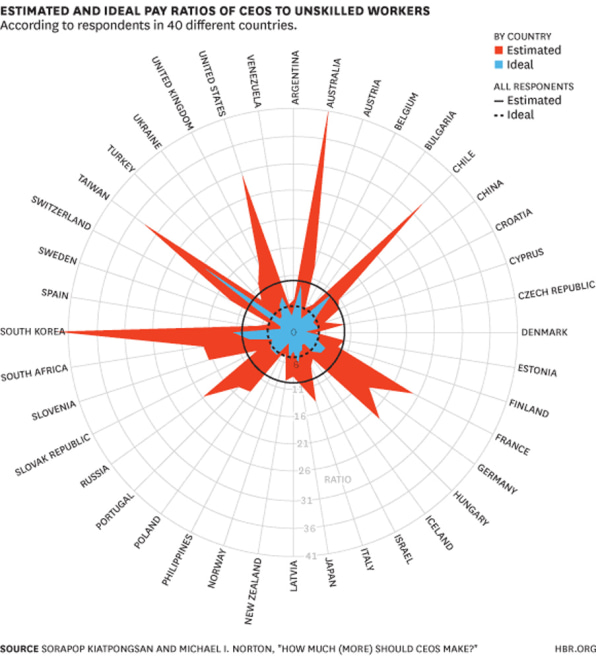 At least 99% of the 99% probably agree that CEOs earn too much money. But how much do they actually earn? To put it in perspective: the average American worker would earn almost $2 million a year if he were paid a fair salary based on the compensation of U.S. CEOs. That's just one insight to be gleaned from this Harvard Business Review visualization of the pay-gap ratio between chief executives and average workers international. Check out more of the Harvard Business Review's charts here.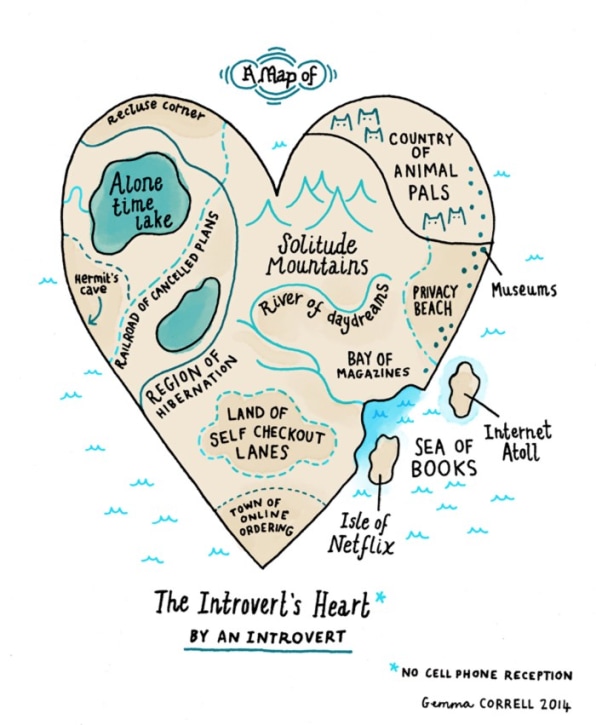 Cats. Netflix. Canceled plans. Introverts are often misunderstood by the more chipper and chatty members of society. Here to offer a corrective is illustrator Gemma Correll, a proud introvert, who has mapped out the heart of the introvert (likely while sitting in her Hermit's Cave). The whimsical hand-drawn illustration is a great visual punchline for what so many introverts know to be true but might have a hard time expressing. See it here.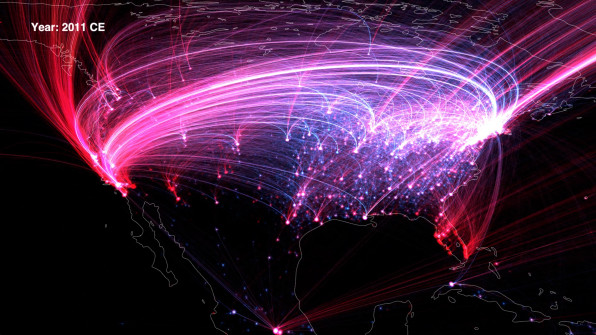 Researchers from Northeastern University mapped the dispersal of cultural history across Europe and North America, showing the peaks and valleys of cultural activity in various areas over time. They tracked where more than 150,000 European and American intellectuals were born and died over the span of the last two millennia. They then visualized the results by mapping the geographical trajectories of these artists and thinkers over their lifetime. Birth places are marked in blue; death places in red. It's a wildly engaging visualization of the world's intellectual history: as more of the world's citizens become intellectually enlightened, the map begins to literally light up.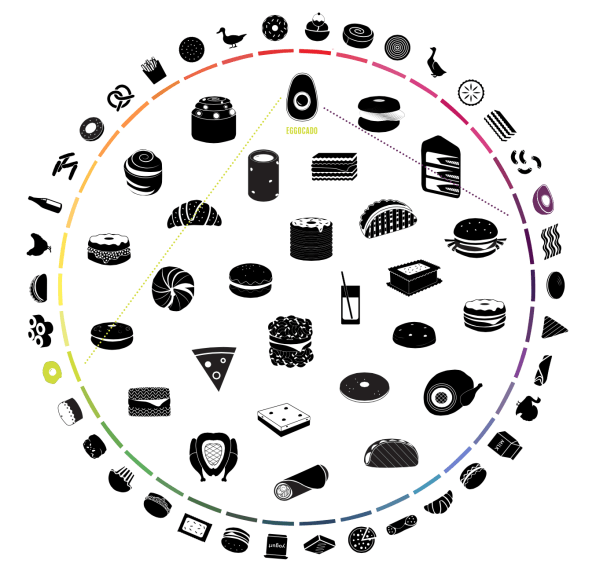 Hybrid culinary creations have gone viral in the past several years, thanks to chefs and savvy marketers mashing up our favorite foods to give the mouths of the world great two-for-one deals. Co.Design's in-house information designer, Lily Tidhar, visualized this hybrid food trend–think cronuts, Krispy Kreme sloppy joes, turduckens, and sushirittos–in an interactive wheel that reveals the strange, glorious creations you can make by mashing up different types of food. With an eye-catching, strangely addictive interface, it clearly defines all the weird portmanteaus that have cropped up along with these creations.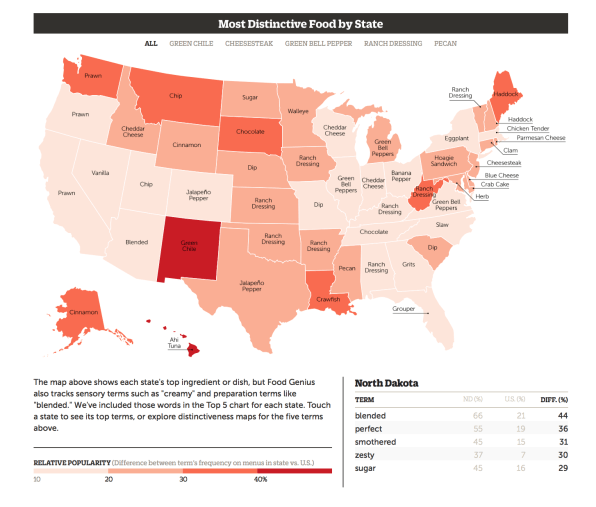 Ever wonder which eating habits seem normal in your state but might weird out the rest of the country? Co.Design's data visualizer, Gus Wezerek, and writer Mark Wilson teamed up with food industry analytics firm Food Genius to analyze its database of 88,000 menus and 59 million menu items and build this map of each U.S. state's most distinctive food. This isn' the most popular food by state–it's the food that sets the state apart from the rest of the pack, the food that's most particular to a given region. The maps also visualizes Food Genius's five most distinctive regional food trends: cheesesteaks, green chilis, green bell peppers, ranch dressing, and pecans. It's a comprehensive and often surprising visualization of states' various eating cultures.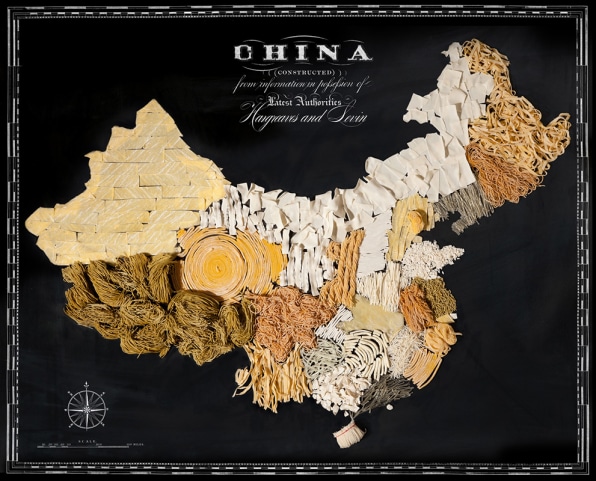 Photographer Henry Hargreaves teamed up with food stylist Caitlin Levin to create maps of countries around the world using the food they're best known for as a medium. The United States constructed from corns and grains; Japan from seaweed; Italy from tomatoes. They then photographed these colorful food maps, blurring the line between infographics and visual art.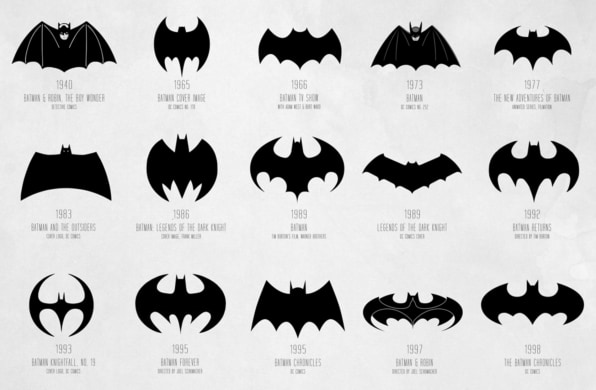 Batman's logo isn't just cool-looking. It also has a vital function: When shining on the skies above Gotham, the silhouette alerts Batman that it's time for action. How has the logo changed since Batman's creation in 1940? According to this infographic, Bruce Wayne has overhauled his alter ego's visual identity some 30 times in the past 75 years. Designed by Cathryn Laver from Calm the Ham, the graphic traces the evolution of the Batman logo from its earliest iterations in the comics of the 1940s through its use in Adam West's campy TV take in the '60s, Frank Miller's dark graphic novels in the '80s, and George Clooney in the '90s, and ends with the multimillion-dollar Dark Knight films today. It's a great visualization of logo evolution and how little design tweaks convey different aesthetics, revealing the endless possibilities for reimagining something as seemingly simple as a graphic of a bat.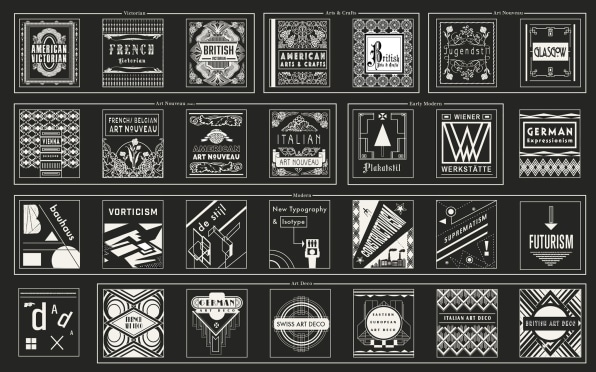 Pop Chart Lab are among the most awesomely nerdy design nerds in the field today. They show off their expertise in this poster, A Stylistic Survey of Graphic Design. The gridded, black-and-white infographic is a cheat sheet to the history of graphic design, beginning with the Victorian era and covering everything from the Modern movement (which includes Bauhaus, Vorticism, De Stijl, New Typography and Istotope, Constructivism, Suprematicsm, and Futurism) to trends of today, like flat design. The gridded timeline's illustrations offer a snapshot of each style, serving as an engaging primer for graphic design newbies or a fun refresher for the seasoned design scholar.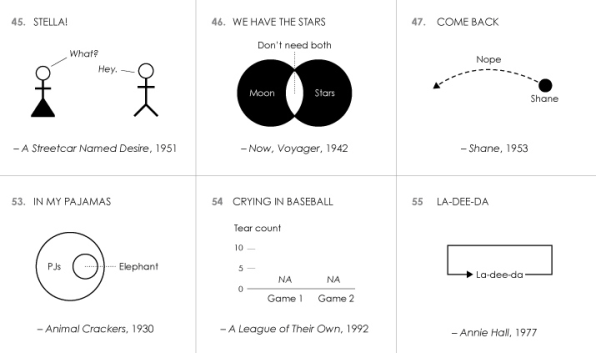 In 2005, the American Film Institute polled a jury of 1,500 film artists, critics, and historians to come up with 100 Years, 100 Movie Quotes, a list of the most memorable movie quotes in Hollywood history. Here, Flowing Data's Nathan Yau cleverly illustrated those quotes as minimalistic black-and-white graphics, using every charting technique in the book: venn diagrams, pie charts, line graphs, bar charts, flow charts, and more. These techniques aren't usually applied to mapping out sentences or dialogue, which makes the graphic all the more extraordinary.