Joe Fischer was in the middle of wedding season, and something was nagging at him. He had written his umpteenth heartfelt congratulations to the bride and groom and then watched his words get lost in an umpteenth pile of cards atop a table.
The former Wall Street vice president was struck by the idea that that if he could somehow merge the message as the gift, his sentiments would stand out. Finally, one night in the middle of a Mad Men television binge, the idea came to him: Create a card that transforms into a present.
The result is a handheld greeting cube, now branded as a Greetabl–the latest in a trendy slate of supercards. On Monday afternoon, Pixar director Brad Bird tweeted his delight with the "ridiculously elaborate and cool" animated card from Bird Box animation studio. Etsy, of course, offers hundreds of designs for handmade cards for when your love can only be expressed artisanally. It's all part of a push to put cards back into the center of the celebration, at a time when it's easier than ever to wish someone well.
"As it comes so commonplace to get 150 or 300 'Happy Birthday' messages on your Facebook wall, the value of each one of those is very small," Fischer says. "You get one card — that's something that really stands out to you."
And that is where Greetabl goes. Selling for $5 to $7 online, the cards are sized precisely so a gift card can fit into it diagonally. Or you can fill it with a few treasures–a truffle or diamond earrings, depending on your budget.
"It's just 1,000 times better to experience something in real life than in the digital world. Our fondest memories didn't take place in the digital world, neither should your best friend's birthday," says Fischer.
It took Fischer, 33, a year to make the 2.58-inch by 2.58-inch greeting boxes. He teamed up with graphic designer (and now cofounder) Zoë Scharf to take a run at the $6 billion greeting card market. While the greeting card world–like most dead-tree media–is facing challenges, Fischer and Scharf believe they've found a sweet spot in an industry that, according to industry analysts at IBISWorld, will remain flat in revenue growth as consumers turn to digital alternatives.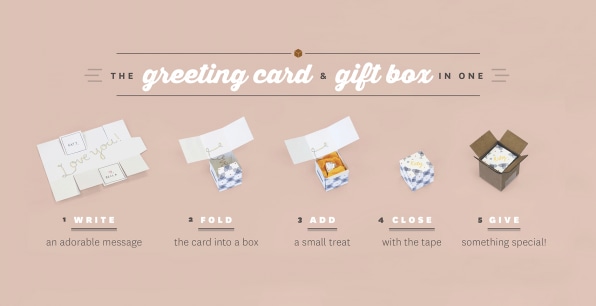 "We want to bring back the personal message, the analog, physical gift in this world of digital messaging," Scharf, 24, says. "The concept was always very clear and hasn't changed from the very first time we ever talked about Greetabl."
Once Fischer came up with the idea, he was obsessed with turning it into reality. He would lug his gym bag–a black Bear Stearns duffel bag from his Wall Street days–to Michael's craft stores, filling it with scrapbooking and craft tools he never knew existed.
After being introduced by mutual friends in November 2012, Fischer and Scharf, 24, collaborated to find the perfect combination of paper–testing out three to four dozen samples kinds–along with about 50 kinds of tape. The product debuted in December 2013. (You can buy them on their website.)
The founders knew they had something special after when they sent the first mailable prototype–fashioned from cereal boxes–to Fischer's grandmother in Washington, MO. Upon delivery, the mail carrier placed a note with the greeting cube saying, "Too Cute!"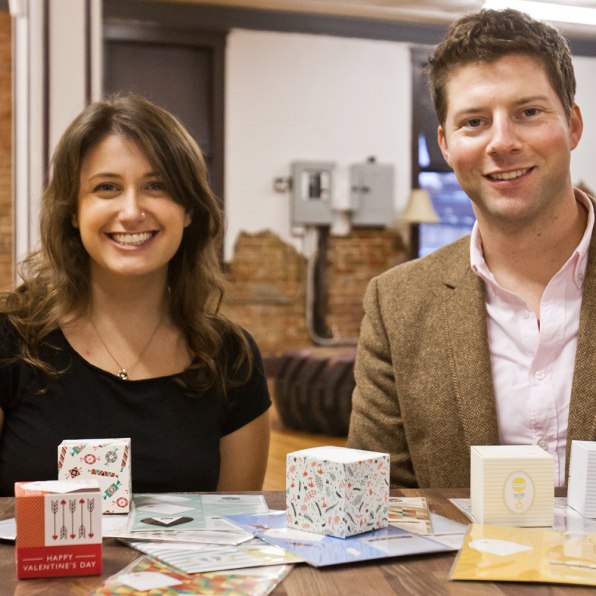 "What we've learned in the market is that people are really interested in customizing things specific to the person they're purchasing for, " Scharf says. In its report, IBISWorld says that more greeting card publishers will move toward the customization trend. And as long as consumer spending stays up, people are more likely to purchase higher-priced industry products.
The company hopes to one day feature design-your-own Greetabls with photos from Instagram or Shutterfly. (The cube is already a neatly packaged set of squares, ready for photos.)
This December, Greetabl launched of their latest product: Giftabl, a Greetabl filled with a delightful treasure and a handwritten note with the words of your choice. Among the options: "Send a friend a college party" which is filled with teeny, red Solo cup shot glasses, "Send a Friend Insanely Good Tea," and "Send a Friend a Fortune (cookie)."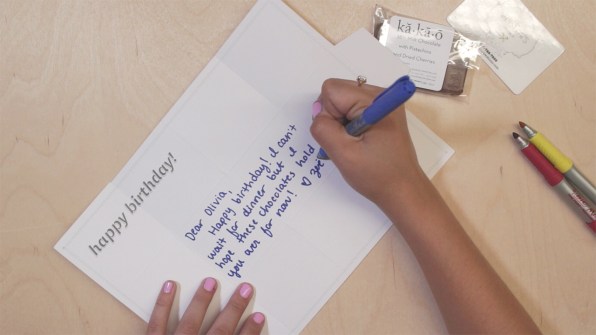 The duo had the the idea to do Giftabl all along. They needed a "proof of concept," and found it in the form of a donut hole. Greetabl teamed up with local cult favorite Strange Donuts for a one-day sale in honor of National Donut Day. For a limited promotion price of $5, people could send a message and their friend's address and the recipient would get a donut hole inside of a special-edition Greetabl emblazoned with a mini-print of the Strange Donuts logo. Greetable sold out of 1,000 in one day. (The company even got three hours of volunteer work from a Twitter fan, who told them the only thing that she loved more than donuts was the written word.)
"What we learned from that was that people are constantly looking for excuses to share with the people that they care about a nice sentiment or a little expression that says, 'Hey, I'm thinking of you,'" Scharf says.