Seven years after pioneering game designer Theresa Duncan committed suicide at age 40, nonprofit digital arts organization Rhizome is working to relaunch three of her early feminist videogames. They eschewed the frilly, pink "girl game" norms of their time with inventive storytelling and complex female characters. In the wake of Gamergate–last month's misogyny-filled online battle about the role of women in gaming–it's a statement-making effort.
Since their release on CD-ROMs in the mid-'90s, Duncan's seminal point-and-click adventure games–Chop Suey (1995, co-created with Monica Gesue), Smarty (1996), and Zero Zero (1997)–have become inaccessible to the new generation of X-Boxers, Wii-ers, and online gamers. If their current Kickstarter campaign is funded, Rhizome, in partnership with the New Museum, will make the games playable in any modern browser via emulation, available for free online for a minimum of one year.
"Gamergate has led to a retelling of the history of women in videogames," Rhizome's curator and editor Michael Connor tells Co.Design, "but Duncan's work has been left out of many of the conversations, in part because her games just haven't been accessible."
Designed for–and starring–adventurous girls, this trio of games stood apart from a glut of frilly pink CD-ROMs, the only type designed "for girls" (think Barbie Fashion Designer).
"Duncan was not doing Barbie," Connor says. She refused to reinforce gender stereotypes. "Duncan's games were not about celebrities or superheroes, but about the richness of a child's imagination," he elaborates in a statement. "These games encouraged their users—particularly the young girls who would have identified with her protagonists—to be disruptive, adventurous, and smart."
The games feature poetic narratives, some inspired by Duncan's midwestern childhood, and textured, alternative-radio-inflected soundtracks. Their feminist messages weren't in-your-face, but implied by the casting of strong female leads in irreverent, complex storylines.
Author David Sedaris provided voiceover for Chop Suey, which Entertainment Weekly named "CD-Rom of the Year" and described as "a little like Alice in Wonderland as performed by the B-52s for NPR." Gaming writer Jenn Frank, whose writing about Chop Suey helped inspire Connor to revive the games, described its gameplay as "a loosely strung system of vignettes; a psychedelic exercise in 'let's-pretend'; a daydream in which the mundanity of small-town Ohio collides with the interior lives of its two young protagonists."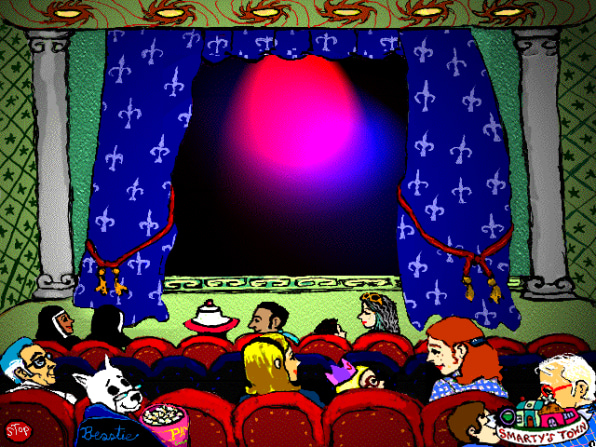 Originally from a house on a dirt road in Michigan, Duncan herself was an offbeat, glamorous it-girl–a fixture on the downtown New York City art scene along with her longtime boyfriend, artist Jeremy Blake, whose work you might've seen on the cover of Beck's "Sea Change." Blake's dreamy, psychedelic illustrations also made their way into many of Duncan's games. The art-star couple co-created the short film The History of Glamour, a cheeky parody of celebrity culture. Despite Duncan's eclectic, alternative tastes (she had once been a frequenter of D.C. punk shows–Bikini Kill, Fugazi), the games she created managed to break out of the niche art circles in which she traveled. They became mainstream commercial hits, sold at places like Gamestop alongside less imaginative, more stereotypically games targeted towards girls.
In 2007, Duncan's suicide shocked the art world; a world in which she'd seemed to have found a powerful voice. A week later, Blake took his own life as well. Friends, family members, and the media were devastated and baffled at how such a successful couple could choose to cut their lives and careers so tragically short. Speculators on their motives cited the couple's increasing paranoia that forces in the government and the church of Scientology were conspiring against them.
"It was such a painful experience for everybody," Connor says. "Over the past decade, it's been difficult to read anything about Duncan without discussions of her suicide being the main story. But it's time to look at the work again, because it's really good, and it's been inaccessible for so long." Rhizome's revival project is both a way of celebrating an individual artist's memory and a powerful reaction to the gaming world's wider culture of misogyny.
Rhizome will also be working with their partners, New York's New Museum, to organize a public event and online exhibition celebrating Duncan's work and contextualizing it within feminist gaming history, which includes the work of Carol Shaw, considered the first female videogame designer, Kellee Santiago, and Heather Kelley, current co-chair of the IGDA's Women in Game Development Special Interest Group.
Donate to Rhizome's Kickstarter campaign here.