Over the weekend, Reuters published a report with a modest thesis: Selfies are driving a huge demand for plastic surgery.
The crux of the argument was based on a March report from the American Academy of Facial Plastic and Reconstructive Surgery (AAFPRS). The AAFPRS report included this alarmist tidbit: "33% of surgeons have seen an increase in requests for plastic surgery as a result of patients being more self aware of their looks because of social media." That's right—the AAFPRS suggests that selfies–your reigning Oxford English Dictionary word of the year–are the reason more Americans are going under the knife these days.
Which is… strange. Reuters' trend piece, titled "Nip, tuck, click: Demand for U.S. plastic surgery rises in selfie era," does its best to build on the report and draw a direct correlation between selfies and the steady growth of the cosmetic surgery industrial complex. The post opens with an interview with a 34-year-old New York woman who recently got a nose job:
"I definitely feel more comfortable right now with my looks," Reynolds explained. "If I need to take a selfie, without a doubt, I would have no problem."

Reynolds is one of a growing number of people who have turned to plastic surgeons to enhance their image. Others are hiring specialized make-up artists in what may be an emerging selfie economy.
More people are turning to plastic surgery—that fact is not in dispute. According to the American Society for Aesthetic Plastic Surgery, last year Americans spent $12 billion on snips, tummy tucks, and other cosmetic procedures. It's the second sentence of that Reuters excerpt that should set off alarms. To bolster the claim that selfies are spurring a plastic surgery renaissance, Reuters interviewed a New York-based makeup artist, an editor at CNet, and one lone Manhattan plastic surgeon, who says he has noticed a 25% increase in business over the past two-and-a-half years. But that surgeon did not provide hard evidence of a correlation between selfies and the boom in his business (or if he did, Reuters didn't publish it).
Reuters wasn't alone in making the case that selfies are causing more people to get plastic surgery, though. Quartz also jumped in on the selfie/surgery trend train, suggesting that self-absorbed narcissism could be a generational thing. Here, a choice passage [emphasis is ours]:
Many of the requests come from a generation increasingly defined by social media. Over half of the surgeons surveyed saw a rise in procedures performed on patients under 30, a sign of the impact of platforms such as Facebook, Instagram and Snapchat on the falling self-esteem of the young.
A rise in plastic surgery by patients under 30 is a sign of the impact of social media platforms? Young people's self-esteem is falling? Those are big statements.
The AAFPRS report itself does not draw an explicit connection between self-esteem and social media. When I asked the AAFPRS if the connection between selfies and plastic surgery could be overstated, a representative directed me to this press release from March, which notes that the "rise of 'selfies' is having a huge impact on the facial plastic surgery industry." But only 123 of the AAFPRS's 2,700 members responded to the Survey Monkey survey the report is based on—that's not a "huge" sample size. As the Washington Post noted when the report first came out in March, the Survey Monkey questionnaire was sent out not by the AAFPRS itself, but by an outside public relationships firm.
The idea that selfies are powering a plastic surgery boom is certainly a convenient narrative, ripe for rage-tweeting. It is also not an entirely false narrative. According to the AAFPRS's survey, 13% of the 123 respondents noted that one of the "rising trends in practices" for 2014 is that patients are "seeking cosmetic procedures to look better in selfies, Instagram and other social media sites." But 13% of 123 respondents is not a huge sample size. The survey basically tells us that 16.5 plastic surgeons believe we are living in the midst of selfie-inspired plastic surgery boom; 16.5 might even be a high number, since survey respondents did not have to answer every question in the survey.
Meanwhile, the media seems to have largely ignored the rest of the survey's results, which tell us that selfies aren't the main reason people are opting to have more plastic surgery. The number one rising trend in plastic surgery, according to the AAFPRS survey, is that patients are simply more educated about the procedures themselves, thanks largely to information supplied over the Internet. There are other reasons why plastic surgery is on the rise, too, like advances in medical technology that allow for less invasive surgical techniques, and the fact that cosmetic procedures are more affordable than ever. But none of those explanations are quite as sexy as "selfies are powering 2014's plastic surgery boom."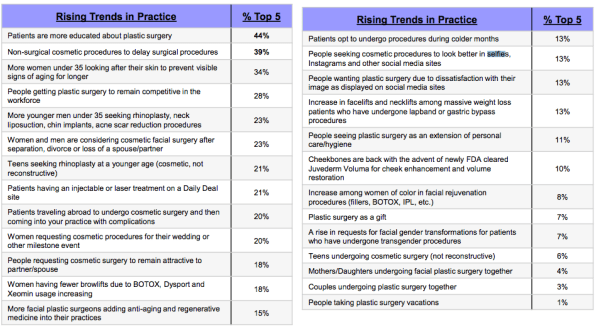 The word "selfie," in many ways, has become something of dog whistle for the Get off my lawn! set to vent about perceived millennial transgressions. The reality, though, is far more boring: America's plastic surgery industrial complex is simply too big, lucrative, and interwoven to have the needle moved by a trendy buzzword alone—no matter what kind of clicky, cognitive leaps the AAFPRS's press department, and the mainstream media, would have us make.