It seems almost unfair that most pop culture critics and reporters must put together best-of-the-year lists before the year is actually through. The reason it's so difficult is because the end stretch is often disproportionately stacked with high-quality content. Even with advance screenings and album streams, it's a mighty marathon to make it through all this material, let alone properly digest it and put it in context with the rest of the year's offerings. In fact, the line-up of what's to come for December looks like it could double as a best-of-the-year list itself. Have a look at Co.Create's festive foreword to the most promising movies, shows, albums, and other fun stuff coming your way this December, which is sure to keep you busy well into 2015.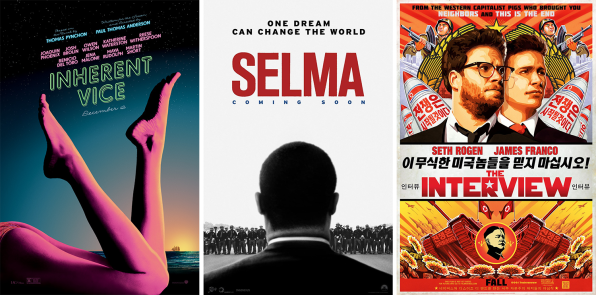 She and Him – Classics, out on December 2nd. The last time Zooey Deschanel and M. Ward's long-running music project stepped outside the bounds of a typical studio album, it was to record some Christmas tunes. This time, the two return with more traditional standards, featuring covers like the Righteous Brothers' "Unchained Melody."
Ghostface Killah – 36 Seasons, out on December 9th. The Wu-Tang faithful can rejoice as Ghostface follows up last year's concept album, Twelve Reasons to Die, with . . . another concept album. Prediction: it will be weird and gritty.
J. Cole – 2014 Forest Hills Drive, out on December 9th. The rapper who beat Kanye in sales during their mutual opening week last year is back with a surprise album announced just weeks ago on Facebook.
The Smashing Pumpkins – Monuments To An Elegy, out on December 15th. The latest from Billy Corgan's current, Tommy Lee-involved lineup is the first of two albums he recently announced–the second, Day For Night, to follow in 2015.
Nicki Minaj – The Pinkprint, out on December 15th. By referring to Jay-Z's unimpeachable classic The Blueprint in the title of her album, Nicki Minaj is announcing a return to hip-hop that doesn't feature big dubsteppy choruses. And pretty much everybody's ear-anacondas do want some of that.
Charlie XCX – The Sucker, out on December 16th. No longer content with just writing world-conquering hooks for the likes of Icona Pop and Iggy Azalea, Charlie XCX is looking to make an impact with her first major solo album.
Toy Story That Time Forgot, airs December 2nd on ABC. It can't be a Toy Story special you forgot, because we're reminding you right now.
Girlfriend's Guide To Divorce, airs December 2nd on Bravo. The first scripted show on Bravo is about a self-help guru getting used to being single in her 40s, and will probably not feature Andy Cohen in any capacity.
Peter Pan Live!, airs December 4th on NBC. Allison Williams would prefer you didn't hate-watch this live musical update of J.M. Barrie's classic tale, but what Allison Williams doesn't know can't hurt Allison Williams.
Marco Polo, airs December 12th on Netflix. This new original series from the online streaming powerhouse is about the famous explorer and not the children's water sport.
Robot Chicken Special, airs December 7th on Cartoon Network. To give you an idea what this special will be about, just know that the actual full title is: Robot Chicken Lots of Holidays But Don't Worry Christmas is Still in There Too So Pull the Stick Out of Your Ass Fox News Special.
Ascension, airs December 15th on Syfy. Every new show on Syfy is about sharks or space intrigue. Guess which one this is!
Elf: Buddy's Musical Christmas, airs December 16th on NBC. Will Ferrell's certified Christmas classic got the Broadway treatment a few years ago; now, those song and dance numbers are coming to TV, lead by The Big Bang Theory's Jim Parsons.
The Colbert Report series finale, airs December 18th on Comedy Central. Don't go gentle into that good night, Colbert Nation.
Mozart In The Jungle, airs December 23rd on Amazon. Jason Schwartzman and Roman Coppola, two members of the The Wes Anderson Associate All-Stars, collaborated on this series about high-profile New York orchestras, which stars Gael Garcia Bernal and Saffron Burrows. Watch all the episodes in one sitting like an insatiable oboe-junkie!
Black Mirror: White Christmas, airs December 25th on DirecTV. Black Mirror is a woefully underwatched BBC series about the perils of technology, and this special stars Jon Hamm. Find friends who have DirecTV and be nice to them!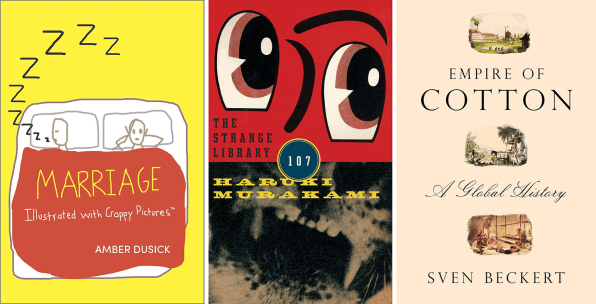 Haruki Murakami – The Strange Library, out on December 2nd. The wildly prolific author returns with this short tale about a little boy, a creepy old man, and obviously a SHEEP-MAN.
Sven Beckert – Empire of Cotton: A Global History, out on December 2nd. Fans of Mark Kurlansky's history's of Salt and Cod will appreciate this appreciation of cotton by Sven Beckert.
Miranda J. Banks – The Writers: A History of American Screenwriters and Their Guild, out on December 17th. Those trying to brrak into the Writers Guild would do well to learn its history.
Josh Sundquist – We Should Hang Out Sometime: Embarrassingly, a True Story, out on December 23rd. Most teens think that they definitely have it worse than everybody else, which is why they should read this coming-of-age memoir from a cancer survivor and Paralympic ski racer.
Amber Dusick – Marriage: Illustrated With Crappy Pictures, out on December 30th. The purveyor of CrappyPictures.com moves away from her signature subject, parenthood, to talk about marriage. Probably about how it's always great all the time, right? Right?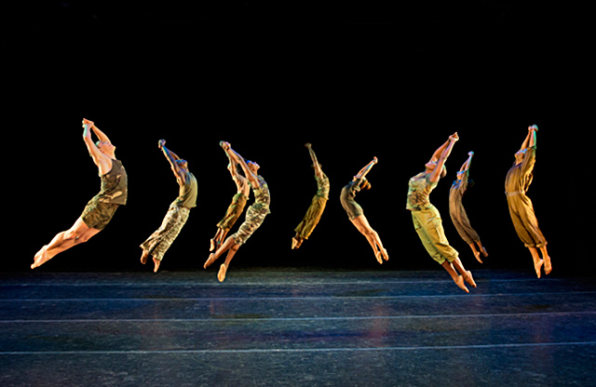 Alvin Ailey takes up residence at New York's City Center every winter. This year, the season starts on December 3rd and it includes their classic piece, Revelations.
Sharon Jones and the Dap-Kings headline the Dap Tone Super Soul Revue at the Apollo December 4th-6th. More soul than you can shake a stick at!
Justin Timberlake is on tour this December. Slightly less soul than Sharon Jones and the Dap Kings, but he tries so hard!
RiffTrax Live: Santa Clause brings the comedy commentary track treatment to select cinemas on December 4th
Z100's Jingle Ball is always a big deal year-end event at Madison Square Garden, featuring all things pop, such as Taylor Swift, Maroon 5, Pharrell, and other things you have stuck in your head right now.
Russell Peters is on tour and he might make you laugh.
Tyler Oakley's Slumber Party is heading out all over the country to stay up late and eat midnight snacks with his fans. Don't wake up mom!
While his show is on winter break, John Oliver is touring exhaustively to make sure you don't forget how funny he is.
Brian Setzer Orchestra is touring with a Christmas Rocks 10th-anniversary show. Do you remember where you were when Christmas rocked 10 years ago? Probably listening to the holiday-tinged ska grooves of Brian Setzer!
The Black Keys are on tour with St. Vincent, which is like peanut butter being on tour with jelly (because they're both really great!)

Willie Nelson is doing his annual two-night stand on December 30th and 31st in Austin at the ACL Live Theater. Ring in the new year Willie Nelson-style! With an enormous satchel filled with pot!

The Illusionists Tour: Witness The Impossible opens on Broadway on December 4th for a six-week run, after which it'll hit the rest of the country for a 30-city U.S. tour of magical magic.
Jake Gyllenhaal makes his Broadway debut in the Manhattan Theater Club production of Constellations, which begins previews December 16. It's literally the only sure way to find out whether he's currently skinny or muscular, bearded or otherwise.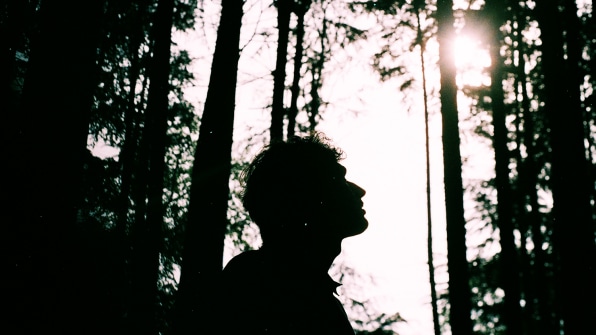 Take it in the Ear Day, December 8th. We don't even want to know what this one means.

National Roast Suckling Pig Day, December 18th. Find a suckling pig and roast the hell out of it!

Look on the Bright Side Day, December 21st. Hey, you. The one with Seasonal Affective Disorder. They made a day just for you. Make it count!