Good design in an office can turn an impenetrable pile of clutter into a beautifully organized arrangement; a slothful, sedentary workday into a healthy one; and a tangle of ugly power cords into funky decoration. Here, 12 of the best home office products we came across in 2014, from elegant organizers to affordable standing desks to pillows perfect for power-napping at work.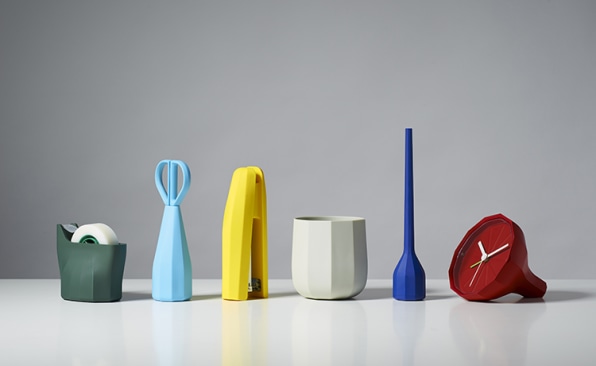 The Babylon collection, designed by Samuel Wilkinson, includes an alarm clock, stapler, tape dispenser, pen, scissors, and pen cup. As inspiration, the pieces uses the jagged, layered aesthetic of rock strata–the bands of different colored rock that result from layers of sediment settling over time. The final look combines earthy textures with the signature pared-down style of Lexon, a 21-year-old French brand. See more here.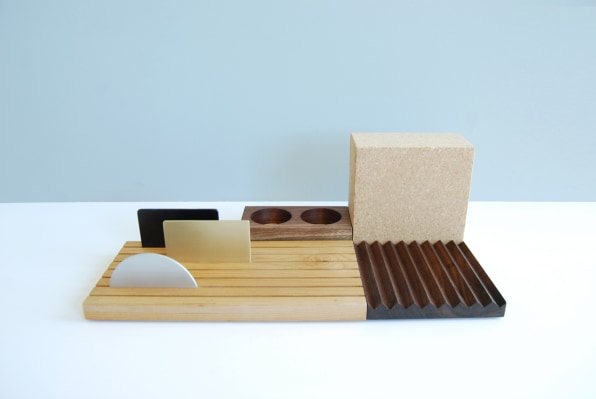 If your inner design freak is also a neat freak, the .Org Deskscape System is for you. Seattle-based Ladies and Gentlemen Studio has collaborated with Brooklyn-based Pat Kim to create elegant modular desk accessories, consisting of a pen rest, a cork board, an iPad/letter holder, and a storage tray that can stand on their own or be configured into a custom desk set. The .ORG Modular Deskscape System is available for pre-order here for $250.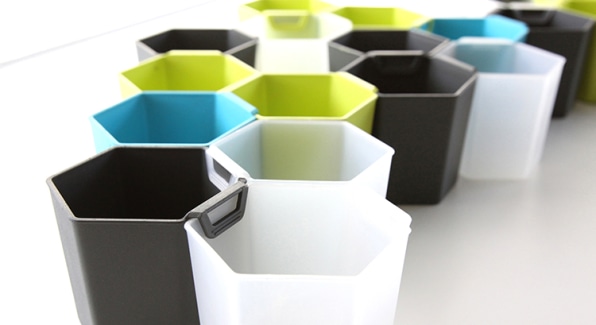 Hyve is an elegant solution to the mess of screws, scissors, and pens floating around in your junk drawer. Designed by Herbst Produkt, the series of hexagonal cups snap together in any arrangement you like. With bundled adapters, the entire hive can even stick to a wall or magnetic surface. Inquire about pre-orders here.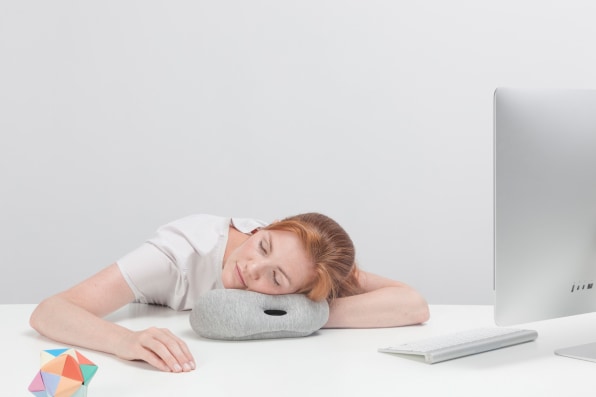 Unlike its larger, bizarre-looking predecessors, the Ostrich Pillow Mini is a personal power nap pillow that doesn't make you look like an alien. Created by Madrid-based designer Kawamura-Ganjavin, it can be worn like an elbow pad or like a boxing glove, and it's perfect for power napping, allowing you to catch a quick snooze on an airplane or a bus without making your arm fall asleep. Pre-order the Ostrich Pillow Mini here for $25.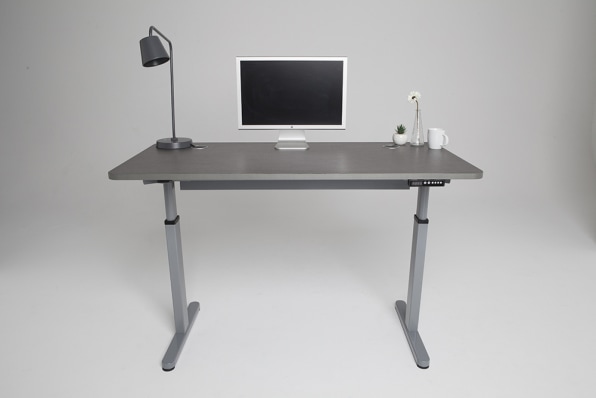 Sitting all day is bad for you. Standing desks offer a solution, but they're usually pretty pricey. StandDesk is a cheaper solution. The basic model, which has a simple automated system to raise and lower the desk at the touch of a button, starts at less than $400. Not quite as cheap as a cardboard desk, but not $1,600 either. Get it here for $399.
Ikea presents its updated Bekant line of convertible desks. The 63″x31″ desktop, which supports 150 pounds, can rise as tall as four feet with the push of a button, thanks to a set of telescoping legs. The legs are made of powder-coated steel and the desktop is, yes, good old birch veneer. The Berkant convertible desk will be available soon for $490 and comes with a 10-year limited parts warranty. Read more here.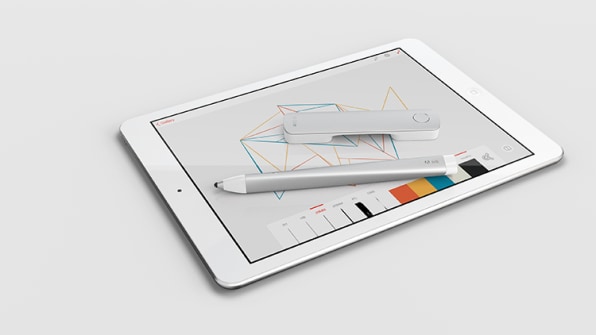 Adobe Ink & Slide are designed to be used with the iPad to make sketching and drawing more natural. Adobe Ink is a lightweight pressure-sensitive pen built using Adonit Pixelpoint technology, and Adobe Slide is a digital ruler that lets you perfectly draw any shape you want on your iPad–straight lines, triangles, circles, squares. Each works through capacitive touch technology–the same premise that allows your fingers to activate the iPad's screen. To enhance functionality, the pen and ruler also connect to your iPad via Bluetooth. Get Ink & Slide here for $200.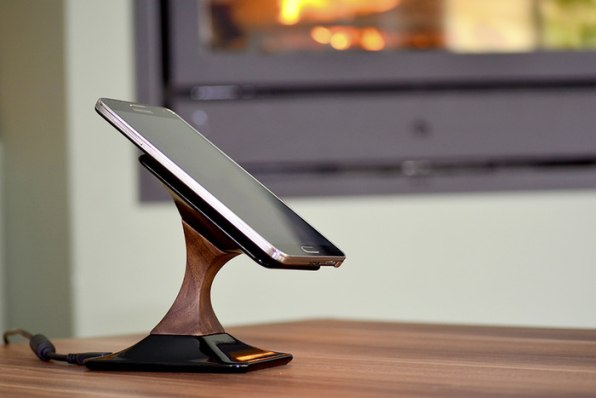 Most of the wireless phone chargers on the market today are perfectly functional, but hideous. Not Swich, a wood-and-ceramic wireless charger with an elegant silhouette. It lifts your phone off the table and props it up at an angle conducive to performing tasks and viewing content. A product design team in Slovenia developed Swich as a "timeless and organic" antidote to clunkier applications of Qi technology. It charges any Qi-enabled device, including iPhones and Android phones. And it conveniently lets you move your phone from a portrait to a landscape orientation. Pre-order Swich here.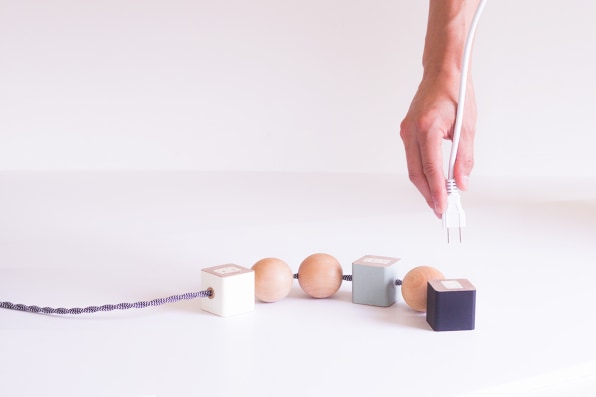 Los Angeles-based design studio Okum has reconceived the tangle of ugly power cords in the corner, and the result is a rather pretty, playful sculpture called the Oon powercord. The studio embedded three electrical outlets into colorful blocks of maple wood, and strung the wood along a cord whose true nature (as a cord) is disguised by large wooden beads. The usual white plastic casing that grays and frays over time is wonderfully gone. It's replaced by a cloth cord that comes in several bright colors. The whole thing looks a bit like a cool chunky necklace or a collection of old-school baby toys. It turns an ugly necessity into something fun. The Oon power outlet is available for $79 here.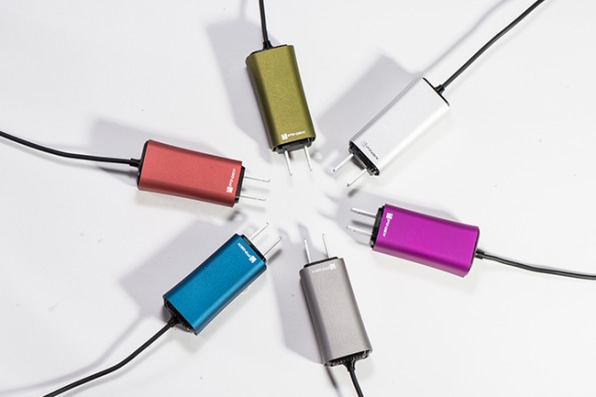 The Dart, created by MIT spinout FINSix, is four times smaller and six times lighter than most laptop chargers. It gets away with being small thanks to some patented MIT technology called "very high frequency power conversion." This reduces how much energy gets wasted in the form of heat, allowing a Dart charger to ditch the bulk associated with dissipating heat seen in other models. Pre-orders for the Dart, which sells for $89 for any non-Apple laptop, are currently closed, but you can add your email to the waitlist for orders here.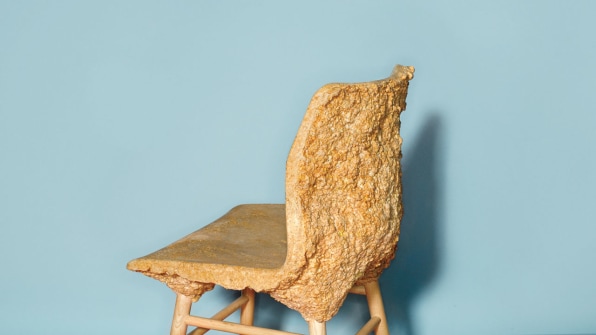 "Make a table out of a table." That was the assignment Marjan van Aubel got two years ago while studying at London's Royal College of Art. So she chopped up an Ikea table and started playing mad ­scientist with the wood shavings. When she mixed them with bioresin—a plant-based sap—and a little water, the concoction reacted like a volcano in a school science fair. Van Aubel is now using the technique to make the Well Proven Chair. She pours the sawdust-resin blend into an open mold, hand-packs it in, and holds the chair legs upright in place while the mixture foams up and hardens around them. Inquire about prices here.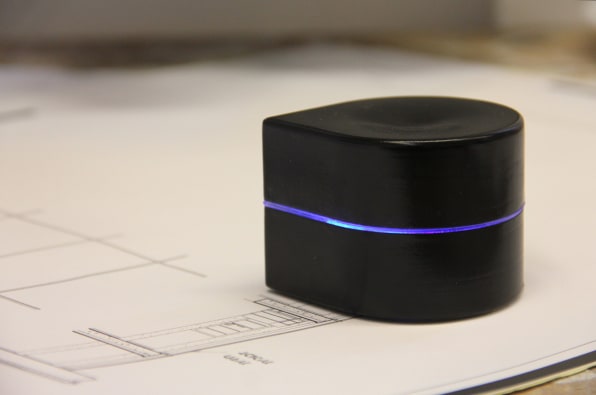 Designed by Zuta Labs, the Mini Mobile Robotic Printer is one for the mobile age. It's almost like a tiny Roomba that squirts ink. To print out a document, you take the Mini Mobile out of your bag and position it at the top of a piece of paper. Using intelligent software and sophisticated motors, the Mini Mobile then roams across the piece of paper, placing ink wherever a document tells it to. For multi-page documents, you simply pick up the Mini Mobile and place it on a fresh piece of paper. It's not fast—the Mini Mobile only prints 1.2 pages per minute. Still, it works, and, critically, it's portable. Each Mini Mobile printer will cost about $135. Learn more here.