Once a week, the Mobile Good Food Market pulls up at Tuxedo Court, a set of isolated housing towers on the edges of Toronto. The nearest grocery store is over a mile away, and residents–who are mostly recent immigrants–don't necessarily feel comfortable walking through the rough neighborhood. The mobile market, a converted bus stocked full of produce, is their only link to fresh fruits and vegetables.
It seems like an ideal solution for food deserts: If a neighborhood doesn't have access to healthy food, load up a bus with produce and bring it to them. But for the organizations that run programs like this, the challenge is how to make driving food around the city financially sustainable.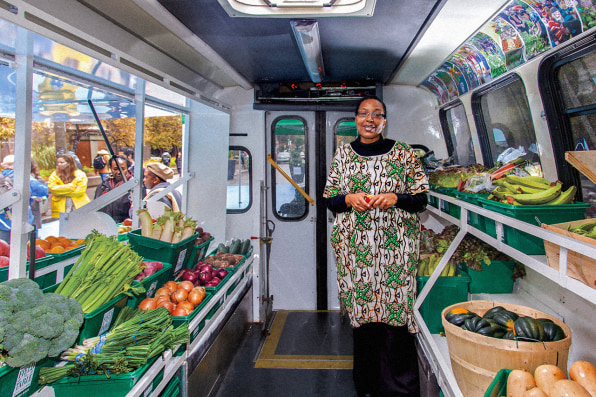 "Basically the jury's still out on how to operationalize it and make it sustainable, even for a nonprofit that's subsidized," says Debbie Field, executive director for FoodShare Toronto, the organization that runs the Mobile Good Food Market. "I don't think that it's actually working for anybody who's doing it right now."
The problem isn't really the market itself, which is well designed. Using a former wheelchair bus donated by the city, designers at LGA Architectural Partners created a traveling food stand. One side of the bus flips open on hinges to create an awning and space for people to gather and shop.
The shelves are stocked with fresh local fruits and vegetables, along with imported produce chosen for particular neighborhoods–in Tuxedo Court, the most popular items are things like mangos, plantains and papayas.
But the system has some inherent shortcomings. Because the bus isn't full-sized, it's hard to fit many people inside. That means it can't run in the coldest weather. There's also the inherent challenge of timing.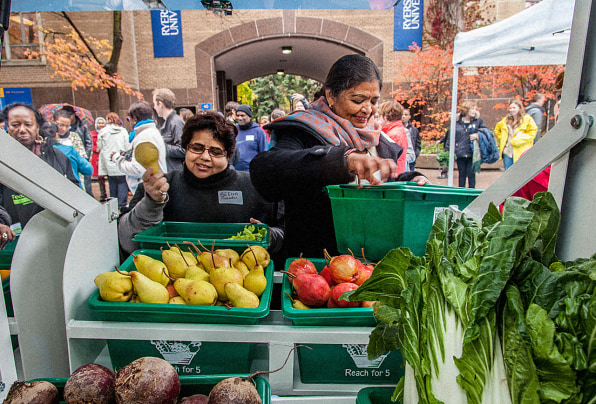 "If you're there and you can come for one hour, it's like a needle in a haystack," says Field. "How do you get there when people are going to be there, so there's enough density, enough people to shop? So it's a work in progress."
What seems to work better, Field says, are community markets–small community-run markets that her organization helps supply with food. Community members can keep the markets open for several hours in a day, so more people have a chance to shop.
In one neighborhood, the bus ran for a year, but then neighbors decided to organize their own market instead. "They're buying the produce from us and running a market themselves," says Field. "We think that the mobile market could be opening to a conversation that could start a more sustainable market structure."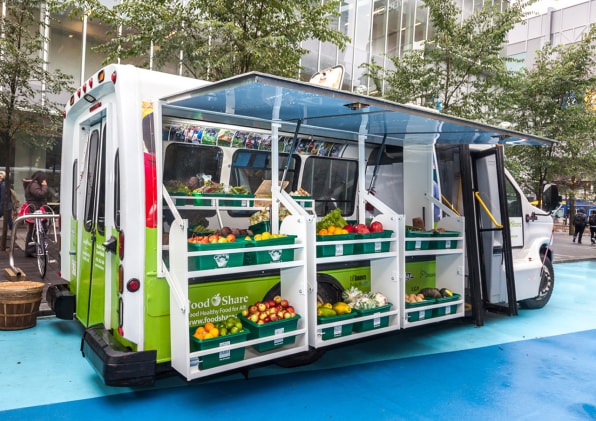 The organization is also experimenting with new routes for the bus; by stopping at places like hospitals, they hope to attract a bigger customer base. Ultimately, though, they say the mobile model might not necessarily be the best answer. "For us it's not about any particular model, it's about opening the access," Field says.
The biggest value of mobile markets, she says, might be in demonstrating that there is a demand for healthy food in even the poorest neighborhoods. "It's not that low-income people aren't interested," Field says. "They will buy the food if we can get it there. What FoodShare is proving is that people will buy this food and what we have to do is figure out logistically how to get it into communities."
While community markets or new food coops are one answer, another may be requiring new grocery stores with every development. "From a policy point of view, developers will have to site a green grocer near where people live to make sure we can deal with the challenge of food deserts," Field says.