Kitchens get hectic during the holidays, what with all the figgy puddings and latkes being cooked. And good design can help make a kitchen run more smoothly, whether it's a space-saving Russian nesting doll of cooking gadgets or a drain strainer that helps the squeamish avoid touching gross leftovers in the sink.
And perhaps more than anyone, design snobs will agree that presentation is key when it comes to food. Stylish twists on humdrum kitchen gadgets, from op-art inspired cutting boards to stunning copper espresso makers, make eating more interesting. Here, 15 products we came across in 2014 for the design-minded cook (or anti-cook: some of these are geared specifically towards the gastronomically lazy).
---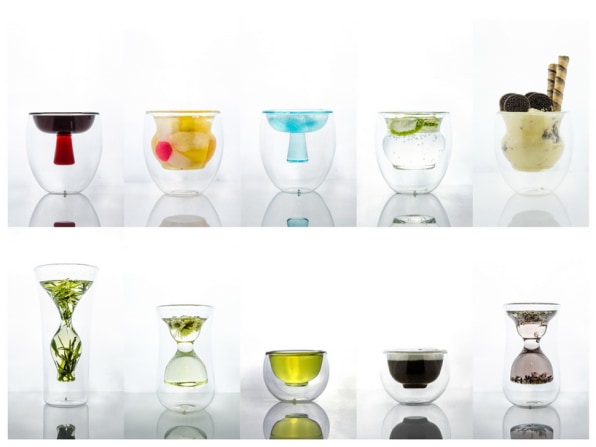 A Beijing-based design group called Studio KDSZ is putting a heritage-steeped twist on the double-walled glass cup. Each of the Lil Wai glasses follows a uniform exterior shape, so they feel like a standard tumbler or water beaker, but the curvy inverted interiors are modeled after traditional Chinese pottery shapes, like high-stemmed bowls used for dessert, or the voluptuous olive vases. They're available here for $9-$32.
---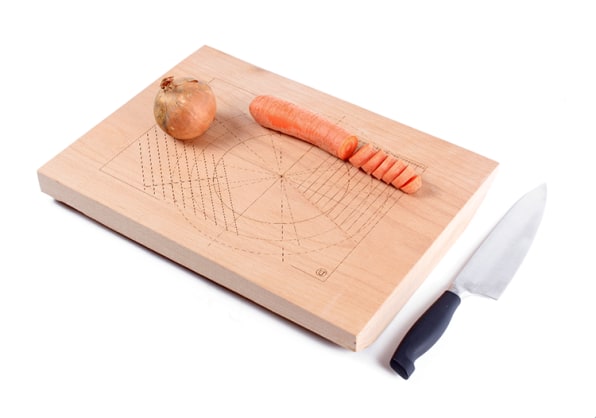 This cutting board, from Netherlands-based design group Usuals, is a cheat sheet for divining the difference between chopped and minced vegetables. The Finer Slicing cutting board, as it's called, has laser-printed etchings that make for foolproof chopping: radiating circles in the center outline where to slice tomatoes, onions, melons–anything round, really–and grids in the corner instruct on how to dice carrots and the like into perfect centimeter pieces. Shop Usuals, here.
---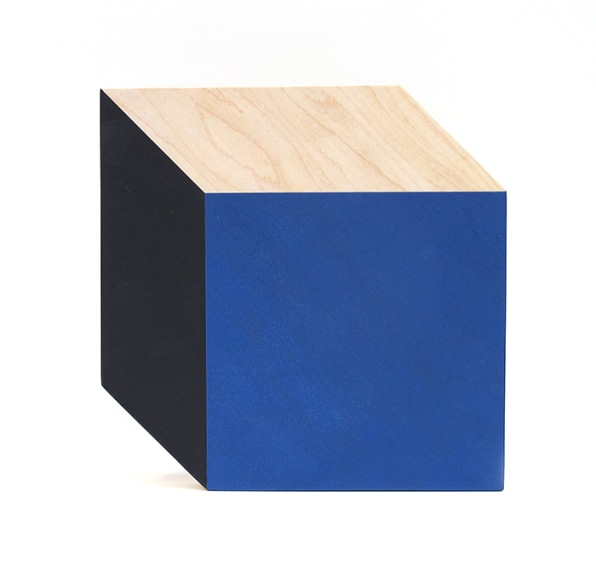 With Shape Boards, Brooklyn-based design firm Bower gives cutting boards a stunning makeover, turning them into playful pieces of op-art. Designed by Danny Giannella and Tammer Hijazi, Shape Boards are both functional and decorative. One side is a plain wooden surface for slicing and dicing, but the other side gives the illusion of three-dimensionality, painted with eye-popping geometric shapes. One looks, very convincingly, like a cube; another like a cone; another like a log. Shape Boards are available here in various shapes, sizes, and types of wood, from $75.
---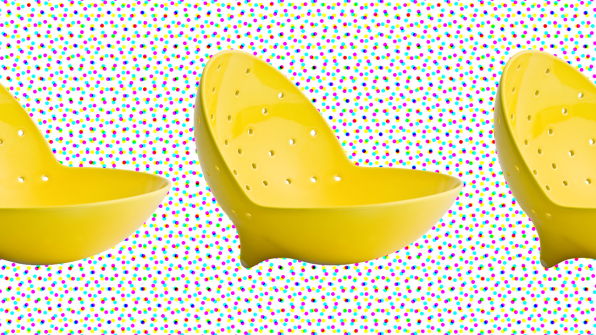 Featuring a footed design and made of durable melamine, the Two-Sided Colander is almost like a perforated shell chair for your salads and spaghetti. One side of the colander drains, while the other operates as a serving bowl. Wash and drain your food on the perforated side, and then flip the colander up to allow it to collect in the bowl section. It's simple, but ingenious. Like all the best in modern bachelor dinnerware, the Two-Sided Colander can be purchased from the Museum of Modern Art's online store for $40.
---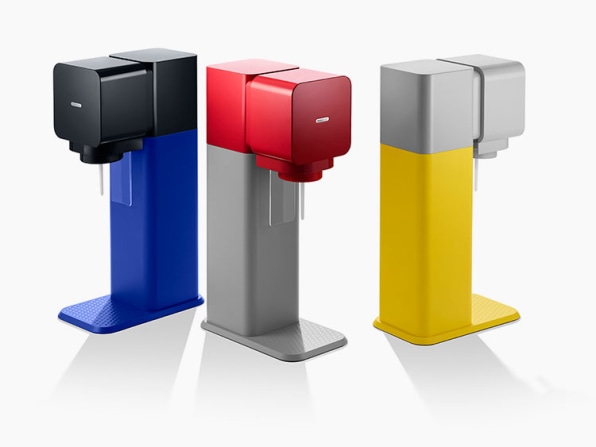 Play, a seltzer maker designed by Yves Béhar, is all about enhancing the DIY vibe of SodaStream. Now, instead of buying a monochrome unit, fizzy water fans can choose from a customizable array of mix-and-match colors, via an app that swipes through different color combinations for each machine component. Get Play here for $89.99.
---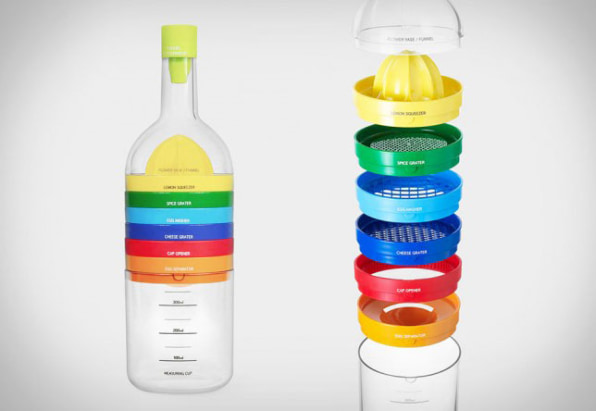 From Japan–home to the tiniest kitchens on Earth–the Bin 8 is a stylish water bottle that breaks apart, Voltron-like, into an assortment of various gadgets. From top to bottom, you have a funnel for pouring liquids into containers, a lemon juicer, an egg masher (for egg salad and the like), a cheese grater, an egg yolk separator, a spice grater, a measuring cup, and even a lid grip for loosening the stuck tops of jars. The Bin 8 is available on Amazon for $30 here.
---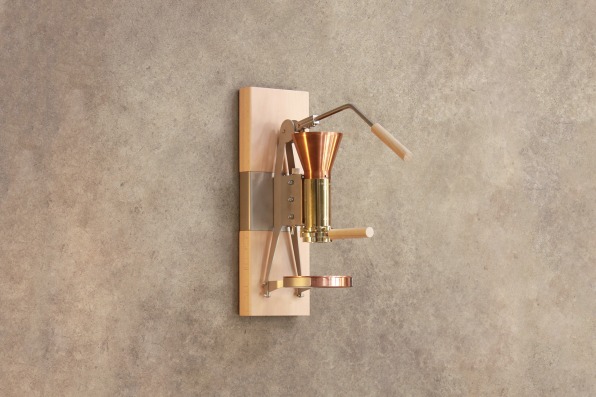 What makes the Strietman ES3 different from most espresso makers isn't just its gorgeous copper-on-birch looks, or even the fact that it's wall-mounted, which frees up valuable counter space. It's the simplicity by which it actually makes your elixir. All you do is pump water into the coffee, pull down on a lever, and the water is forced through the grounds and into your tiny espresso cup. It's also a beautiful objet d'art in its own right: As bright as a copper sunrise, the ES3 would look good in even the dreariest kitchen. But if you buy one, you'd better be committed to drinking so much espresso that you vibrate through space-time. How else to justify the $1,700 asking price?
---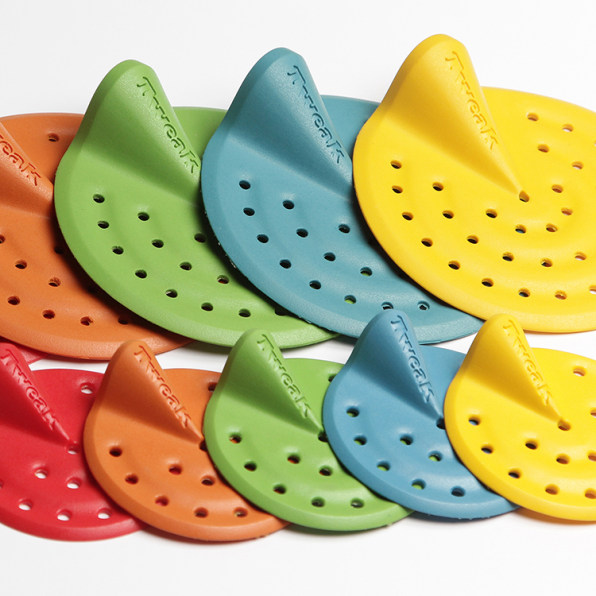 Tweak is a drain-strainer designed to protect your delicate fingers from coming in contact with gross leftovers while cleaning up. Made of silicone, it features a small handle that rises above the surface—to keep your fingers away from the soggy garbage. It flips inside out, making it easier to dump its contents into the trash. Tweak comes in two sizes (one for kitchen sinks and another for bathtubs) and several sporty colors to brighten up your dingy drain. Pre-order one here.
---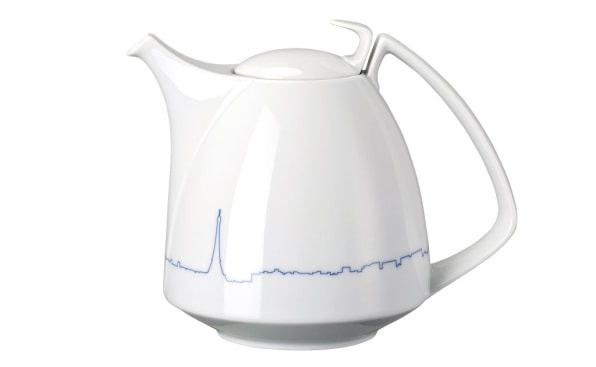 When an innovative architecture firm, a product design studio, and a porcelain legend collaborate, the result is this simple and beautifully realized tableware. TAC Big Cities is a collection of serving dishes by tableware company Rosenthal. Collaborating with the architecture firm BIG (Bjarke Ingels Group) and Kilo, a design firm founded by Lars Larsen, Rosenthal decorated its new line with skylines from cities around the world. The collection is available here.
---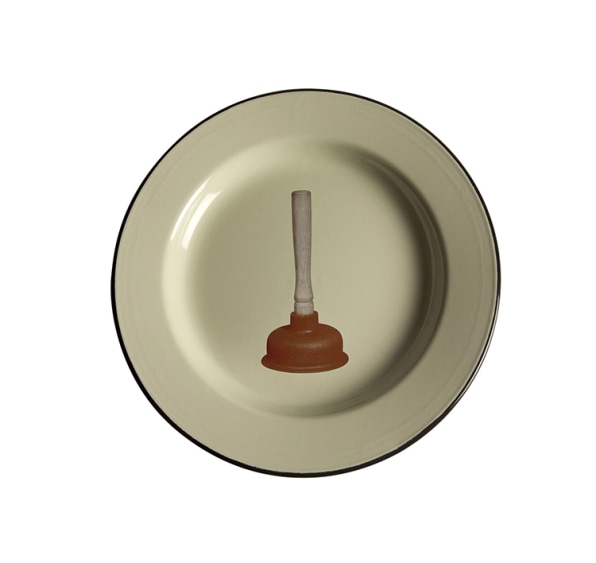 If you're sick of the same-old floral tablecloths or "World's Best Dad" mugs, a new line of tableware called "Seletti Wears Toiletpaper" might be the perfect antidote. Designed by provocative Italian artist Maurizio Cattelan in collaboration with Italian home ware manufacturer Seletti, the collection features, among other things, tablecloths printed with beetles and an "I Love U" plate spelled with an image of an actual human heart. It wouldn't look out of place in the Addams Family's dining room. Products range from $20-$38 at MoMA Design Store.
---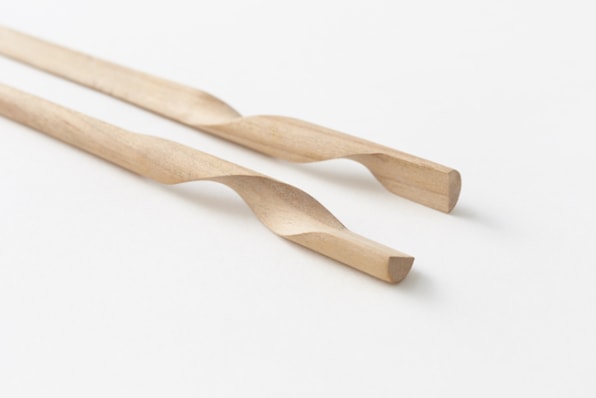 Depending on whom you ask, the chopstick is either the most lithe and graceful utensil ever designed, or a hard-to-use stick that became vastly improved when someone got the genius idea to add three smaller chopsticks at the end and call it a fork. Either way, the core design has remained virtually unchanged since the utensil first appeared in China 4,000 years ago. And that includes a not so insignificant design problem: You need two chopsticks to eat, but these suckers are hard to keep paired, leading to the orphan chopstick rattling around in your kitchen drawer. This problem led Nendo to come up with two sophisticated redesigns that are as elegant as the sushi-plucking instruments themselves. The Rassen chopsticks are a single unit that separate into two for eating, then rejoin into one form when not in use; while the Kamiai chopsticks magnetically attach to one another. See more here.
---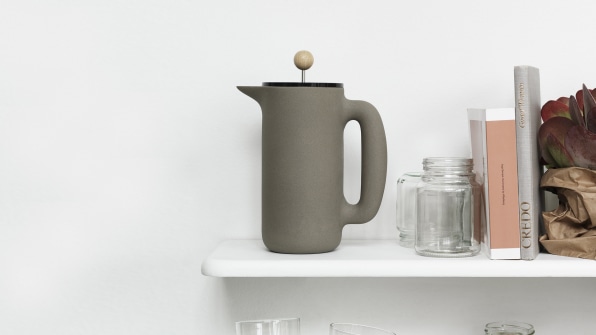 Designed for Muuto by Danish designer Mette Duedahl, the Push functions identically to a French press, except that the glass is replaced by an earth-toned stoneware body. Stoneware can still break, of course, but no doubt it's less susceptible to the overzealous plunging of undercaffeinated coffee drinkers.
---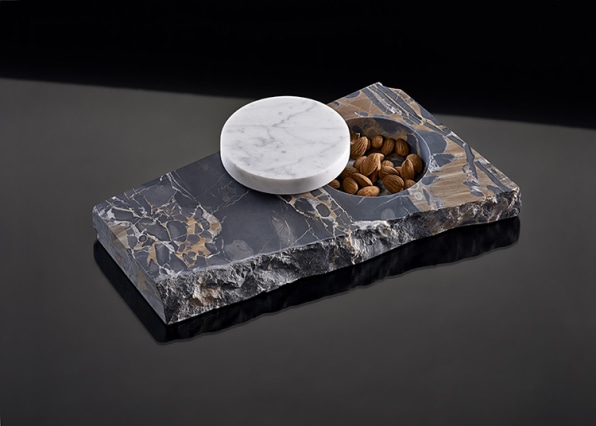 Rotterdam-based Earnest Studio's line of modular tableware, the All of a Piece collection, comprises mix-and-match sections of stone and wood, which can be reconfigured any number of ways to create serving platters, cutting boards, or plates. They're available for purchase, and information about pricing can be had, upon request, here.
---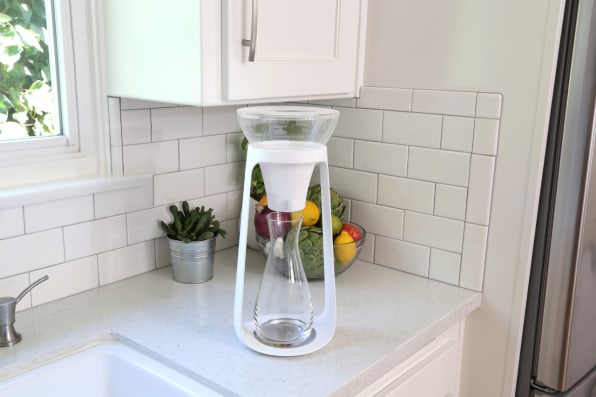 Imagine a Chemex for purifying water. That, in a nut shell, is the premise of the Water Fall, a new water filtration system from Kor that presents an elegant alternative to a Brita filter, inspired by pour-over coffee.
---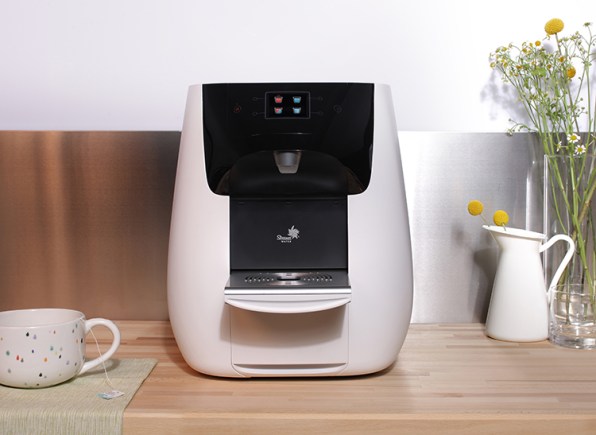 New Deal Design has created a product that does double duty: The Strauss Bubble Bar is both a water filtration system and an at-home seltzer maker. Check out Strauss's site for information about pricing.
---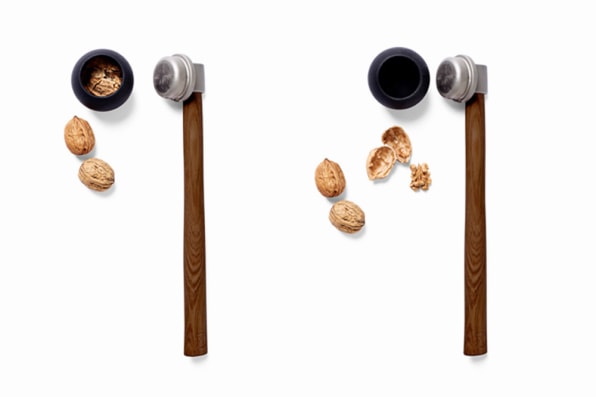 If you love both healthy snacking and smashing things, this one's for you: London-based designer Roger Arquer has redesigned the old school nutcracker into the much more fun Nut Hammer, a mallet with a detachable silicon head into which you insert a nut for smashing. The design also solves a minor problem: the shrapnel that tends to spray around when you use a traditional nutcracker. When you hammer it down onto a hard surface, the nut inside cracks, but all the pieces stay contained within the silicon cap. The silicon is soft enough that it won't damage whatever surface you're whacking it against. Get it here for $40.