Jesus has been adopted by cultures spanning the globe, and each time, his image is morphed to reflect his followers.
Nowhere is this cultural appropriation more apparent than the nativity set, which is why designer Émilie Voirin has reimagined the traditional nativity through a tongue-in-cheek series of simple, wooden blocks, labeled with words like "Mary," "Joseph," "Donkey," and, of course, "Baby Jesus."
"I am not Christian myself, but I am fascinated by the visual and aesthetic environment of holy places, as well as the commercial representation of the religious material," Voirin tells Co.Design. "I would like people to see the product as an alternative version of the objectified biblical scene that usually looks very ornamental."
We first wrote about Voirin's nativity last year, calling its rendition of the Christian archetype a clever, "culturally agnostic pile of blocks." Now, she's running a Kickstarter campaign, through which she's selling the sets in beechwood or brass, starting at $40.
But on top of that, Voirin is also raising funds for a grander plan: a life-sized installation of her nativity set inside the historic Southwark Cathedral in London, which is aptly situated near modern art destinations like Tate, Hayward Gallery, Design Museum, and White Cube.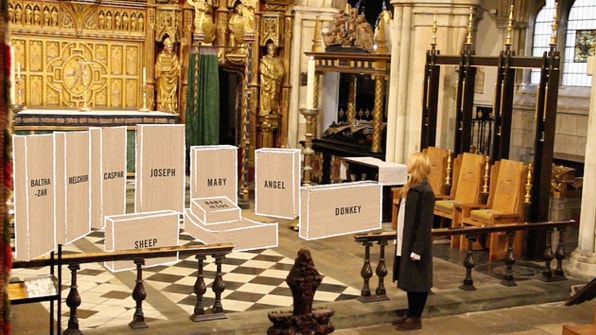 "My colleagues at a staff meeting were particularly taken with the art piece and the opportunity for the viewer to impose their own conception of the nativity scene," writes Southwalk's Dean Andrew Nunn, "thus subverting our traditionally held clichéd, inherited iconography, and thereby refreshing our perception of the Christmas story."
Indeed, at first we were surprised by Voirin's coup, to have conned her nativity all the way into the oldest cathedral church in London. But in reality, it's just the perfect demonstration of the power of her idea. the Minimal Nativity Set can reflect back the values of the beholder–whether that beholder is a person with no faith at all, or the church itself.