Today's Google Doodle honors what would have been the 96th birthday of artist and designer Corita Kent. Born in Iowa, Kent became a nun after finishing high school in 1936, joining the Sisters of the Immaculate Heart of Mary. She taught art at Immaculate Heart College, eventually becoming the chairman of the department, making it a hub for the avant garde of the day. Among her famous friends and students were Charles and Ray Eames, Alfred Hitchcock, John Cage and Buckminster Fuller.
Kent worked almost entirely in silkscreening, and was heavily influenced by advertising and popular culture, sending her students to car washes and supermarkets to seek inspiration. Her bold blocks of color, play with typography and collage aesthetic had a huge effect on the world of art and design, and her influence can be seen everywhere from zine culture to street art.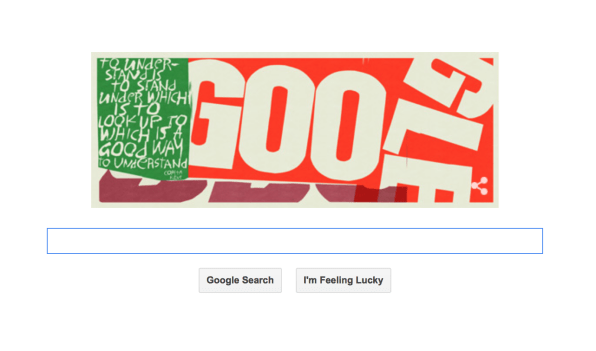 Kent was a feminist, involved in the anti-war and civil rights movements, which often juxtaposed philosophical and radical texts with pop art in her work. As a cultural omnivore, her belief that all "good" things are equal, and that it is possible to find deep meaning in the shallowest sources, whether lowbrow, highbrow, or intended for mass consumption, was far ahead of her time, standing in stark contrast to the cynicism of many other pop artists like Andy Warhol, who used pop art to point out the emptiness of consumer culture.
Her designs were widely disseminated, on book covers and posters, and most famously on the rainbow Love stamp released in 1985, a design she also painted on a massive gas tank in Boston.
The Google Doodle today is a take on her 1966 work let's talk, which includes the quote "What being loved makes being do is precisely be," from Jesuit philosopher Robert O. Johann. In Google's image, the line reads "To understand is to stand under which is to look up to which is a good way to understand," attributed to Corita Kent.