Amazon turned brick-and-mortar stores into showrooms. Now one startup thinks it can turn the tables around.
Wunwun, the New York City-based delivery startup that expanded to San Francisco in September, is teaming up with Best Buy, the very definition of a victim of showrooming, to provide the retailer with the infrastructure to deliver orders within an hour–a move it hopes will help Best Buy compete against Amazon. The pilot is currently live in New York City, though the company has plans to expand this partnership to San Francisco.
"Best Buy realized customers wanted convenience–the convenience of delivery," cofounder and CEO Lee Hnetinka tells Fast Company. "What Wunwun does is it brings the amazing convenience of ordering online with the immediacy and love of offline."
While Amazon, Google, and eBay fight the same-day delivery wars, Hnetinka, an avid user of his own service–on an average day he might place 10 orders using Wunwun–says that turnaround is still too slow. The immediacy of having a package show up within an hour is immensely satisfying and something customers are willing to pay a premium for, he says. In fact, if an order shows up within 30 minutes, there's a 90% chance that customer will place another order.
Though the partnership with Best Buy has been in the works for more than a year, its timing is interesting. Last month, Amazon began testing one-hour bike deliveries in New York City.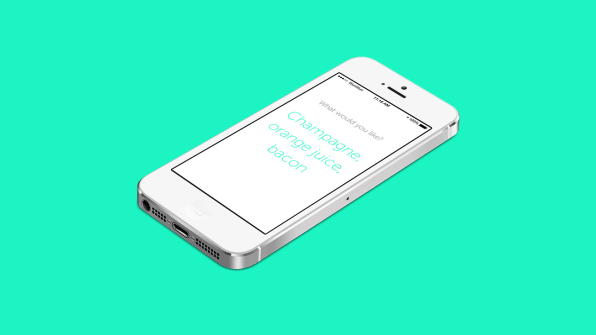 Since launching in early 2013, Wunwun–which stands for what you need, when you need–has built a cultish following in New York City, using an Uber-like model to deliver practically anything in Manhattan and parts of Brooklyn. Instead of charging a set rate for delivery, it leaves it up to customers to pay what they want. The couriers, called helpers on the service, reap 80% of their tips and "zone hop" fees that are charged when deliveries require them to traverse outside a preset area.
This model helps keep Wunwun's overhead low. It doesn't cost the startup anything to employ an army of helpers (it declined to say how many couriers it has). Furthermore, it doesn't own any delivery vehicles, nor does it house any inventory in warehouses. "The city is our warehouse," Hnetinka said. "We turn stores into warehouses."
Wunwun, currently seeing 30% month-over-month growth in revenue, says it is on track to reap $50 million to $90 million in revenue in 2015. On average, orders total about $36, and helpers receive tips of about 20%. The startup is heavily dependent on so-called "whales," the 10% of its user base responsible for 65% of the company's revenue.
Wunwun's main source of revenue comes from merchants who bid for certain keywords. When users fire up the app, they can specify what they want–say, a Double-Double, Animal Style from In-N-Out–or type in something generic like toilet paper. It's the latter that makes Wunwun money, since preferred merchants pay to get top billing over other stores. This makes sense because customers aren't using Wunwun to comparison shop. What they want is instant gratification.
Armed with an iPhone and credit card by Wunwun, a nearby helper is then dispatched to the store to locate the item, check out, and drop off the order. After the customer specifies a tip, the app then bills his or her credit card for the full amount. "Our business model is not to make money off delivery routes," Hnetinka says. "Our business model is to power offline stores online."
With this Best Buy deal, and two yet-to-be-named partnerships coming down the pipeline, the dynamics change. Retailers, equipped with iPhones provided by Wunwun, will receive orders directly and ready the items for pickup. This speeds up deliveries since helpers won't have to spend time shopping for the customer. In one test with Best Buy, a Wii console showed up 19 minutes after the order was placed. Since Best Buy bills customers directly, this arrangement also removes the interchange fees that Wunwun typically pays twice: once when the courier purchases the item, and again when the customer's credit card is charged. In return, Best Buy pays Wunwun a marketing fee, specifics of which the companies did not disclose.
"This new model of turning stores into warehouses allows us to compete with the online guys," Hnetinka says. He envisions this new model as the future of Wunwun. Much of the existing battle lies in educating potential partners about how the app could enhance a store's e-commerce presence. As such, the company is currently implementing customized integrations on a one-off basis, but the plan is to eventually automate the process with software to replicate what it's doing for Best Buy over and over again.
That future is a stark contrast to Wunwun's humble beginnings. Hnetinka likes to tell the story of how a major snowstorm swept through New York City shortly after the startup's launch. That proved to be Wunwun's moment to shine: when people deterred by the cold wanted things delivered to their homes, and they wanted it fast. The only problem was that Hnetinka had just flown to the Bahamas for his brother's wedding and couldn't do anything to help. In a moment of desperation, his trusty cofounder, Calvin Lai, ran out the door, making deliveries by foot and subway since the roads were too icy for his bike. Though Wunwun successfully generated buzz from the ordeal, the young startup was ill-equipped to meet the city's demands, fulfilling only a fraction of that day's orders–three of them by Lai (and one of which he messed up).
This is the same scrappy startup that hopes to make Best Buy relevant again.