Many people depend on cars to get around but how much do they depend on a car brand to help define who they are? That's the question explored in a new study from UTA Brand Studio. The brand strategy firm's Brand Dependence Index looks specifically at people's attachment to brands. Or, in other words, how much people feel like a brand is like them, as opposed to whether or not they simply like the brand.
For this third installment of its Brand Dependence Index (previous studies looked at consumer technology and social media brands), UTA Brand Studio focused on the automotive sector, the findings of which were revealed at ThinkLA's Motor City West event at the Los Angeles Auto Show. Out of 23 leading automobile brands, Audi drivers are the most attached and personally connected to their car brand.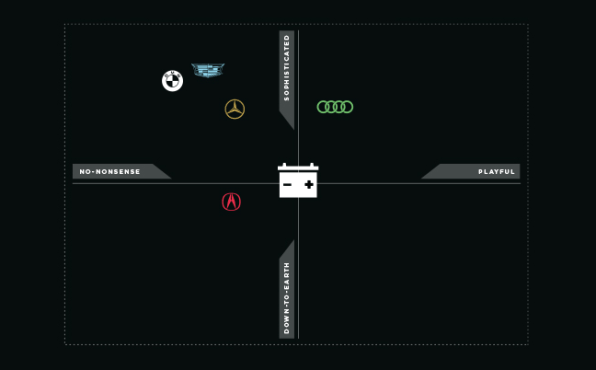 Audi scored 77 out of a possible 100 points on brand attachment, with respondents classifying the car as playful and sophisticated. Audi is followed by BMW with 71 points, Cadillac (70), Mercedes-Benz (69) and Acura (69).
Larry Vincent, founder and chief branding officer at UTA Brand Studio says that the auto sector was a valuable one to survey as cars are often a reference point to people when talking about who they are. "It was a natural place for us to explore and the data reflected what we expected: that the attachment scores were categorically higher than any other study we've done yet," says Vincent. As a point of reference, Facebook, the leading brand in UTA Brand Studio's study on social media brands, only scored 43 points.
In terms of the results, Vincent says his research team was not surprised that a luxury vehicle topped the charts but they were surprised by how large the gap was between Audi and the rest. "We expected to see Audi up there in the top five but we didn't expect to see it so far out in front."
Vincent says Audi's connection with its drivers can be best explained in the set of data that lists brand personality perceptions. Of the top-five cars, BMW, Mercedes-Benz and Cadillac are all perceived as being sophisticated, while Acura is considered down-to-earth. Acura, BMW, Mercedes-Benz and Cadillac fell on the no-nonsense side of the spectrum. Only Audi was considered to be playful, which indicates how drivers relate to the car.
"In Audi's case their drivers are much younger than their luxury peers and they overwhelmingly talked about the brand as being fun and the playfulness of it is something that they see as being not too serious, which is how they see themselves," says Vincent. "One of the areas I think the brand is really striking a chord is in appealing to a much younger driver. If you look at Mercedes, drivers tend to age up to it and the brand comes across as more serious. So, if you're Audi you have to be looking at how to sustain [that perception]. Who's the next generation you have to reach and how do you bring them into the fold as current drivers age up?"
To conduct the survey, UTA Brand Studio worked with researchers at USC to develop a 20-minute questionnaire that was given to over 4,000 respondents in the US who were 18 and over, spread out geographically and demographically. The only real criteria they were looking for was that respondents had to drive the car they were evaluating, which were limited to the sedan category.
One of the reasons attachment is a good metric is that in all of the academic research on the subject it's been shown to be a better predictor of certain kinds of behavior, says Vincent. Namely: willingness to pay premium price; willingness to defend the brand when it's under attack; and inclination to repurchase the brand again. "What's significant about these findings is that we saw the same correlation in the willingness to repurchase was one of the strongest. When you see a brand like Audi doing as well as it is, you can see that a lot of those owners are likely to go back to the brand rather than evaluating another brand," he says.
Outside of the leading luxury brands, Vincent says there were a few other specifically interesting results. First, how well Toyota fared, and secondly, how far behind Chrysler lagged.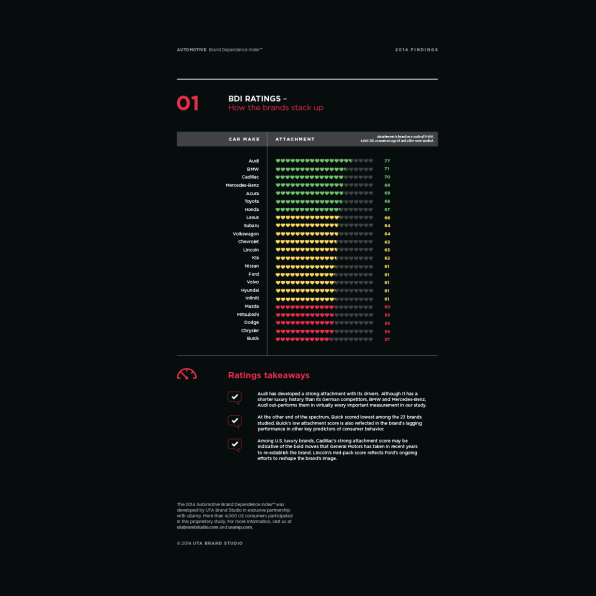 "I was surprised to see Chrysler so low on the scale, particularly given what most of us would agree is really brilliant marketing and advertising campaigns. But when we talked to Chrysler drivers, the attachment scores were low. As a marketer I'd want to find out why," he says. "Was it in the design of the vehicle? Is there something I can be doing better at post-purchase brand experience?"
Conversely, if luxury brands were not included in the Brand Dependence Index, Toyota would have led the pack. "One of the things we see in Toyota's scores is that they tend to correlate more with mentions of reliability and durability," says Vincent. "One of the big areas that Toyota scored well is with the Prius. If you look at Prius owners, their attachment level was averaging out at 74, which is getting up into Audi territory. Brands that had green technologies more prominently tended to score higher than brands that were not as heavily associated with the eco-friendly vehicles."
So what does a study like this mean for marketers? That in addition to more conventional metrics like net promoter scores and attitudinal scores, marketers should be seriously considering attachment–because they're all connected.
"So many corporate brands out there right now are interested in net promoter score," Vincent says. "One of the questions marketers often have is how do they lift their net promoter score and what's the best way to do that? We find such a strong correlation and predictive value between the brand dependence score and the net promoter score that I think there's a strong link to be made that if you want to get people to recommend your brand, you've got to work at getting them more attached to it."