For most restaurants, "sustainable" food means some combination of organic and local and seasonal. And while that's not a bad thing, a new restaurant shows how much farther the food world can go in fighting issues like climate change. The Perennial, which will open in San Francisco early next year, calls itself a "laboratory of environmentalism."
Each ingredient on the menu is carefully sourced. Normally known for its large carbon footprint, beef will come from ranches using a new process called "carbon farming" that uses cattle to actually increase carbon storage in the soil. Bread will be made with a perennial grain called Kernza, which has been naturally bred by researchers to store more carbon than something like wheat.
"In the past few years, probably like everyone else, we've gotten increasingly concerned about climate change," explains Anthony Myint, who will open the restaurant with his wife Karen Leibowitz. The pair have opened several successful restaurants in the past. "It just seemed natural to just start focusing on climate change as a cause."
The restaurant will serve as an incubator for new approaches to environmentalism in food. It's also designed to serve as an example to other restaurants–and show that change is realistic. "There's kind of a feeling in restaurants that it's such a scramble to make ends meet in general that you can't really start focusing on this gigantic problem," Myint says. "We wanted to show how it's possible."
The Perennial will showcase both small changes–like a water-saving dishwasher nozzle–and much larger efforts, like a 2000-square foot aquaponic greenhouse that will combine fish farming and growing greens. Food scraps from the restaurant will be composted and turned into fish food for the greenhouse; the greens and fish will show up on the menu.
Instead of taking an extreme approach and eliminating foods like meat, the restaurant wanted to demonstrate the best examples of foods that would ordinarily show up on menus.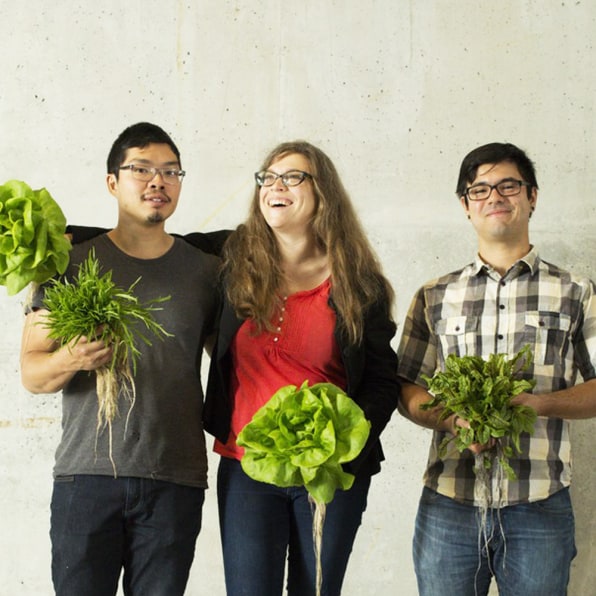 "Trying to open a vegan restaurant doesn't seem scalable at all," Myint says. "That's not the way that people eat, and I think what we're trying to do is not really change consumers' behavior too much. We'll offer a lot of vegetarian options, but we also want to make it approachable for other restaurateurs."
The restaurant's founders have also helped start a new nonprofit called Zero Foodprint, which will help restaurants evaluate ways that they can improve their businesses, from energy-efficient fridges to better sourcing. The organization will also help restaurants offset their remaining footprint by supporting projects like anaerobic digesters or clean cookstoves.
When The Perennial opens up, diners might not necessarily notice the fanatical attention to environmental detail. "I don't know if you've seen the Portlandia episode where they go to a restaurant and they're trying to order chicken, and they start asking details about whether it had a lot of friends," Myint says. "I think we want to definitely avoid that kind of flight of fancy. It will basically feel like a normal restaurant."
The real audience is other restaurants, who can learn from The Perennial's experiments. Aquaponic greenhouses, for example, could easily be adopted by someone who already has a rooftop garden. If other restaurants begin to support farmers and ranchers using pioneering approaches like "carbon farming," the founders think that the whole industry can shift.
"Anybody can say 'I'm now going to only serve this kind of meat now,' and really try to promote the adoption of those meats by other farms and ranches," Myint says. "The same way organic and local have become very commonplace now, and they weren't 20 years ago."
The Perennial is raising funds on Kickstarter for its new greenhouse.