Last week, the Hudson River Park Trust announced a plan to build an elevated pier park and performance space on the Hudson River in New York.
The park, a hilly, curved green space that rises from the water on a series of concrete columns, will be located a few hundred feet from the shoreline, between the remains of the support piles that held up the piers–piers that once formed an integral part of Manhattan's shipping infrastructure. It's intended to replace the deteriorating Pier 54, which will be torn down. Instead of a linear, flat pier stretching out into the river like a kind of aquatic High Line, the park is closer in shape to a square, with edges that curve up to form a kind of sloped bowl where people can congregate and watch performances. Despite the name, it's really more floating park than pier.
Pending approval of various federal agencies and the full Hudson River Park Trust board, Pier55 should begin to rise out of the water around 2016. The park is to be paid for in large part by the fashion designer Diane von Furstenberg and her husband, IAC chairman Barry Diller, whose family foundation was a major financial backer of New York's High Line. And they've hired some serious design talent to help make this park project as groundbreaking as their last one. The trust and the newly established nonprofit organization Pier55, Inc. have chosen one of the most exciting designers working today, Thomas Heatherwick, to create the look of the new park.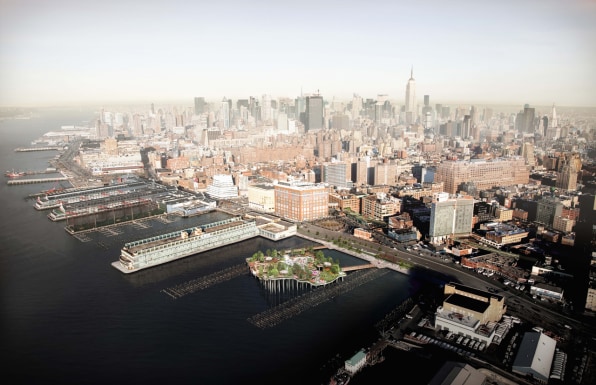 London-based Heatherwick, who was selected via an informal competition with three other architects, has a knack for turning even the most generic architecture into a creative breakthrough. He's designed everything from a new double-decker bus for London to an art museum in a grain silo to a rolling roll-up bridge, and is even working on a bridge over the Thames River. He's also creating a monumental artwork for Hudson Yards, a mega-development on Manhattan's west side not far from the proposed park. And though Pier55 is not Heatherwick's first New York commission, it's a chance to make his creative mark on the city in a major way. Free from the visual impediment of surrounding buildings, with views of the shorelines of Manhattan and New Jersey and the lapping waters of the Hudson below, this is bound to be the next hot destination for New York city park-goers (and tourists).
Co.Design spoke to Thomas Heatherwick to find out more about what it will look like, his inspiration for the project, and how he approaches park design. Here are a few of his insights: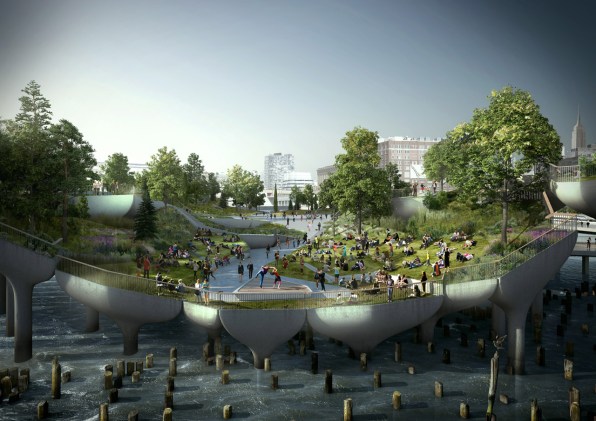 Thomas Heatherwick: I've been coming to New York over the last 30 years, because my great aunt lived there until she was 103. And you'd come down the West Side Highway [adjacent to the Hudson River] and for so long, it felt kind of quite windswept. It was place to go faster rather than go slower, and I remember seeing these fields of the diffused, dark mysterious piles [the wooden supports from the old pier infrastructure, seen near the park in the rendering above] that emerged from the water. When this competition came up, and we were thinking about how we might make a piece of park above the water, those river piles seemed the particular, idiosyncratic, memorable thing.
We were just imagining, what would we make that was propped up on all these sticks? And then we wondered if instead, could we let these tough river piles come upwards and actually be the heroes of the project, rather than be hidden [under a pier], and let each one grow into a planter at its head that could hold a piece of horticulture. The collection–I think there's more than 250 of them–all come together to make a new kind of public space.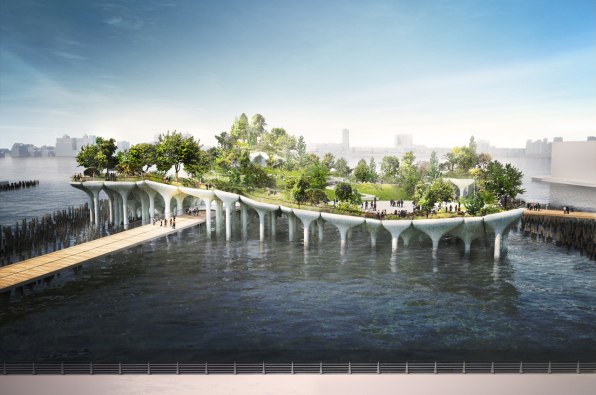 We're taking down Pier 54 and putting up this new pier that the Trust are naming Pier55, not exactly above where it used to be but it is approximately the same area as the long thin [Pier 54]. A long thin pier doesn't create a social dynamic because it by definition spreads people out.
So this square plan that we developed was very much about bringing people together, so that you could have not only the immersion in nature, but also by lifting up the corners, you also have an interesting dynamic: by making it almost like a bowl, the visitors to the park can all see each other, and there's some kind of chemistry with each other. Because we're creating a new piece of landscape, there's no imperative to make it flat as a pancake.
The plan is perpendicular, not to the edge of the river, but to the street grid of Manhattan. So if you look down 14th Street or 15th Street, it's exactly square to you. When you walk along the edge of the highway and walk along the Hudson River Park link that goes from one pier to the next, if out in the water there was just a straight edge, parallel, it would be less dynamic. The act of just that slight twisting to go with the grid of the whole of Manhattan would give more dynamism for the people both on the new pier and arriving to it on the link bridges that connect you.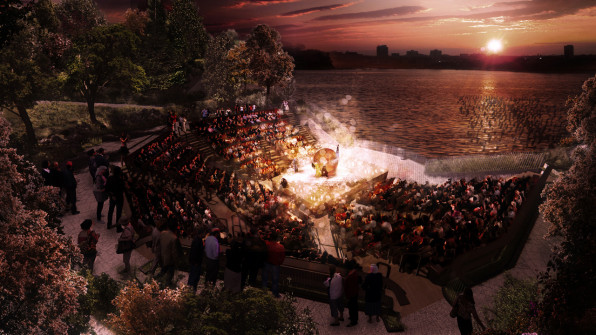 The topography of the park that we've designed is deliberately conceived to allow performances to take place and give sight lines. That was a duel benefit of making the garden more three-dimensional. It makes an interesting dynamic between people, it also allows the piles to be seen and express themselves, and it also allows better sight lines for performances.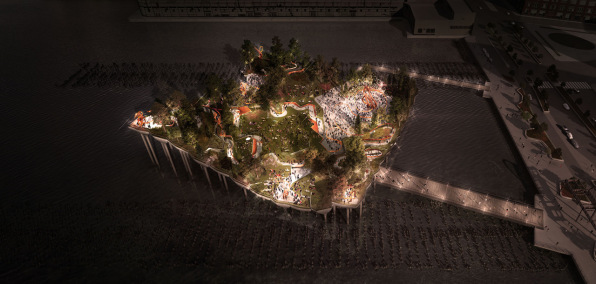 [The High Line] has changed how the world thinks about public spaces. I'm aware that this project owes a huge debt to that project. And that Barry [Diller] and Diane [von Furstenberg] were key parts.
We try not to have a single mode of thinking. But I think there's maybe a big deference to the nature, really, and a sense that our role is to try to hold up that nature, and then get out of the way. So [in the Pier55 design] there aren't columns and cables sticking up above the trees and bushes and plants. All the structure is done from below.
Read our previous coverage of Pier55 here.