It's no secret that New Yorkers don't think too much about pay phones any more. A quick stroll around the city will reveal that many pay phones don't work and many are just empty booths, lacking actual phones. But the pay phones are a vital piece of city infrastructure, especially in disaster situations. With the need to preserve that infrastructure and the opportunity to reimagine the public terminal, NYC's Department of Information Technology and Telecommunications (DoITT) was tasked with finding a way to preserve pay phones while making them more useful to people in the 21st century.
To accomplish that, DoITT solicited proposals from companies around the world. After a lengthy process, the city has selected a proposal by a consortium of companies collectively called CityBridge. Over the next four to five years, CityBridge will build out what it is calling the LinkNYC network. Each individual terminal will be called a Link and will offer blazing-fast Wi-Fi, touch-screen interfaces, the ability to quickly make 911 and 311 calls, and free charging stations for mobile devices.
The four companies that comprise CityBridge are Titan, Control Group, Qualcomm, and Comark.
Titan is one of the two major operators of current old-school pay phones. The advertising relationships that Titan has built over the years will provide important continuity in the revenue stream for LinkNYC. New Yorkers may know Control Group as the company that has built a handful of interactive information kiosks in the subway system. Naturally, Control Group will be handling the user interface and technology that will power the Links.
Qualcomm will serve primarily in an advisory capacity, building on its experience in wireless connectivity. Comark will do the actual physical manufacturing of the Links.
Acting as a Wi-Fi hotspot is the key feature of the new terminals. LinkNYC will be the fastest free municipal Wi-Fi network in the country. CityBridge boasts that its Gigabit Wi-Fi network would allow a two-hour HD movie to be downloaded in 30 seconds. Users will be able to walk down a street with their phones connecting from one Link to the next without their connection dropping.
Free public Wi-Fi networks are often lackluster, offering slow and frequently interrupted connections. CityBridge plans for LinkNYC to change what public Wi-Fi means for the world.
"One of the reasons why this Wi-Fi network is expected to work where others haven't is because we have linked it to a significant source of revenue, which is the advertising component," says Scott Goldsmith, Titan's chief operating officer.
Between the possible merger of Comcast and Time Warner and uncertain prospects for net neutrality, the future of the Internet remains up in the air. By providing a free, public option for fast Internet, New York City is certainly helping to increase Internet access for all. Representatives of CityBridge specifically state that one of their goals is to help bridge the digital divide "between people of various physical, financial, and technical abilities to connect all New Yorkers to the opportunities that Internet access affords."
"The first payphone was installed in Chicago in 1898 and hasn't changed much since," says New York City Council Member Ben Kallos. "This will revolutionize the structure's design and bring us one step closer to universal broadband in public areas."
The terminals will be built at no cost to New Yorkers, funded entirely through the advertising revenue they will generate. In addition, the advertising is expected to generate $500 million in revenue for the city itself. Thankfully, Links will only have advertising displays in commercial areas, and not on the devices installed on residential streets.
Through the touch-screen interfaces, residents will be able to access city services and get directions their location. Tourists can look up local attractions. As the devices continue to be rolled out and upgraded, CityBridge has plans for Links to be gateways to local businesses. Community members may also be able to engage with issues specific to their neighborhood or block through the Links.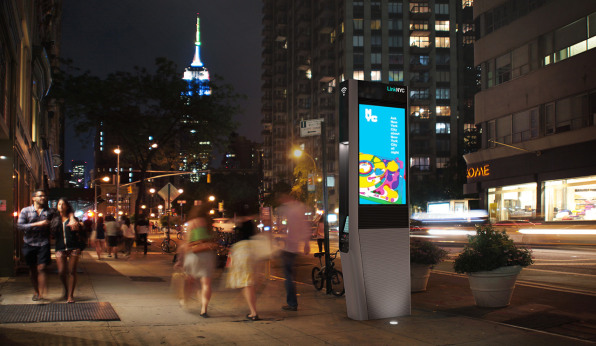 Another local plus: The Link terminals will reportedly be manufactured within NYC's five boroughs, creating over a hundred full-time manufacturing jobs.
Sidewalk real estate is, like all real estate in New York, at a premium. At just 11 inches wide, the terminals will have an incredibly slim profile. In residential areas, the devices will be much smaller without the advertising panels.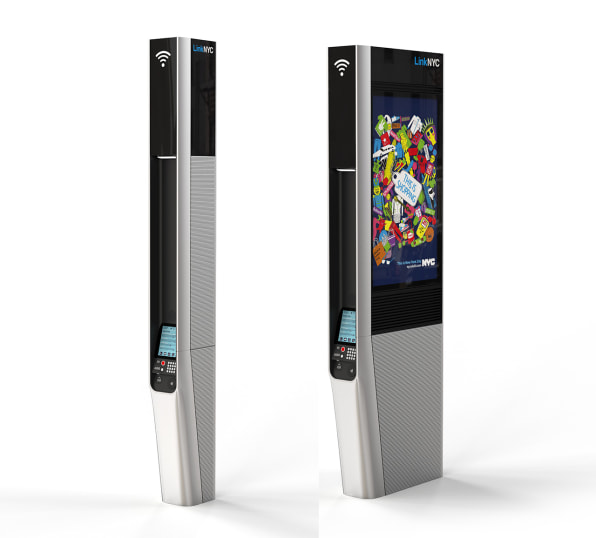 Despite their futuristic look and feel, CityBridge has also been careful to pay close attention to accessibility. Representatives for LinkNYC stress that the Links will be fully accessible to people with disabilities.
The sleek design does, however, mean that there's no space for slotting quarters into the machine. But not to worry–the terminals will also offer free calling to all 50 states. No coins required.