In one way or another, magazines like Cosmopolitan have always been part of Megan Amram's life. She is not a fan.
"When I was a little kid, I felt very outside the world of what they were portraying as a woman's life, and I still feel that way," she says. "I always thought, 'Oh, I guess I'm not grown up enough for these.' But really, they're just portraying a type of woman that I never have been and never will be."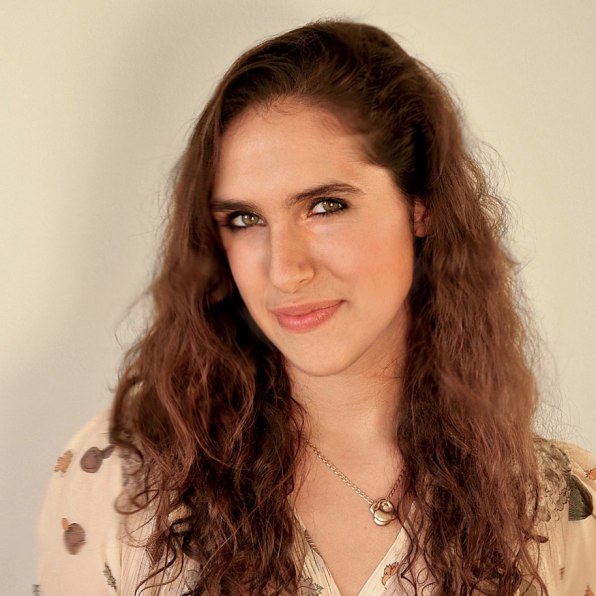 Although the Parks and Recreation writer may not inhabit the kale-conscious feminine utopia of such publications, that hasn't stopped her from becoming one of its ambassadors. In her new book, Science . . . For Her, Amram borrows the brunch-frenemies tone of Marie Claire, et al, and applies it to the format of a textbook—with a heightened narrative element thrown in too. The juxtaposition is jarring, but also revelatory. Considering how ridiculous astrophysics sounds in the OMG-speak of this parody, it's troubling that anyone would deliver lifestyle advice with a similar tone in the real thing.
The idea for the book grew out of a series of comedic prose pieces Amram wrote on her blog. In these short posts, the author explored funny ideas in a different style than Parks and Recreation—expanding on the ferocious, freeform wit of her widely beloved Twitter account. Although writing these kinds of pieces would eventually land Amram a spot in The New Yorker's Shorts and Murmurs section, she decided that if she were ever to author a book, it would be more than a disjointed series of essays. After looking back through her blog, Amram realized she'd subconsciously written a handful of posts making fun of a Cosmopolitan type magazine, including a "fun and flirty" quiz that determined whether its readers had cancer. The premise of a whole book in that style seemed like a great set-up for a joke, she realized, but there would also have to be a punchline.
"I started following the thread of, 'If I'm going to do a fake Cosmo, what would be the craziest premise that it could have?' Amram says. "The science textbook seemed like the most sexist thing I could squeeze out of that."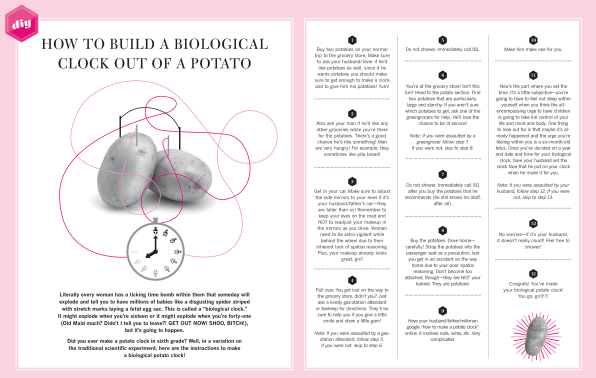 Science . . . For Her liberates the women's magazine spirit from its narrow focus on weight loss, fashion, and not dying alone; catapulting it instead all over encyclopedic passages on chemistry, biology, and botany. The breadth of ideas that fall under the rubric of Science, however, also allows Amram to sneak in satirical critiques on topical issues. (The chapter on Pharmacology and Medicine, for instance, has a section on "legitimate rape.")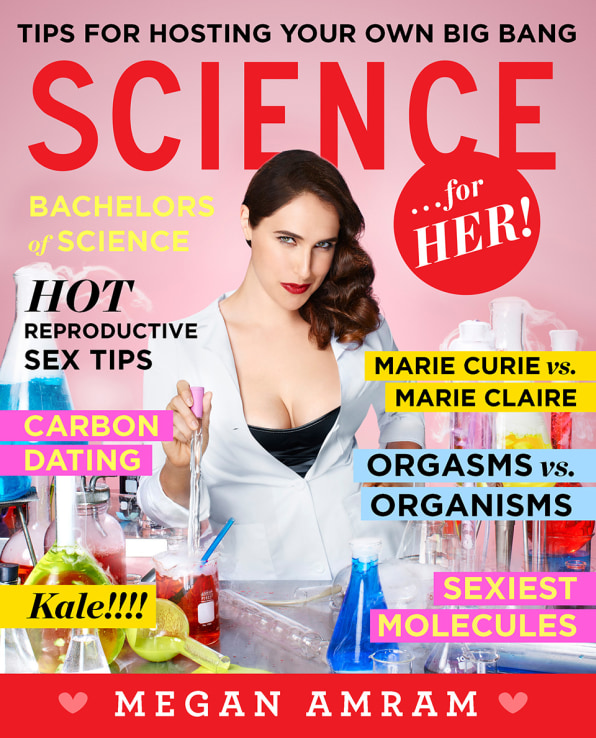 All of the book's information is delivered by a fictional "Megan Amram" who describes the experience of writing the book, along with other developments in her life at the time. Anyone who's ever been put off by the women's magazine voice will find it cathartic to learn that, in at least one iteration, the person behind it is a total sociopath. Over the course of the book we hear a lot about Megan's ex-boyfriend, Xander; about how she lost a ton of weight doing meth, and then went into a coma; and how she eventually got kidnapped. All delivered in the tone of someone assuring you that you look great in a terrible hat.
"The character that I play as the narrator is so crazy, but it's not that far away from how those magazines talk to their readers," Amram says. "It's a combination of very familiar and casual and best friend-y and then sort of negging the reader the whole time. It's just so passive aggressive to tell someone that they're your best friend but then say, 'Also, you haven't quite lost that baby weight, so here's some exercises to not look like a fat cow.'"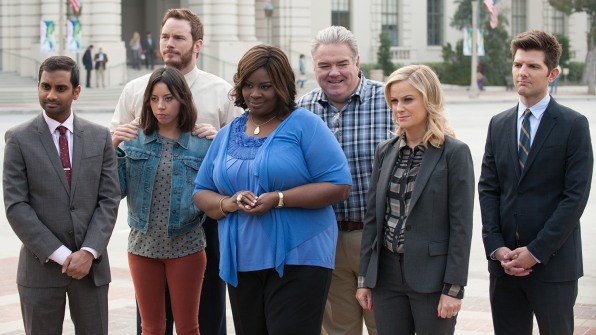 On most days, Amram isn't angry about the way women are addressed through pop culture and advertising (in ads like the ones that inspired her to make this yogurt commercial parody.) Usually, it's more a general sense of incredulousness that this voice is still being used, and that on some level it must work.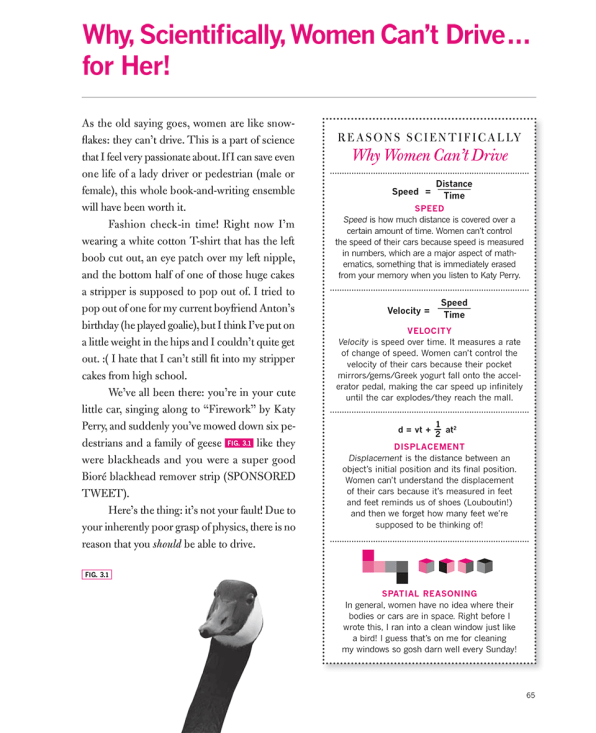 "It's just such a prescribed view of women who are hanging out with the same five girlfriends all the time," the author says. "It's such a funny instinct to be like, 'We want women to know that we're just their friend and we're just telling them, we're just letting them in on this little secret and it's just fun!'"
Amram starts chippng away at the hypocrisy of this sort of mass-disseminated chumminess by opening up her book with fifteen pages worth of detailed thank-you's to each of her besties. (So many besties.) But really, readers should know what they're in for by then, just from perusing the cover. Aside from the conservative font-choice, everything here looks like any given issue of Allure, if it were set inside a laboratory. Even the author herself looks magazine-ified–her hair and makeup done to an exceedingly fun and flirty degree, while her head has clearly been photoshopped on the body of a scientist whose labcoat can't contain the cleavage within. It's an image at great odds with that of a dignified science authority, and also a far cry from Amram's own Twitter avatar, in which her eyeshadow seems to have been applied by flung throw pillow, and her chin appears to be trying to escape inside of her neck.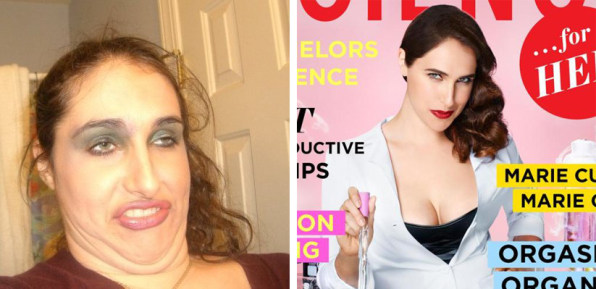 "I've known for a long time that I'm never, ever going to change that profile picture," the author says. "Like, for one thing, I just think it's funny. Also, I'm more proud of the recognition I've gotten with that as my picture than I would if it was a glammed up one." Amram adds, "But I do like that the only two photos that a lot of people have seen are my profile picture and the one on the cover of my book. I think they represent the two sides of me."