Want to find that stand-out candidate who can push your team to the next level? Everlaw CEO AJ Shankar says his strategy is to look for athletes on high-performing teams.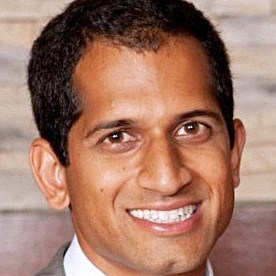 It's worked great for his technology company, which provides cloud-based legal services. Shankar plays ultimate frisbee for the Polar Bears, a team that has won the U.S. Open Ultimate Championships and placed second in the World Ultimate Frisbee Club Championships.
And his experience hiring a few of his competitors has led him to always be on the lookout for new hires who have played team sports, especially at the higher or elite levels. He's also has come to appreciate the same qualities from accomplished musicians who play in orchestras or other groups.
"If you play on a high-performing team, regardless of the sport, you're forced to think about things in a way that's useful for a startup," said Shankar, whose company is based in Berkeley, Calif. "There's this understanding that success is a process, whether its running track workouts or completing a project. It's all headed toward a success-oriented outcome, but results don't come quickly."
He's not alone in placing a premium on athletes. Tech darling Paul English, who cofounded Kayak, also keeps an eye out for success on teams when hiring at his tech accelerator Blade, whether it's sports teams or orchestras. He said he listens to job candidates talk about their teammates. "You have to be competitive and team-oriented, that's the biggest thing I look for when I interview," he says.
For Shankar, about a third of his staff of 15 plays ultimate frisbee at the club level for teams across the Bay Area. Many of his first hires were frisbee players he had watched navigate high-stress situations on the field. His staff also includes a competitive fencer, soccer player, and a former track athlete.
That doesn't mean you should just go out and hire anyone who plays elite sports. Shankar warns that high-performing teams also attract athletes who can be more focused on themselves and their own goals more than the team's. The trick is to avoid the divas.
"The most dangerous employee is high-performance and low culture fit, because they can be toxic to your office environment," Shankar said. "Teamwork matters. They need to be focusing on the company's goals above their individual goals."
Shankar said his sports-centric hiring technique happened naturally since he had already been spending so much time playing ultimate frisbee back when he was starting his company four years ago. But when the frisbee players worked out so well, he kept looking team sports as a hiring technique to differentiate one candidate from another.
"If you're looking at a resume, you're looking at GPA and where they went to school," said Shankar, whose company works with law firms to manage, organize and analyze millions of pages of discovery before trials through an Internet platform. "But what's almost as important as raw intelligence, is their ability to work on a team."
With so many workers on these elite teams, things can get crazy for employees during the ultimate frisbee season from May through October. The practices, workouts, travel and games can run 20 hours a week during the season, as much as a part-time job. Shankar said that kind of commitment forces employees to prioritize.
"Team players know a lot about time management," said Shankar who has a PhD in computer science and played ultimate frisbee for UC Berkley. "When you're able to juggle work and intense non-work stuff, you tend to do a good job of prioritizing what needs to be done now."
However, early on in his company, he learned the downside to having so many staffers doing the same sport. Back in 2011, six of his seven company employees, including himself, all played club ultimate frisbee and were all in Florida for the national championships. That means only one employee was back at the office. "I was doing work in the parking lot" in between games, Shankar said. "We managed it, but that was something I don't want to repeat."
Now, his staff is more diverse in terms of athletics, but there's plenty of pick-up ultimate frisbee games among the staff. And when it comes to managing projects, his team players have pulled off some impressive feats, he said.
One time, Everlaw was helping a premier client with a messy electronic data dump for a lawsuit. The data came in a different kind of format, one they weren't used to dealing with, and it was tough for them to help their client make sense of the records. One of Everlaw's team players took it upon himself to manually clean up the data, which was an entire week of "incredible drudgery," Shankar said.
"He spent hours sorting through and cleaning up the data," Shankar said. "No one wants to work on a boring or annoying project, but he just gritted his teeth and did it to provide that higher level of customer service." And their customers were thrilled to get the more useful data.
That's why you want a team full of Most Valuable Players.