UPDATE: After filing a complaint against Hampton Creek, it would appear that Unilever is trying to cover its own mayonnaise-scented tracks. According to a report from the New York Times published over the weekend, Unilever has begun making changes to its own website when referring to Hellmann's mayonnaise dressing with olive oil. Consumers simply calling the product "mayonnaise" now have had "dressing" inserted into their comments. Since we last checked in with Josh Tetrick and the Food and Drug Administration, the New York Times also reports that the FDA has also contacted Hampton Creek over its use of the term "mayo" in reference to the startup's eggless spread.
Is "mayo" mayonnaise?
This question is at the center of a new lawsuit brought on by food giant Unilever against Hampton Creek, a much-hyped Silicon Valley VC-funded startup that wants to replace the American diet's reliance on eggs with plant-based substitutes. In the past year, Hampton Creek expanded the distribution of its "Just Mayo" product to more than 20,000 stores, including national retailers like Walmart and Kroger.
Unilever, the maker of Hellmann's Mayonnaise, claims that the white stuff that comes in Just Mayo jars is not actually mayonnaise, but a mayonnaise impostor hiding under a deceptive label.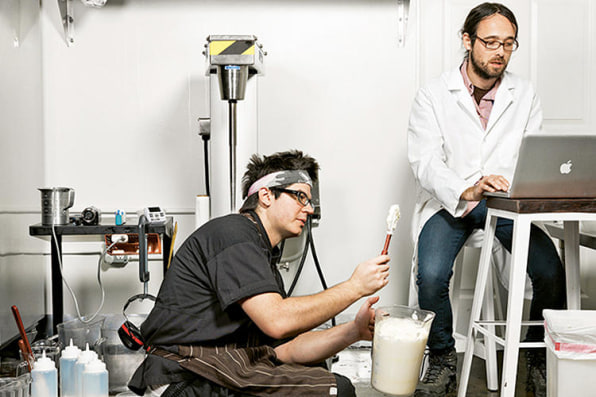 "For more than 100 years, Hellman's has been committed to quality, authenticity and real mayonnaise. We brought this lawsuit because use of the Just Mayo name blatantly misleads consumers," Unilever spokesperson Anita Larson wrote in a statement to the New Jersey Law Journal. (Unilever did not respond to Co.Exist's requests for further comment by press time.)
It might seem weird to hear Unilever, which also makes I Can't Believe It's Not Butter, go for the authenticity argument. But the Food and Drug Administration really does have rules about what qualifies as mayonnaise versus something more generic, like salad dressing. According to the FDA's mayonnaise standard of identity, the French-sounding goop we slather on sandwiches has eggs in it.
And yet: When the FDA finds a product in violation of these rules, the agency will typically issue a warning letter. From a quick search through the FDA's warning letter database, Hampton Creek has not received any FDA chastising. (Hampton Creek's founder Josh Tetrick refused to comment on whether the company had received other warning signs.) It would also appear the FDA doesn't seem too stringent about regulating mayonnaise. Vegenaise, another "eggless mayonnaise" on the market, hasn't had any trouble with the FDA, according to the agency's warning letter database.
"We think we need innovation in food and we're proud of what we're doing," Tetrick tells Co.Exist. "At the same time, we don't think we're violating any kind of standard of identity. Frankly, I'm not even sure Unilever's executives know about this."
Last year, when I interviewed Tetrick for a feature on the future of his eggless mayonnaise, he mentioned a possible collaboration with Unilever. (After news of the Unilever suit, Tetrick also forwarded an email from Unilever's senior vice president of marketing, Marc Mathieu, expressing enthusiasm for Tetrick's work.) As it happens, the companies do have reason to be either extremely cozy or extremely competitive. Tetrick's former chief R&D executive, Johan Boot, spent seven years directing global research and development at–yep, you guessed it–Unilever.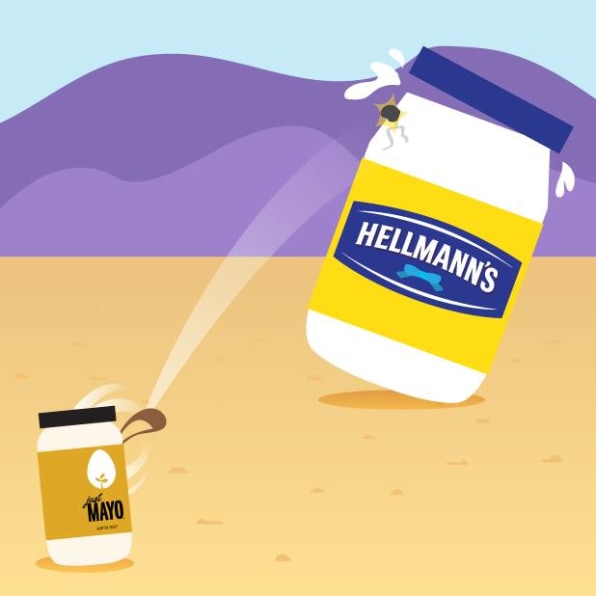 Back in 2005, Unilever's research lab in the Netherlands even tried its own hand at an egg replacer. The experiments resulted in a company called Alleggra, which advertises "cost-effective and healthier solutions for all egg-based dressings, from low-fat salad dressings to high oil content mayonnaise type products" on its website. Unilever Ventures now owns the majority stake in the business.*
Tetrick turned down a request to share his Just Mayo sales numbers, but the Unilever suit claims that Hampton Creek's advertising has "caused consumer deception and serious, irreparable harm to Unilever." The suit refers to Just Mayo's claims of superiority over Hellmann's posted on Hampton Creek's Facebook page.
In 2013, Unilever reported a revenue of $64.7 billion from goods sold in nearly 200 countries. If anything, a lawsuit claiming irreparable damage from an ersatz mayonnaise startup (albeit a well-funded one) drums up positive publicity for Hampton Creek.
Tetrick is well aware of the lawsuit's ringing, and perhaps slightly discordant, endorsement. On Friday, Hampton Creek's Facebook page featured a graphic of a jar of Just Mayo throwing a stone at a Goliath-like jar of Hellmann's. "I would suspect that when competition heats up, companies are companies, and one thing leads to another," Tetrick says. "I think it's unfortunate that at this specific point that [Unilever has] this perspective, but we're big boys. This is life."
*Alleggra's website states that Unilever owns a majority share in the business, but recent annual returns show that Unilever Ventures no longer owns a stake in Alleggra. We regret the error.