After its first season debuted on Vimeo, the web series High Maintenance earned what seems like the goal of every web creator: Established media offered a warm, moneyed embrace. There were reportedly discussions with FX, Comedy Central, and others with deep pockets.
But instead, the creators decided to become part of an even grander experiment in web content: They became the first original content to be funded by Vimeo. Season Two, which will be six episodes long, debuts November 11.
For its Wednesday night premiere party, the creators didn't rent some hip Manhattan hotel, as have some networks do. It was in a warehouse space deep in the industrial Brooklyn neighborhood of Red Hook–so deep that organizers operated a shuttle to bring people there. But inside, it was easy to feel optimistic about life without cable TV. There was, of course, a little red carpet.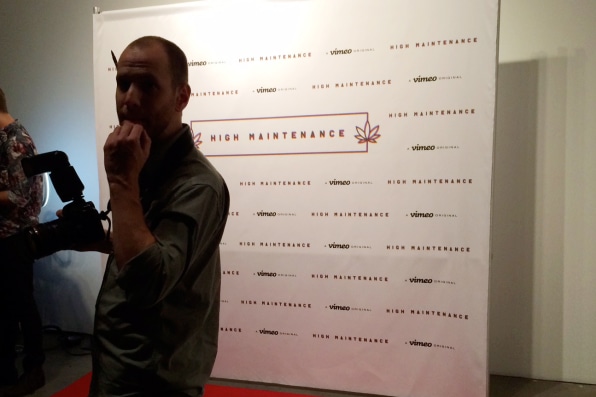 And there were hundreds of people. And alcohol sponsors. And catering, gift bags containing maple bacon-flavored lollipops and Bloody Mary-flavored chips, and, finally, a gigantic screening hall to watch the first three episodes.
"Oooooh," said Ben Sinclair when he and his co-creator wife, Katja Blichfeld, stepped up to the stage.
"This is surreal for us," said Blichfeld, a casting director by trade.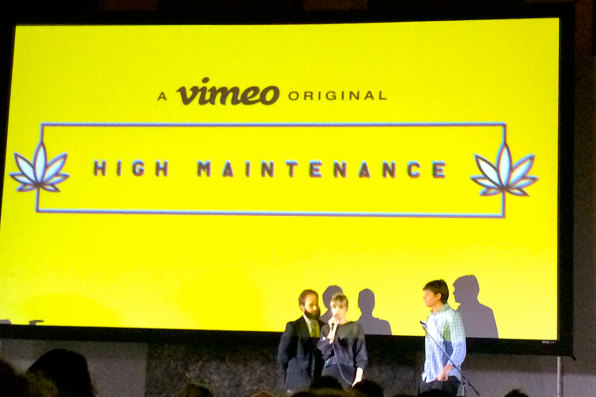 A quick summary, if you've missed the series: Each episode is about six minutes, and drops in on the life of a different character in New York City. At some point, each one calls up Sinclair's character, an unnamed pot dealer in New York City. Biking around the city, he provides the show's continuity, but is rarely central to any episode. The stories are really about the ordinary lives of his clients–sometimes lonely, sometimes funny, always entertaining.
Here's an episode from season one:
Earlier this year, Vimeo pledged $10 million to fund indie projects on its video-on-demand service. High Maintenance is its first and most obvious choice: The series grew on its own, and existed on Vimeo because that's just where its creators happened to upload it. What happens afterward will matter more to Vimeo, as it tries to conjure indie greatness from other creators.
And that leads to an important question for Vimeo and all creators: What made High Maintenance so successful? Last night, the co-creators offered an answer: Simplicity. The show works because it's not trying to do too much.
Sinclair: "Originally the [pot dealer] was a psychopharmacology PhD candidate who couldn't defend his dissertation, and he was paying off loans and was an armchair therapist and it was just really clumsy."
Blichfeld: "It was very convoluted."
Sinclair: "The thing we wanted to do was tell a narrative story in real time that could have a beginning and an end. Then once we got rid of all the minutiae of where this guy got his weed and how his dealings went and all of the rules, then we were free to really just do whatever we want. And then we were like, oooohh."
Blichfeld: "We also thought it would be interesting for Ben's character to have that mystery, and the audience would only know as much about him as his customers do. And I think once we latched onto that idea, a lot of things became clearer."
And how are the new episodes? Sinclair and Blichfeld said the biggest change was that they now have money to pay their cast and crew, but that they otherwise wanted to keep everything the same. And they mostly have. With a larger budget, the episodes are more expansive–more scenes, more settings, and with all that, characters whose lives are more visible and less mysterious. But they are otherwise what the co-creators wanted–to keep doing what they're doing, with no modifications for network executives.
The first episode, though, seems to reveal a slight self-awareness of the new media space it lives in. In an early scene, two characters talk about Vice News. And a little later, one character even briefly watches something on, of course, Vimeo.