As wearable devices get more popular–and the Apple Watch looms on the horizon–there's a scenario in which Up models might have evolved into something more smartwatch-esque. Something, maybe, like Fitbit's new Surge.
Jawbone isn't doing that. Instead, a day after The Information's Jessica Lessin broke the news that it had two new models on the way, it's announcing next-generation versions of Up which double down on the idea that a health-related wearable gadget should be unobtrusive, fashionable, and designed to be worn around the clock.
Why not broaden Up's mission beyond health with smartwatch-type features like messaging and notifications? "When people straddle, it generally ends up being a product for everyone which is a product for no one," says Travis Bogard, Jawbone's VP of product management and strategy. In particular, the company didn't want to do anything which involved adding a battery-sucking screen that would have required nightly charging, thereby making sleep tracking impractical.
Of the two new models, the easy one to understand is the Up Move. Everything Jawbone's Up24 does, this one can can do, with the exception of the vibrating feature, which can nag you to get up and move when you've been too sedentary or wake you up in the morning. But it does it for just $50, making it the iPod Shuffle of the Up lineup.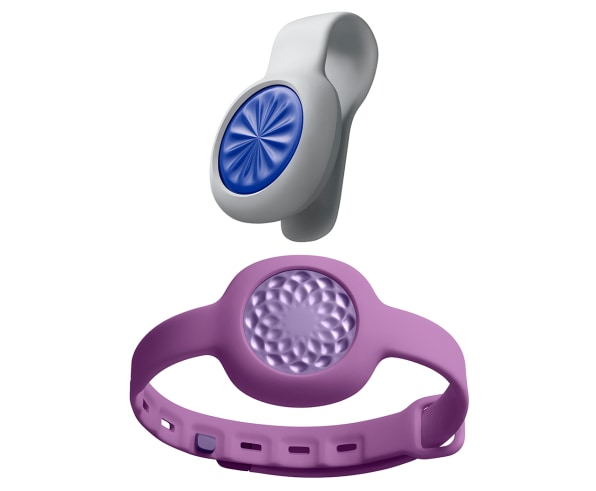 The Move looks nothing like the bracelet-style Up24. Instead, it's a disc-shaped device, available in five styles, which reminds me of Fitbit's Zip–they're both cheap and colorful, and both come with a clip. And both run for months on a watch battery. Unlike the Zip, however, the Move doesn't have a full-blown display–just lights which indicate how far you are toward meeting your daily fitness goal.
The Move can also be worn like a watch on $15 straps (in two sizes). If you press and hold its face, it'll use the aforementioned lights as a rudimentary analog watch that's designed to give you only a general sense of what time it is. (Call it a dumbwatch.)
Then there's the $180 Up3, the new top-of-the-line model. Physically, it bears more of a resemblance to earlier Up models. It's significantly rethought from a design standpoint, however, and packs even more sensor-based intelligence.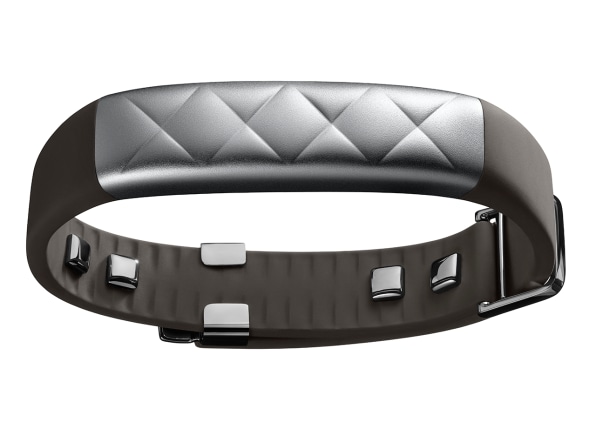 Like the original Up and the Up24, the Up3 is a bracelet. But while the previous Ups were springy one-piece spirals which came in multiple sizes for different wrists, the new one puts most of its electronics in a central pod attached to an adjustable, one-size-fits-all band. It's 30% smaller and looks even more like a piece of jewelry than before.
Up3 will only be available in one color and style at first. It's called Black Twist, and it's as classy-looking as any wearable I've seen. Jawbone says it will introduce more variants in 2014, and might do ones which incorporate fancy materials such as leather. Like the Apple Watch, Up3 could end up being available in versions for people with varying senses of style, at a variety of price points.
The Up3 runs for seven days on a charge, according to Jawbone, and uses a custom USB cord with a magnetic connector for recharging. That lets it do away with the incredibly-easy-to-lose cap that protected the charging connector on previous models.
Besides a new version of its accelerometer, the Up3 has a bioimpedance sensor which can measure your heart rate; Jawbone says that this technology is a better choice than the optical sensor used in gizmos such as Samsung's Gear Fit, especially for something as sleek as the Up3. (Optical sensors take up more space, drain batteries faster, and can get confused by arm hair, Bogard told me.) It also has sensors which can measure both your temperature and the ambient temperature in your environment.
When used with the Up3, the Up smartphone app will be able to sense what sort of sleep you're getting–light, deep, or REM–and figure out when you're engaging in a particular sort of physical activity, such as playing tennis. At first, the app will use the bioimpedance sensor to track your resting heart rate , but software updates will allow it to monitor your heart in other situations, such as when you're exerting yourself.
That's not the only respect in which what the Up3 hardware is capable of doing races past the features which Jawbone plans to incorporate into the first release of the Up smartphone app which works with it. Eventually, Bogard told me, the app might be able to sense that you're stressed or depressed and offer relevant information. But the company wants to take its time implementing such features rather than rush them out the door.
The Up Move will be available on November 7th; the Up3 will follow before the end of the year, Jawbone says. The Jawbone Up24 will stick around as a midrange option, at a new price of $130. And even though Jawbone isn't getting into the smartwatch business with its own hardware, it wants to help smartwatch fans stay healthy, too: It's doing Up apps for major smartwatches, and says that some Android Wear watches will come with Up pre-installed.
Here's Jawbone's video on both new Ups and the whole Up platform: