Last year around this time, with the holidays fast-approaching, Target's reputation slipped from "nice" to "naughty" after a string of bad decisions around data security allowed hackers to run off with credit card information on 40 million customers. This year, with better controls and a new CEO in place, the struggling retailer is pulling out all the stops to ensure that it wins back customers' trust with on-trend, cost-conscious designs.
Last night that focus came together at Story, the Manhattan concept store that remakes itself every eight weeks according to a corporate-sponsored theme. Newly minted Target chairman and CEO Brian Cornell had happened to be in the store on the opening day of its last installation, exactly eight weeks prior, and had jumped at the chance to do a last-minute holiday collaboration with Story founder Rachel Shechtman. The result, a Home for the Holidays concept that integrates Target-designed products with products from other brands, debuted amid frozen hot chocolates and ornament-decorating in a Jason Bell-designed mountain retreat.
Cornell, who has been trying to restore Target's design moxie–or in his words, "regain merchandizing authority"–declares Shechtman's work "beautifully curated." He sees the Story sponsorship as an opportunity to showcase Target products alongside products by up-and-coming brands in priority categories like home, fashion, and beauty, and ultimately as a way to lure shoppers back in stores. "Comparable vendors, stunning value," he says with chest-puffed pride, nodding to brightly lit shelves and tables jammed with over 3,000 gift-worthy SKUs.
"It's a great learning lab for us," he tells Co.Design. "We'll have a chance to see over the next eight weeks how shoppers react." (Story shares analytics and feedback with sponsors at the end of each store installation. Past sponsors include American Express and General Electric.)
Todd Waterbury, Target's chief creative officer, will be among the leaders tasked with identifying those lessons. Already, Waterbury says he is looking to Story's "accessible luxury meets holiday nostalgia" staging for inspiration as the retailer looks to win over prospective mobile shoppers on Instagram and Pinterest. "We think of it as a miniature, one-inch by one-inch store window," he says. "What would make you stop and go inside?"
Indeed, it's easy to see the indulgent Americana aesthetic playing well on photo platforms, with antler chandeliers and rough-hewn "stone" wallpaper alongside glitter-ific reindeer mantelpieces and red velvet pancake mix. There's apparently no place like home for the holidays, all the more so if home involves fake fur and bedazzling.
Two months ago that vision was little more than an sketch on paper. Shechtman, working in sweatpants, was helping her team put the final touches on its September-October installation when an Escalade full of Target executives arrived unannounced, in town from Minneapolis. She swallowed her fashion pride and put on her best welcome.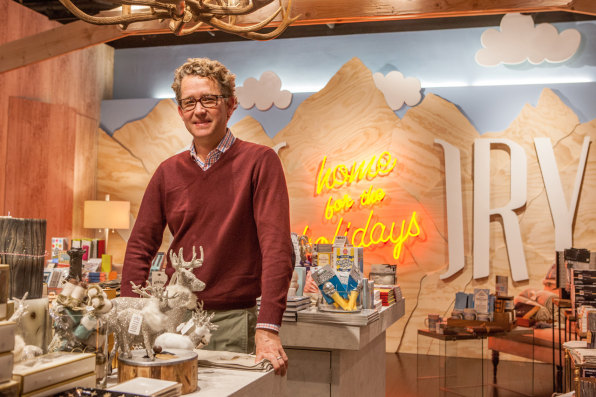 Shechtman found herself chatting with a friendly but reticent guy named "Brian," telling him that Target had always been one of her favorite stores. Before leaving, he handed her his card: Brian Cornell, chairman and CEO.
Ever the entrepreneur, Shechtman seized the moment. "Home for the Holidays is one of our annual stories, we do it every year." She issued him a challenge: "In exactly eight weeks we open up that story, and [when we do] I'd like to merchandize Target next to other brands."
Over the next two months, Story and Target worked at a pace that would put Santa's elves to shame, filling the store's 2,000 square feet, floor-to-ceiling, with products worthy of a place under the Christmas tree. Brands that Shechtman sourced months prior make up 70% of the merchandise on display, from woven button-downs by Apolis to wine holders by Rose + Fitzgerald. From among Target's product lines, Shechtman hand-selected items like a coat with a fake fur collar, a wool throw blanket, and a Nate Berkus dessert plate set.
"They were very open to us trying something different," Shechtman says. "I walked through the entire collection and had free reign."
Now, shoppers will have their turn. Target's Story sponsorship will run through January 4, 2015.