In Record Ruins pixels drift and screenshots melt before your eyes. If you look hard enough, you can recognize the melting, moshing remains of Microsoft Office error messages and Windows default backgrounds. That's because all the screenshots, computer schematics, and old graphics used on the page were sourced from the massive Internet Archive, then fed through custom algorithms and molded into abstract, shifting compositions by artist Adam Ferriss.
And there are many more where Record Ruins came from.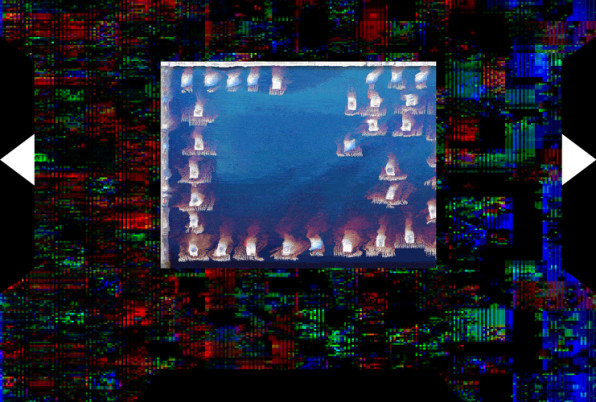 If you haven't heard of the Internet Archive, it is one of the most comprehensive resource of free media accessible online. The San Francisco-based library is home to 1.8 million moving images, 7 million e-books and texts, a giant microfilm collection, more than 400 billion web pages archived by the Way Back Machine and, most recently, over 900 classic, playable arcade games.
The Archive also hosted an artist residency program, created and run by volunteer community architect Ian Aleksander Adams, which has just concluded. The artists chosen for the program sourced the Archive's library for re-purposing, reorganizing, and remixing its bevy of digital information into single-serving digital projects hosted on Tumblr. A few of them are selected here.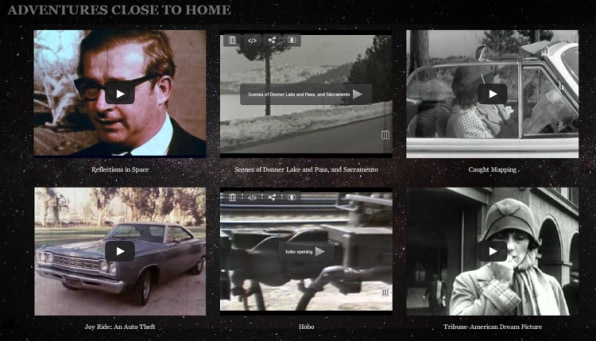 Angela Smith glitched the Archive's images tagged "selfie", "self-portrait", "self", and "self photography" into a vibrant, data-bending collage mess, Entropic Me. Isaac Parker turned various artifacts into One Single Catastrophe, his own animated visual poem.
Other projects function as niche educational materials and specialized mini-archives, like Theodore Fox's introduction to the textscene and Steven Ovadia's History of Linux Websites. For Deadbased, Chris Markman collected the Archive's extensive library of Grateful Dead tours while Louise Barry curated some of the more interesting ephemeral films, home movies, advertisements, and vlogs from the video library for Adventures Close to Home.
Then there's Ben Valentine's "multimedia essay on information politics, digital privacy and data accessibility," A Fragile Archive, and Kelly Kietur's nostalgic celebration of historical software at 8-bit Riot.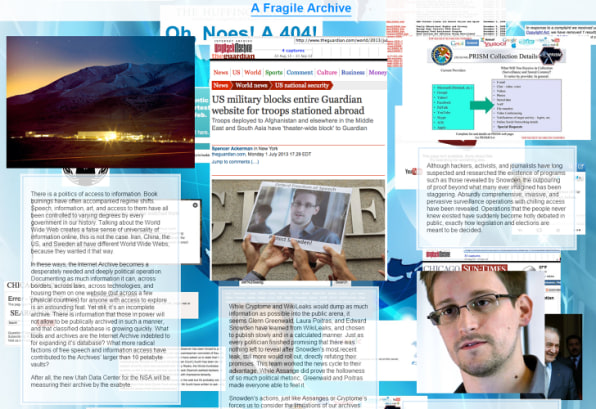 The Internet Archive Tumblr Residencies demonstrated a solid range of creativity which can be enabled by this vast online resource.
"We're really proud of the diversity of work and viewpoints represented," Ian Aleksander Adams tells Co.Labs. "As always, the collections in a library only matter as much as what people get out of them. We hoped the program would highlight the potential of all the gathered information we have and think the projects showcase a very satisfying tip of the iceberg. We hope people will continue to send interesting projects made with Archive materials our way for us to feature."
If you're feeling inspired to create a project of your own, start browsing the video, audio, and software collections. If you have questions about the collections, Adams is glad to help you along at ian@archive.org. Enjoy your own trip down the rabbit hole.