Making a purchase at Duane Reade is a nightmare. It's remarkable that the retail chain, which solely exists to sell goods, is so incompetent when it comes to actually selling goods. Try to buy an item, and the store's point-of-sale (POS) terminal will ask if you want to look up your rewards card number, which requires two series of clicks. Swipe a card to pay, and it will ask whether the card is credit or debit, requiring a third series of clicks. Next, cash back? A fourth click. Then, would you like to donate to the Susan G. Komen foundation? A fifth series of clicks. And finally, a sixth screen of buttons asks the customer to confirm the payment amount.
"I'm sorry!" a store manager said on a recent visit to Duane Reade, unprompted, apologizing for the inexplicable effort it takes to navigate the system. Added another cashier, "It's a pest."
At any convenience store, often the most inconvenient part of the experience are these POS terminals, typically made by VeriFone, with their clunky hardware and even clunkier software. They act as the central interaction point between merchant and customer, and yet they're often the worst, most change-averse aspect of the store experience. Which perhaps explains why so many critics last month raved over the launch of Apple Pay, Apple's much-ballyhooed entry into the commerce space, which enables customers to make contactless payments with their iPhones instead of reaching for their wallets. Apple Pay is fast and secure–a refreshing alternative to credit cards and cash. But while many reviewers have praised Apple Pay chiefly because it is (at last) a worthy replacement for plastic, I would argue rather that Apple Pay's greatest advantage is that it might bring an end to the unforgivably bad user-interfaces at most POS terminals.
Over the past several weeks experimenting with Apple Pay, what I've most enjoyed about the system is that it lets me bypass the unnecessary clicks of painfully slow VeriFone terminals. To use Apple Pay, simply load up a supported debit or credit card on your iPhone. Now, when you go to make a purchase at Duane Reade, you just hover your iPhone over the credit-card machine, and once the system senses your phone's presence, you must only scan your thumb on the iPhone's fingerprint sensor to complete the purchase. Voilà, the payment is made and a digital receipt will appear as a notification on your smartphone.
To me, what's powerful here is not the act of making the payment itself–pulling out your smartphone and hovering it over a POS terminal isn't that much faster than performing the same action by swiping a credit card. The prime difference is that Apple Pay let's you skip the tiresome process of clicking through poorly designed payment prompts, whether at a Duane Reade, in a cab, or elsewhere: the small, terribly angled keypads; the physical buttons that never seem to align with the corresponding on-screen options; the ugly software filled with bizarre color schemes and endless buttons; the cheap touch-interfaces that never seem to respond to even the most forceful finger taps and presses; the attached Stylus pens that you scribble your signature with after violently spearing it into the screen.
It's what Apple CEO Tim Cook kindly referred to as a "fairly antiquated payment process" when he first introduced Apple Pay in September. But even he focused then on the act of swiping rather than the act of clicking, where the real pain point arguably is. While certainly there are beautiful POS services that feature streamlined payment terminal UIs–offered, most notably, by Square–I find bypassing the clicks altogether to be the most magical part of the Apple Pay experience. By not having to ask for my rewards card number or whether I want to pay with debit or credit, among other things, Apple Pay saves me four or five series of clicks each time I pay at Duane Reade, or anywhere from 10 to 20 seconds. That may not sound like much, but it adds up quickly compared to making traditional purchases–especially in a long line watching customers squint at the same unnecessary on-screen buttons, over and over again.
Of course, I imagine merchants will eventually push Apple to allow them to interact with their consumers with more steps and options during the payment process, whether that means adding loyalty programs, discounts, charitable donations, or other features. But my hope is that Apple lords over the Apple Pay experience much in the same way it tries to control its App Store, so it can maintain quality and design standards. Otherwise, we end up with this: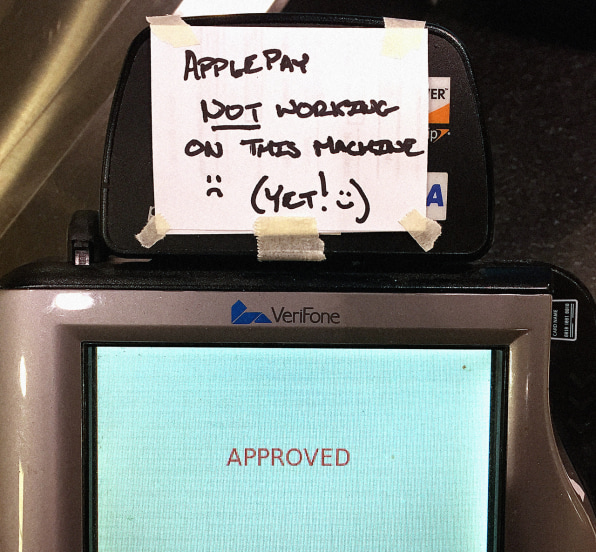 Just days after Apple introduced Pay, for example, two of the largest drugstore chains, CVS and Rite Aid, shut down support for Apple Pay without explanation. It was an obtuse decision, made all the confusing by CVS's eventual response to the matter. (Re/code has a great run down of the controversy.) Regardless of the company's motives, what is most tragic about CVS's decision to stop accepting Apple Pay is that the consumer suffers, because experience design is so clearly not CVS's (or VeriFone's) core competency. Frankly, I don't care that I'm forced to swipe a credit card again at CVS; what I hate instead is that I'm forced to use CVS's POS terminal, which is probably the reason people think POS stands for "piece of shit" rather than "point of sale."
I saw what this means for the consumer first hand earlier this week. As I was waiting in line, a customer went to pay with his iPhone 6. The cashier was surprised when the terminal actually seemed to accept the Apple Pay purchase. "That's the first time I've seen it work here!" the cashier said, before stopping short. "Oh wait, hold on. It says alternative tender required. I don't think our machines are up to date."
As the customer swiped his credit card instead and trudged through the steps on the VeriFone screen, the CVS employee offered up an explanation for why Apple Pay doesn't work at CVS:
"We're still old fashioned," he said.