Patricia Walsh is one of those people who seems to excel at everything she does. After several years in a successful and coveted stint as an engineer at Microsoft, she left to join Austin, Texas-based mobile payment app Mozido–a job she loves–in 2013. A longtime marathon runner, Walsh completed her first triathalon in 2010 and began breaking records a year later. She launched a motivational speaking business and wrote a book.
She's also blind.
Walsh lost most of her vision when she was 14 as the result of a pediatric brain tumor and subsequent complications from the surgery to remove it. Today, her field of vision is a six-degree "tunnel of light, dark and motion." She went from being a student on track to graduate from high school early finding it hard to read children's books in Braille.
The trauma of losing her vision took a toll on Walsh. Depressed, angry and frustrated, she was living with her father in northern Ontario, Canada. Then her father started having health issues, including two strokes and two heart attacks in less than a year. To cope with the trauma of losing her eyesight and to get herself healthier, she started running.
She started on a trail near her house, keeping track of where she was by running with one foot on the edge of the trail. The first time, it was tough to figure out how to get back home. The second time, she left a rock as a marker and fell over it. But, soon, she was running a mile, then a few. Running gave her the confidence to finish high school and go on to college, land her job at Microsoft, and then further testing her athleticism.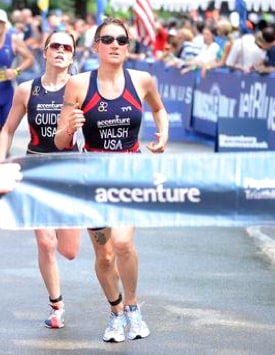 Walsh broke records in her second triathalon in 2011, besting the fastest men's time by 55 minutes and the previous women's best time by four hours. She was recruited to the U.S. Paratriathalon National Team and will compete when the paratriathalon makes its debut as a sport at the 2016 Paralympic Games in Rio de Janeiro, Brazil. She is leaving her job at Mozido to devote full-time focus to promoting her book, Blind Ambition: How to Envision Your Limitless Potential and Achieve the Success You Want, training for the Paralympic Games, and lining up sponsors for her trip to the Paralympic Games. Walsh shares some of the lessons she's learned throughout her many remarkable accomplishments.
Walsh holds an undergraduate degree in computer science and electrical engineering from Oregon State University. She says it's tough to make math accessible to blind people, especially advanced math, where seeing problems and figures is an important part of learning. Initially, her professors discouraged her, thinking she wouldn't be able to do it.
"I went in and they were all trying to convince me I might fail at this. I told them, 'I might fail, but we're going to try it anyway and just see what happens,' It was really a willingness to take a bet on [myself] and have some failures along the way," she says.
Those same professors ended up becoming her champions and recommending her for the job she landed at Microsoft.
Walsh routinely deals with people who are nervous around her because they've not been around someone with vision loss or who simply don't understand her capabilities. People ask insensitive questions and say inappropriate things, such as saying she's not "really blind" because she has some vision.
Instead of letting the comments and questions get under her skin, Walsh sees herself as a patient teacher. By reacting with kindness and understanding to the people who say such things because they don't know better, she avoids slipping into a state of anger and resentment–something that does no one any good.
"It is actually one of my biggest pet peeves and something that I find hurtful every time and in my opinion is really the prejudice of reduced expectations," she says.
After losing her vision, Walsh could have gotten angry and bitter, but instead turned to running to help her deal with those emotions. Later, her father was ill and her apartment was burned down by an arsonist. Meanwhile, she had to finish her book, train for her sport, and protect her spot on the national team. The only way to keep going was to focus on what really mattered to her–changing the perception of athletes with disabilities from "participatory hobbyists" to hardcore competitors who are to be taken seriously. She says she could never do that if she got mired in negativity.
When Walsh first ventured out onto that Ontario running path, she never could have dreamed that she'd compete in the Paralympic Games one day. She says that accomplishing the big goals is a matter of faithfully doing the work toward achieving them every day. It's getting on a bus at 5:30 a.m. to go work out and jump in a pool of cold water, even when she doesn't want to. But the only way to get better is to keep working. Stay in touch with what motivates you.
"The only way to [keep going] is by reminding yourself frequently why this is important to you, and it can't be something superficial, it has to be something that honest-to-God means something to you at a heart level," she says.