Imagine you've just started your first or second job out of college. Instead of commuting to work and sleeping every night in a cramped apartment with five roommates, you live with your brand new coworkers, who are also fresh out of school. For 10 weeks, the eight of you are all shacked up in a two-story condo in Michigan with eight bedrooms, eight bathrooms, four kitchens, and four laundry rooms.
And here's the real catch: your employer is a well-known appliance maker, so for those 10 weeks you're spending most of your waking hours using their products in the kitchen and laundry room and comparing them with competitors, hosting dinners for executives, going to product testing labs–essentially becoming one with the appliances you will eventually sell on the sales floor.
It could be a mashup of a reality show and a comically dystopian Philip K. Dick novel. It is neither of those things, though. It's an actual corporate program from Whirlpool called "Real Whirled." The training program for new sales recruits has been going on for 15 years; it started way back when MTV's The Real World still reigned supreme in the nascent reality television world.
Here's a typical day in the life of a Real Whirled recruit: Get up early and check in between 7 a.m. and 7:45 a.m. with Donna Porter, the director of Real Whirled, discussing the past day's events and any upcoming matters of a.m. until 5 p.m., there is some sort of experiential training–a trip, perhaps, to a lab where they can see how washers and dryers are tested, or to a call center where they can listen to customer comments and complaints.
Once they get home, the recruits are often tasked with entertaining. One day they may have to cook dinner for potential customers; another evening, they might be challenged to a competitive dinner, making the same meal in all four kitchens and serving it to Whirlpool executives (one of the kitchens and one of the laundry rooms contains only competitor products; the others all have Whirlpool items).
After completing their homework (i.e. staining items of clothing, washing them in all four laundry rooms, and comparing the performance ) the recruits are in bed by 10 or 11 p.m..
Early twenty-somethings have some things in common, no matter what generation they're in. Lots of people have no idea how to cook when they first leave college, for example. This is an excerpt from an article about The Real Whirled program that Fast Company put out back in 1999, when it first launched:
The six women and two men had to work as a team–and not just to schedule showers. They made sales pitches to one another, studied appliance features together, and stayed up late at night talking about the cool time-saving features they discovered. For these recent college grads, the experiences were instructive because many had never even cooked for themselves before.
While living at the Whirlpool house, Dan Fitzgerald, 26, made a blueberry crisp in the microwave. He never believed that microwaves could make food crispy. Now he tells sales associates at each of his stores about his miraculous blueberry crisp.
These days, with over 380 people having gone through the program, the Real Whirled has even more of a focus on life skills. "Even in 2012, we could tell Real Whirled-ers, 'You've got 18 people coming over next week, and you have to plan and prepare a meal and host for them," says Porter. "In the past three classes, they're like 'What do you mean by hosting? Even some of these basic things about what to do, like meet guests at the door, take their coat–that's something we've actually had to bring in the mix and educate them on how to do that stuff, and these are smart kids."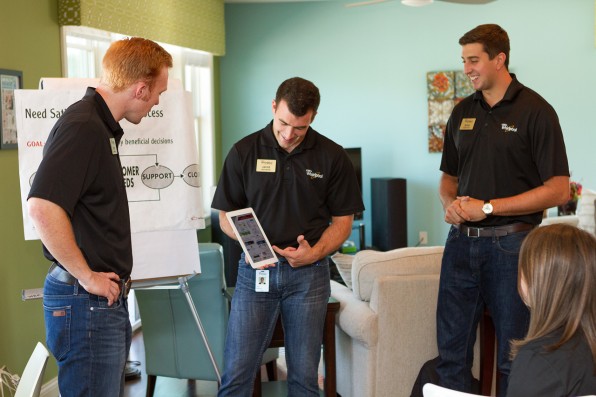 Whirlpool even brings in experts to help the recruits navigate conflicts (we imagine there are plenty of those in the condo).
The pressure-cooker environment of the program isn't for everyone–Porter says she has had to fire people mid-Real Whirled–but it does appear to churn out some dedicated employees. Since 2009, Whirlpool has retained 80% of everyone who has participated. There is also an extensive alumni network, filled with people in all parts of the company, including product development, merchandising, general management, government relations, and finance. There are also, of course, some people still working in sales.
Porter, meanwhile, is always on the hunt for new recruits. "We used to only look for people with business degree, and sales and marketing experience. But when you think about what we're doing–yes, I want that experience, but I also want more of that broader experience, that broader perspective," she says. "The people they're interacting with [on the sales floor] aren't all business majors."