The Christmas Creep is real, my friends. The gears start grinding earlier and earlier each year, it seems. Radio City Music Hall in New York, for instance has been looking rather festive since the late part of mid-October. Bill O'Reilly has already begun decorating the bunker in his compound to prepare for the annual War on Christmas. In many ways, this year-end ramp-up is similar to the way Summer Movie Season seems to start its reign of terror/delight earlier each year to the point where we're staring agog at tentpole blockbusters in early March. Now, Oscar Bait season seems to be echoing this trend as well, with clear-cut candidates like Foxcatcher coming out in November rather than the traditional December. Pretty soon it will always be Summer or Christmas, and the only movies will be comic books come to life or period-garb prestige pictures. In the meantime, have a look at November's offerings–not just in film, but every corner of the expansive manse that is pop culture. Be . . . thankful we did this for you.
Interstellar, opens November 5th. This Christopher Nolan-helmed epic promises to make you even more scared of space than Gravity did last year.
A Merry Friggin' Christmas, November 7th. Not enough time has elapsed since the way-too-early passing of Robin Williams to make it possible to take this comedy on its own terms, but it might be worth going just for the very finite amount of opportunities left to see a new Williams performance in theaters.
Rosewater, November 14th. Finally, we can all find out what movie was so important that Jon Stewart had to take off all of summer 2013 to direct it.
Big Hero 6, November 14th. Disney chooses the Japanese influenced property created by Steve Seagle and Duncan Rouleau as the first feature to come out of its acquisition of Marvel Comics. Like a certain other big Marvel hit, it's a lesser known property that features a group of unlikely heroes. The family-friendly animated film is part of a long-term strategy to hook new fans early.
Dumb and Dumber To, November 14th. Exactly 20 years after the original comes this sequel to one of the early hits that turned Jim Carrey into Jim Carrey. Let's face it, there's about a 10% chance that this will be any good, but what if it is!
Foxcatcher, November 14th. As mentioned above, this film is positively slathered in Oscar Talk for director Bennett Miller and stars Steve Carrell and Channing Tatum. I repeat: an Oscar for Channing Tatum! What is life?
2001: A Space Odyssey, re-released in U.K. theaters beginning November 18th. See it in theaters as God and Kubrick intended! Try not to think about how the future depicted here happened a teenager's lifetime ago!
The Hunger Games: Mockingjay Part 1, opens November 21st. The final book in The Hunger Games series is so big and so lucrative that it had to be split into two films because turning books into just one movie is for wusses.
Horrible Bosses 2, opens November 26th. The premise of the first movie seemed impossible to make funny ( three bros scheme to kill their bosses) but then it happened. Now I don't know what to believe anymore!
Doug Benson: Doug Dynasty, November 6th. A fresh comedy special from the most productive pothead in the known world.
Chelsea Peretti: One of the Greats, November 6th. An hour-long set from the bone-dry Brooklyn Nine-Nine star.
21 Years: Richard Linklater, November 7th. An in-depth look at one of the best film directors currently active.
Jessabelle, out November 7th. Last month brought a horror movie called Annabelle, this month comes with a horror movie called Jessabelle. What will happen next month? Is it a horror movie called Mirabelle? Tell me, soothsayer!
Banksy Does NY, November 17th HBO. During a couple weeks in 2013, Banksy conquered New York. This is a version of what happened, but who knows when it comes to pseudonymous people.
The Babadook, November 28th. Silly name, seriously freaky creepfest.

Calvin Harris – Motion, out on November 4th. If the recent collaboration between Harris and Haim is any indication this album will have a shelf life on and off dance floors.
Foo Fighters – Sonic Highway, out on November 10th. The latest from Dave Grohl and co comes with a simultaneous HBO show and may or may not be classified as Dad Rock.
Antony and the Johnsons – Turning, out on November 11th. If you like your musical androgyny so pretty you can't stand it, this is the album you'll be reading books to this winter.
Big K.R.I.T. – Cadillactaca, out on November 11th. The new one from one of Southern hip-hops undersung heroes.
Royksopp – The Inevitable End, out on November 11th. You've heard their collaborative EP with (flawless queen) Robyn, now hear their latest dose of heady electro grooves.
Marianne Faithfull – Give My Love To London, out on November 11th. This torch song veteran may be giving her love to London, but nothing can legally bar non-Londoners from partaking.
Pink Floyd – The Endless River, out on November 11th. Pink Floyd has announced that this album, the first in over 20 years, will be their final album. Which will be confusing for the people who were sure their last album was their final album.
TV On The Radio – Seeds, out on November 18th. After a multi-year absence, these abstract indie rock innovators return. Prepare for anything.
Rick Ross – Hood Billionaire, out on November 24th. Rick Ross's last name rhymes with the word "boss" and if you don't care to be reminded of that fact do not listen to Hood Billionaire.
Mary J. Blige – The London Sessions, out on November 24th. One of the leading lights of R&B went to the U.K. and came back with a more dance-oriented album than you could possibly have anticipated, featuring contributions from Disclosure and Sam Smith.
Wu Tang Clan – A Better Tomorrow, out on November 28th. This is not the new Wu-Tang album with a single physical copy in existence. This is that other new Wu-Tang album, the one that has as much a chance as being awesome as Dumb and Dumber To. Prove me wrong, Wu-Tang Clan! Please!
Daily Show live election special, airs November 4th on Comedy Central. Don't wait for Bill O'Reilly to analyze the mid-terms for you. Let the diametric opposite of Bill Murray do that.
MasterChef Juniors, airs November 4th on Fox. Find out what happens when children are allowed to cook in a competitive setting!
The Eric Andre Show, airs November 6th on Adult Swim. This is the best show you're not watching. It isn't exactly a fake talk show, and it's not exactly straightforward, but it is awesome, and it also features Hannibal Buress.
The Comeback, airs November 9th on HBO. Lisa Kudrow's surprisingly prophetic mockumentary returns to HBO for more cringe comedy.
The Newsroom, airs November 9th on HBO. Aaron Sorkin's self-serious yak attack returns to HBO for more cringe comedy.
Growing Up Gotti: 10 Years later, airs November 10th on A&E. That thing you ironically watched 10 years ago is back. You've gotten less annoying in that time, but have the children of noted crime-doer John Gotti?
Aaliyah: The Princess of R&B, airs November 15th on Lifetime. If anyone can do justice to the story of Aaliyah, it's not Lifetime, but that's exactly why this will be fun to watch. Can you even imagine the scenes from the early-90s where she's hooked up with an already super-pervy R. Kelly? I cannot!
Lilyhammer, airs November 21st on Netflix. Little Steven van Zandt's mobsters-in-harsh-climes saga is back for a third season on Netflix, if that is something you're interested.
The Great American Dog-a-thon, airs November 27th on Fox. The two-hour special–hosted by Hilary Swank!–celebrates rescue dogs. All the technology we have right now is worthless if I can't pet a dog through my TV.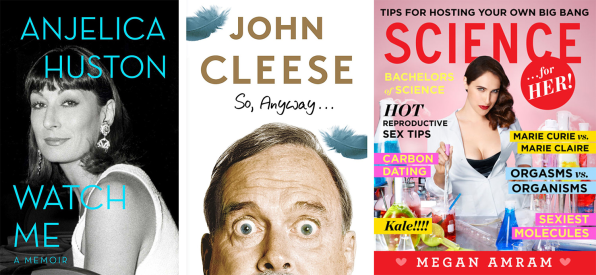 Richard Ford – Let Me Be Frank With You, out November 4th. The latest in Ford's highly readable Frank Bascombe series has a terrible, terrible title, but don't let that stop you from living your life.
John Cleese – So, Anyway…, out November 4th. The Monty Python alum and overall font of creativity has a new memoir out. If it's anything like Cleese it will be great and improve anything it's in.
Martin Short – I Must Say, out November 4th. One of the funniest Canadian imports of all time has some words he'd like to share. The title seems to acknowledge the fact that we're practically forcing celebrities of all stripes to write books these days.
Denis Johnson – The Laughing Monsters, out November 4th. Do you know who writes a hell of a sentence? Denis Johnson. Let him do that for you. It's what he's here for.
Megan Amram – Science… For Her, out November 4th. Following a hilarious promo video, this faux-scientific textbook brilliantly satirizes the patronizing way that women's magazines seem to target readers.
Mallory Ortberg – Texts From Jane Eyre, out November 4th. Classic literature, hilariously modernized!
Stephen King – Revival, out November 11th. King's latest is about… eh, at this point, you're either on board with this guy or not, and if you don't like it, his next one will arrive three months later anyway and it might be better.
Anjelica Huston – Watch Me: A Memoir, out November 11th. Watch her! Do it! The veteran actress and daughter of John Huston has had a more interesting life than you are probably aware of.
Megan Daum – The Unspeakable: And Other Subjects of Discussion, out November 18th. A lot of people are said to be Generation X's Joan Didion, but Daum has a more substantial claim than most. Read her latest collection and find out why.
Gary Larson – The Complete Far Side, out November 25th. This is where we all first learned about gallows humor, and it is also where we should return so that we may Christmas gift relatives with something that is the best.

Iceland Airwaves is a music festival in Reykjavik on November 5th that. Chill out with Caribou, Flaming Lips, and Future Islands.
The annual Cannabis Cup takes place in Amsterdam on November 23rd. Smoke pot until you forget where you left your car/dignity!

Disney On Ice Presents Frozen starts November 11th. Do you live in New York and have children? I hate to be the one to tell you, but you're going to this.

Usher brings his URX Tour all around America, leaving a trail of conceived fetuses in his wake.

Mike Birbiglia is on tour, and you should seek him out if you like stand-up comics who are also great storytellers.

As the title suggesta, Broad City Live brings TV's most hilariously relatable twosome to your town. Tickets are already sold out for the Brooklyn show, but other cities might still have some left. Might I add that if you have an extra ticket for the Brooklyn show, holler!
Chrissie Hynde is on tour in support of her new album Stockholm, and word around town is that if you ask nicely, she may display the brass she keeps in-pocket.
The IFPDA Print Fair will be at New York's Park Avenue Armory November 5-9, and is the perfect place for aspiring art forgers and regular fans alike.
Hugh Jackman is doing a limited run of mysterious playwright Jez Butterworth's The Riverat Circle in the Square in New York all November.
Stevie Wonder – Songs In The Key Of Life tour. It's a wonder why we all aren't going to see this classic double-album performed in its entirety with special guests this month. Why aren't we all doing that?
Fun Fun Fun Fest in Austin may be small in scale but the headliners (Judas Priest, Nas, Modest Mouse, Girl Talk) are huge. Also, it's late enough in the year that being outside for three days in Texas is refreshing rather than exhausting.
Record Store Day's Black Friday event has plenty of interesting releases and reissues for the vinyl enthusiast in your life who is difficult to shop for or be around.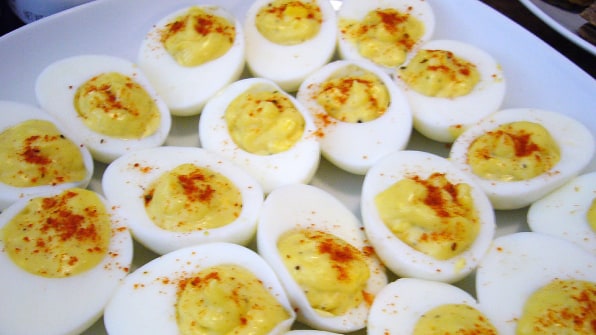 Deviled Egg Day, November 2nd. Make a deviled egg and then eat it!

Marooned Without a Compass Day, November 6th. Get lost!

Have a Party With Your Bear Day, November 16th. I can't even begin to know!

Buy Nothing Day, November 28th. Forget everything you read in this calendar for one day, if that is even possible. I don't know. Those Men In Black mind zappers haven't been invented yet. Or have they? (They haven't.)
Did we miss anything that you're totally stoked about? Enlighten us in the comments below.