It seems like all the major magazines and newspapers are redesigning their websites lately. First it was The New York Times, then the New Yorker. Now the Guardian is getting in on the action with a bigger, bolder, more reader-friendly design–informed, in part, by Guardian readers themselves.
Of the three, the Guardian might have needed a makeover most of all. No matter how good and fresh the Guardian's content was–the paper won the Pulitzer Prize for its NSA coverage last spring–the site itself looked like a news website designed circa 2004. In nearly every way, it seemed as if it has been designed for a computer running Internet Explorer on Windows XP. Articles looked ridiculously small on modern devices, with most content, including photographs, displayed in columns just 460 pixels wide. There was a grudging acknowledgement of social media, but instead of integrating Twitter, Facebook, and LinkedIn buttons directly into each page, they were corralled as an afterthought into a sort of social media gutter on the side of each article.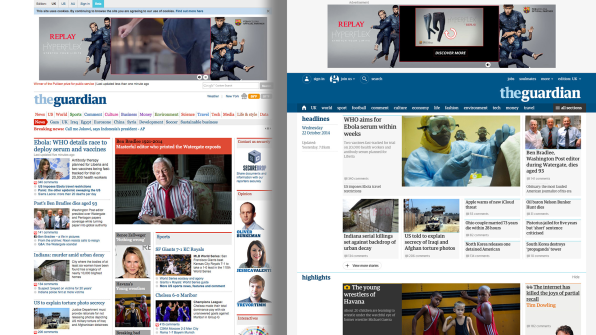 The new Guardian addresses these problems. Articles are more readable thanks to a larger sans-serif font. Images are bigger. Social media buttons are more prominently integrated at the top and bottom of each page. It's easier to discover related stories by surfing through similar articles, thanks to clickable tag clouds placed to the side of each article. And the site is responsive, shrinking or expanding to guarantee an optimal reading experience on everything from a smartphone to a 27-inch desktop.
Though a lot has changed, the new Guardian design doesn't go too far. It's still a little proud, a little reserved, a little stoic, as befits the web portal of a nearly 200-year-old, Pulitzer Prize-winning newspaper.
How'd the Guardian get here? According to the Guardian's Director of Digital Strategy, Wolfgang Blau, the key to getting the Guardian's design right was not being afraid to take it on the chin from the site's users.
"We actually launched the beta version of the new site back in February, eventually moving over a full 5% of our global audience to the new site as it evolved," Blau says. Through that time, the Guardian gathered over 26,000 pieces of feedback from readers on what they loved, what they hated, and what they didn't understand. That means the new Guardian that is launching today is actually a design that the Guardian's most loyal and die-hard readers have been experiencing and giving feedback on for almost nine months.
The first draft of the new Guardian released in February looked very different. "The first draft had a very strict hierarchy: the top stories were at the top, and it drilled down to the smaller news stories from there," creative director Alex Breuer tells me. "We got feedback from readers that there was just too much white space, and that this first-screen experience just wasn't communicating enough to our readers. It took a lot of feedback to find the right balance of density, discoverability, and speed."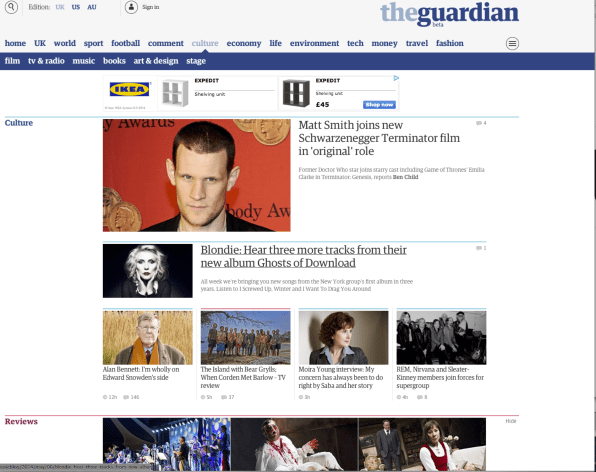 One of the most noticeable differences of the new Guardian is that it no longer has colorful banners at the top of articles–a playful quirk for which the site was known. Those colorful banners used to reflect the actual physical departments of the Guardian's news organization, Breuer says, but they weren't terribly useful to readers.
"For the redesign, we really wanted to examine quite closely the value of color," Breuer says. "We wanted to use color as tonal design elements that make the content feels alive." The new Guardian uses different colors on the homepage and at the top of article to signal what sort of article a reader will be reading: purple for longer form original content, gunmetal gray for video, and so on.
Not everything about the Guardian's redesign is visible to readers. Like the recent New Yorker redesign, an equally critical aspect of redesigning the Guardian for 2014 was about improving the workflow for journalists working the digital bullpen.
Guardian writers are no longer hamstrung in the ways they can present multimedia: the new backend allows them to embed video, music, or other multimedia content into a story easily. That used to be a giant headache. This same backend also allows Guardian writers to collaborate with each other and their editors, making it easier to get breaking news through the pipeline while it's still timely. That affords them the luxury of being more bloggy when it's called for: the new Guardian backend makes it a lot easy to curate content from across the web.
Although he acknowledges that in this day and age, a web design is never truly done, Blau feels confident that at the very least the Guardian has taken a big step forward when it comes to meeting its readership's needs.
"We really just wanted to create an experience that is a pleasure whatever device people are using, and which combines a richer experience with a more elegant and engaging blend of images, video and text," Blau says. "We also wanted to place a clearer emphasis on live and up-to-date news and features, as well as helping readers discover new writers, issues and conversations."
How well that will work for the Guardian is still anyone's guess, although official numbers suggest that traffic on the beta site has been in line with, or even higher, than current traffic numbers. For September, that was over 27 million unique users surfing the Guardian in the United States alone. Even if the Guardian's redesign doesn't move the traffic needle, that's 27 million people who will no longer have to stare at an eyesore every time they click a Guardian link.
You can see the Guardian's new look here.