If you don't make video games, the process can seem downright mystifying. How do you become a game developer? Depending on which part of the process you're interested in, you probably learn to code, go to school to study the elements of design, acquire high-end computers capable of creating the sort of games that you want to make, apply for highly competitive jobs at studios that produce the big games, or work your way up the ladder at smaller companies in the hope that you can land on the radar of one of the big guys. Something like that, right?
Maybe for some, that's how it works. But increasingly, the process of breaking into games is as individualistic as the process of breaking into other creative fields–have a passion, follow it, and try to make great things, even if just for yourself and your circle. That's something that several of the developers of Sumo Digital's LittleBigPlanet 3 have been stunned to learn, as they've worked their way up from fans of the game–a puzzle-based platform game that stars an anthropomorphized fabric character with button eyes and a zipper up his stomach called SackBoy–to developers working in Sumo's Sheffield, U.K., office.
Caryn Gaulden was a graphic designer at Milwaukee's Shepherd Express alternative paper, while David Dino was a risk analyst at a Los Angeles hospital when they got the call that they could transform their hobby to their careers. Here are the lessons they learned about how you go from being a fan to being at the creative controls.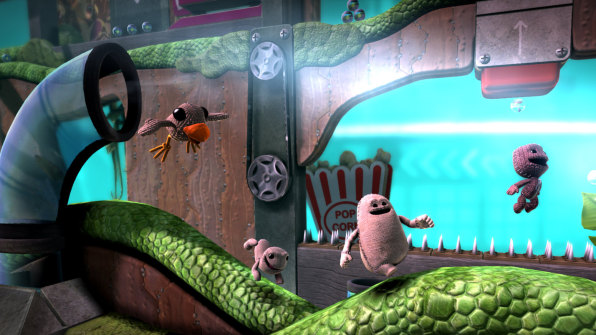 "I'd had a Playstation 3 for a while, and I'd been playing a couple of different games, and I wanted something new," Gaulden explains. "I knew nothing about LittleBigPlanet except that I thought SackBoy was cute. They sold me on his adorableness."
Hooked by cuteness, Gaulden soon discovered that, while she enjoyed story mode, what she really loved about the LittleBigPlanet series was something she didn't even know the game had when she purchased it: An in-game editor that allowed her to develop user-generated content.
She had no experience working on games, but she found that she could keep up with the learning curve. "There were things I had to learn–fundamentals in the game that you have to pick up before you can connect the dots further up the chain of skills. The Internet was a fantastic resource for that," she recalls. She started frequenting fansites where users who knew what they were doing were generous with their time (and their critiques) and after about four months, she created her first level that was, as she describes it, "passable."
That's similar to what brought Dino–who earned the Guinness Book record for the longest video game marathon for his LittleBigPlanet fandom in 2011–to the game. He was influenced to start after hearing about the level editor, and managed to "connect the dots" early on–especially by participating in the same communities where Gaulden earned her education.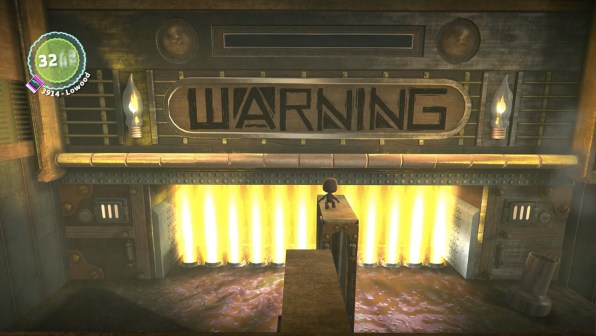 Sony had been aware of the communities that Dino and Gaulden were a part of, and occasionally reached out to them and other fan/developers–"They would just come up to us and ask, 'Would you like us to really show off what you've done and present it to the community and the general public to show what you at home can do?'" Dino recalls–and after developing that relationship, things progressed as the studio began work on LittleBigPlanet 3.
Gaulden never imagined that it would lead to a full-time job in the U.K., though. "I never thought I'd get a job in games. I lived in Wisconsin, and if you wanted a job in games, you had to go to California or the U.K. or somewhere very game-centered," she recalls. "So when I get a call basically saying, 'We're interested in having you come work for us,' it can't be anything but surreal."
Dino's story is similar. His experience with programming is limited to a computer science minor in college, before he joined the Army. After his service, where he was a medic, he got a Master's degree in health care management. He took that to Los Angeles, where he did risk and safety analysis at a hospital–and then promptly walked away from all of that as he decided to pursue his career in games after Sony Playstation approached him.
"It's a huge risk," Gaulden admits of accepting the job offer to leave her 14-year career laying out newspapers. "At a midpoint in your career to basically say, 'Yeah, all that stuff I went to school for, the years I put in to getting my skill set, let's just throw that in the backseat and go take this adventure in England for a while.' My friends and my parents said I was so brave to do it, and at the time, I thought they were nuts. I was absolutely insane to throw all of that in the backseat and say, 'What the heck? Let's try this thing.'"
For Dino, the choice was nerve-wracking–but in the end, it wasn't much of a choice at all. "How do you say no to something like that?" he says. "especially when you're so entrenched in the community and the game itself. Even though, say, you've already solidified what you might have thought had been the right thing to do for yourself as a long-term goal. It's just, literally–'Why not?' It's a love. I'm so glad I did it, because I'm playing video games for a living."
The key difference between developing levels for a game like LittleBigPlanet as a hobby and doing it as a job is that you have all of the resources–and responsibilities–that come with being part of a team. "There are rules and guidelines," Dino says. "Everything you do, for the most part, has to be as polished as possible, whereas you have leeway when you're doing it as a hobby."
"You're a design team of one," Gaulden chimes in when explaining the pre-professional process. "You're the art director. You edit design. You're the script writer. You've got final say when it's your work. And the purpose is different, too. If you're making your own level, you can choose to say, 'I want it to be really fun. I want it to be really beautiful.' For an actual marketable retail game, you've got a lot of points that it has to fulfill."
The awareness of the new pressures and responsibilities comes about as part of the process of working with a new type of collaborators. Instead of working alone, Gaulden and Dino are working with games industry veterans who've been working in the medium for decades. For someone who didn't start developing levels until she was in her mid-thirties like Gaulden, that's an incredible resource.
"They explain why they do this stuff, they'll show you how to do that stuff," she says. "Some of the work they're producing just blows your mind, and they've been so generous about bringing us in as a team, individually to just try to help us get better. It's wonderful."