In 1980, only 30,000 people lived in Shenzhen, China. Today the population is over 15 million, and Shenzhen is the most crowded city in the country, with more people per square mile than famously packed Hong Kong. And it's still growing. That's why, in a recent project, architects laid out one vision for a future neighborhood that could fit everyone sustainably.
In the concept, which was one of the entries in the Shenzhen Bay "Super City" Competition, the architects included massive, interconnected skyscrapers for housing and office space. Instead of a traditional street grid, the design employs a network of public squares meant for pedestrians and cyclists.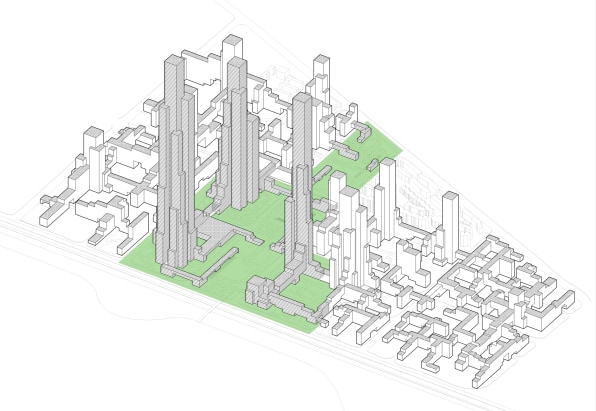 "We do not expect automobiles to survive in cities," explains Alejandro Zaera-Polo, a co-founder of AZPML, the firm behind the design. Instead, given the area's density, they created a pedestrian walkway.
"Our calculation is that the vehicular traffic will diminish in cities in the near future, as a result of environmental taxes and energy prices, and the current infrastructure could actually become oversized, as people start using cycles, velomotors, Segways and other environmentally friendly vehicles."
Navigating through public squares instead of streets would change the urban experience.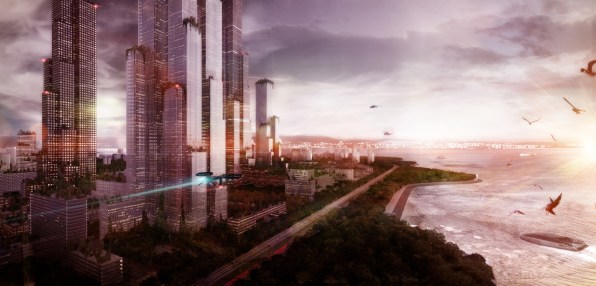 A traditional Chinese city is constructed around the pathways. Other cities are designed around squares. For megacities, the designers believe a new type of urban structure is needed.
As much as possible, all of the buildings in the design are covered with plants. "By using a traditional building fabric in most of the buildings–bricks or blocks–we have attempted to escape with the association between high-rise downtowns and glass and steel buildings, and instead provide a facade that can be more opaque, have more thermal mass, be more insulating, and support the growth of vegetation," Zaera-Polo explains.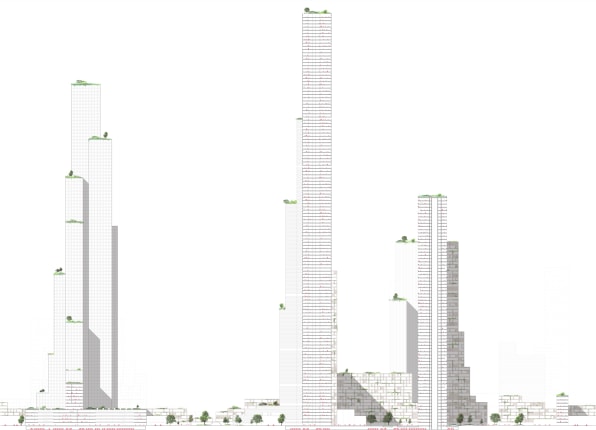 The plant-covered skyscrapers can absorb rainfall and help reduce the urban heat island effect. They're also a new approach to what a modern skyscraper should look like.
"We have tried to turn this into an aesthetic quality of the new city, away from the conventional image of shiny and wacky skyscrapers, vying for attention," Zaera-Polo says. We would rather see the new Shenzhen mega-city in a dystopian manner, as a sort of ruin eaten by plants…beyond all the environmental performances, it will radically differentiate Shenzhen from other emerging megalopolises if they were courageous enough to adopt this aesthetic."
Though the design looks radical, it's based on existing building types, and would be easy to construct "What is special is the continuity of buildings, retrieving a certain mega-structural approach that had been abandoned for some time, but that we think can be revisited in the light of the scale of contemporary development."
It's an approach that the team thinks might work especially well now that Chinese president Xi Jingping has called for an end to "weird architecture."
"We think that our proposal could produce a unique new urban experience that is based on some well known cases and which is ready for construction on generic typologies," says Zaera-Polo. "It is an incredibly interesting moment when the Mao suit seems to be coming back to Chinese as the West moves to Normcore."