In Environmental Working Group's new food database, the scariest thing is the sugar.
Added sugar, it turns out, is maddeningly hard to avoid. The average food in the database of 80,000 products has a 58% chance of containing added sugar. Every stuffing mix has it. Between 74% and 98% of deli meats have it (depending on type). Some 63% of all crackers in the database are loaded with added sugar, as are 91% of granola and trail mix bars. You get the idea.
The database, called Food Scores: Rate Your Plate, is the result of three years of work from EWG. Foods get a score of 1 through 10 (1 is the best) based on how well they perform in three categories: nutrition, processing, and "ingredients of concern". EWG gets its basic product information from LabelINSIGHT, but everything else comes from detailed research–evaluations of academic papers, datasets from the government, and so on.
In the meat and dairy categories, for example, evaluations are based on whether antibiotics, hormones, and growth promoters were involved in production, as well as whether the item is organic or conventional. "Not everything is weighted the same. Hormones are rated as being of higher concern," says Renee Sharp, EWG's Director of Research.
The database can be used to get quick answers–there are filters to limit products by score, and based on whether they're GMO-free, gluten free, or organic–or to get lost in comparisons for hours. In fact, Sharp believes the tools will be just as useful for researchers as it is for consumers. EWG itself plans to produce a series of investigations driven by the database. "This is far more comprehensive than any other food database out there," says Sharp
This is obvious enough; there are 740 kinds of frozen pizzas alone. None score a 1 or 2; a whopping 220 get the lowest score of 10.
Armour's Pepperoni Pizza is one of the products that gets a 10.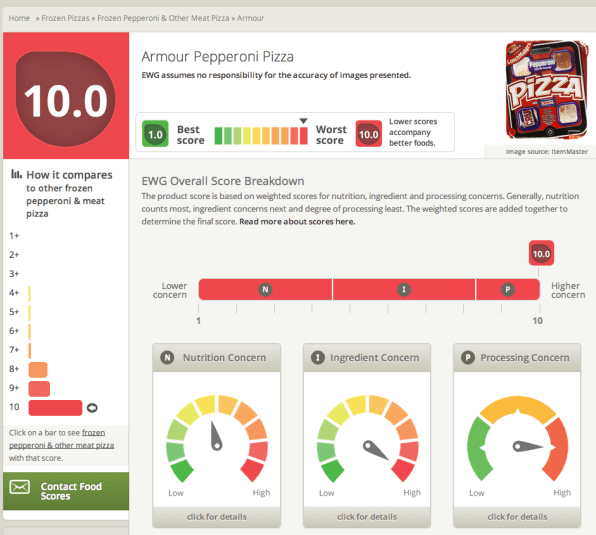 According to the website, It contains three concerning food additives–sodium nitrite, butylated hydroxyanisole, and butylated hydroxytolue–and two of those additives are linked to cancer (on the site, you can click on any additive of concern to get more information on the research behind the warnings). The product contains 29% of a person's daily salt intake, and it is made with vegetable shortening and hydrogenated soy bean oil, both sources of trans fats.
Overall, most foods in the EWG database get a middling score. Some categories, including meat, cold cereals, and stuffing (who knew stuffing was so awful?) have an especially high percentage of products that contain ingredients of concern, like mercury, arsenic, and BPA.
While 80,000 products is a lot, it covers just a small fraction of foods available today. EWG plans to continually update the database; it will also keep track of new product formulations and update accordingly. Old formulations will be available for two years after they've stopped going into production. "Those old formulations can persist on store shelves," notes Sharp.
In addition to the Food Scores website, EWG is also rolling out a companion app that can scan barcodes and spit out product ratings. Detailed information on the products will only be available on the website, however.
UPDATE: The Grocery Manufacturers Association has issued a statement about the Food Scores database, writing: "Not only will the EWG ratings provide consumers with inaccurate and misleading information, they will also falsely alarm and confuse consumers about their product choices. Embedded in the ratings are EWG's extreme and scientifically unfounded views on everything from low-calorie sweeteners to the nutritional value of organic foods." The full statement is available here.