Teens love Taco Bell. And Taco Bell knows it.
"When you're a teen, Taco Bell is the first place place you go for freedom," Jeff Jenkins, Taco Bell director of digital experience and new concepts, tells Fast Company. "It's where you go when you get your first car, or when you get your first paycheck."
Which, okay, sure. Fine. Teens love Taco Bell. I sure did! It's one reason why, starting today, the fast food chain known for its mutant Franken-taco hybrids is targeting the millennial demographic in the place where they spend the bulk of their time–on their phones.
Today, after nuking its social media accounts and going dark to drum up buzz, Taco Bell is launching its first dedicated app for iPhone and Android that lets you order whatever you want, from wherever you are. The idea is to funnel the fast food chain's online following over to its new application. It works like this: After you sync your credit or debit card, you select whatever it is you want to eat. Place your order, stroll over to the nearest Taco Bell, and–ta-da!–a piping hot bag of Mexican Pizzas and bean burritos will await your arrival.
Working with creative agency Digitas, Taco Bell originally conceived its mobile app about three years ago as a replacement for what it considers to be its big and intimidating in-store menus. Design-wise, the software is a far cry from other food ordering apps like GrubHub or Chipotle; Taco Bell's app is what would happen if an Instagram filter fell in love with Seamless and had a baby.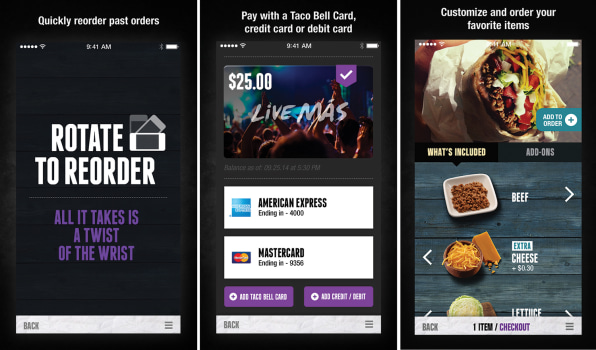 "Like everything we do in digital and social, we wanted it to look like something your friend would post," says Jenkins. Images are big and bright, and the UI is largely swipe-based. Don't want cheese? Swipe left. Want to swap in chicken for ground beef in your Doritos Locos Taco? You can swipe through different protein options as if they were Tinder potentials.
But underneath the sheen of millennial-ness is a platform designed around customization, which is what's really at the heart of the application. The general idea behind the app is to "open up" Taco Bell's secret kitchen to the masses, allowing anyone to create whatever burrito/taco/nacho monstrosity their imaginations can dream up. Guacamole, bacon, jalapenos, Baja sauce, Doritos taco shells–all are at your gastronomical disposal.
"There are literally billions of combinations of Taco Bell ingredients that you can put into this thing," says Taco Bell chief marketing officer Chris Brandt. "But it isn't just a nice little marketing exercise. We think it has a great business application too."
It isn't hard to see why. An app gives Taco Bell a valuable trove of customer profiles linked to their credit cards. And if a fan creates something that becomes a massive hit, Taco Bell could, for example, go ahead and make the item a menu staple. It's like having an enormous, crowdsourced R&D lab at your disposal, except all the participants pay you money.
According to the chain, one of the main challenges was integrating the app into the current point-of-sale (POS) system, the non-consumer-facing side of which looks like a green-screened relic of the '80s. If someone places an order from their flashy new iPhone 6 Plus, how does a Taco Bell employee insert their mobile order into the queue at the right time to ensure their meal is fresh? (Or at least as "fresh" as Taco Bell gets; no one wants a soggy taco.)
To solve this logistical headache, the app uses GPS in a clever way: When a customer gets within 500 feet of the store, they get a notification asking if they would like to "check in" as if they were using Foursquare's Swarm. This, in turn, alerts Taco Bell's system that the customer is nearby, which beams the order into the POS queue so that the kitchen can start whipping up the order right away. "When you look at consumer behavior, generally our business is 70% drive thru and 30% dine-in," says Jenkins. "But of that dine-in portion, 50% is takeaway." In other words, most of Taco Bell's customers don't tend to eat there. They want to grab their food and leave. (Customers averse to location-sharing can just alert the counter or drive-thru when they get there.)
Indeed, Taco Bell is hoping that its most diehard customers will order the craziest, cheesiest, and gut-pummeling tortilla chimeras they can imagine; and, they're hoping, they'll post the photos to their Instagram and Twitter followings. While this social component is vital–and something the two-person social media team at Taco Bell just so happens to excel at–the fast food chain also knows that most of its customers aren't, in actuality, all that adventurous: 60% to 70% of Taco Bell customers place the same order every time. (In the app, there is a feature that let's you rotate your phone to call up your favorite "most ordered" items to place into your cart.)
So while the app is ostensibly intended to empower customers to explore the little-used regions of the menu–to pile on toppings they didn't know they wanted–in reality Taco Bell just wants teens, college kids, stoners, and whoever else goes to its restaurants on a regular basis to place their orders through it. Mobile ordering makes fast food even faster. And it feeds all that consumer data back to the Taco Bell mothership. Although rewards points and other in-app features are forthcoming, Taco Bell seems pretty confident that mobile ordering will be the future of fast food. "It gives customers control," says Brandt. "They don't want to talk to people all the time."
And that cuts to one of the core reasons why Taco Bell is building an app, and why other fast food chains are frantically rushing to build mobile-ordering infrastructure to call their own. Call it the Seamless-ification of the service industry: In the near-future, pricey human contact will be kept to an absolute minimum, and you'll be able to take home a bacon-topped, double-decker gordita–or whatever slightly shame-filled thing you might order in secret–without having to say a word to anyone.
Learn more about the new app here.
Watch Fast Company's Mark Wilson make his own crazy taco at the Taco Bell Innovation Kitchen: