Purple bug-eyed fish, peach-colored partridges and psychedelic sunsets now shimmer from the once-humdrum surface of a southern California van thanks to the astonishing handiwork of Pakistani artist Haider Ali. Equipped with little more than half a dozen brushes, ordinary house paint and an extraordinary eye, Ali last month brought his native country's so-called "Jingle Bus" art to a Pasadena parking lot, where he transformed a plain vanilla Ford van into lush fantasy scape on wheels.
"Trucks like this can be seen everywhere in Pakistan," said Alli, speaking through an interpreter. "It's not the kind of advertising that you see in the United States."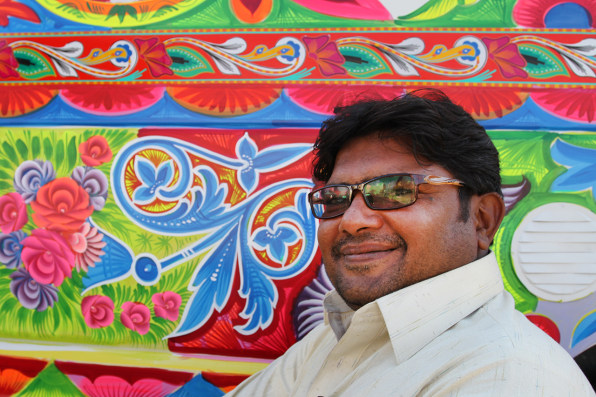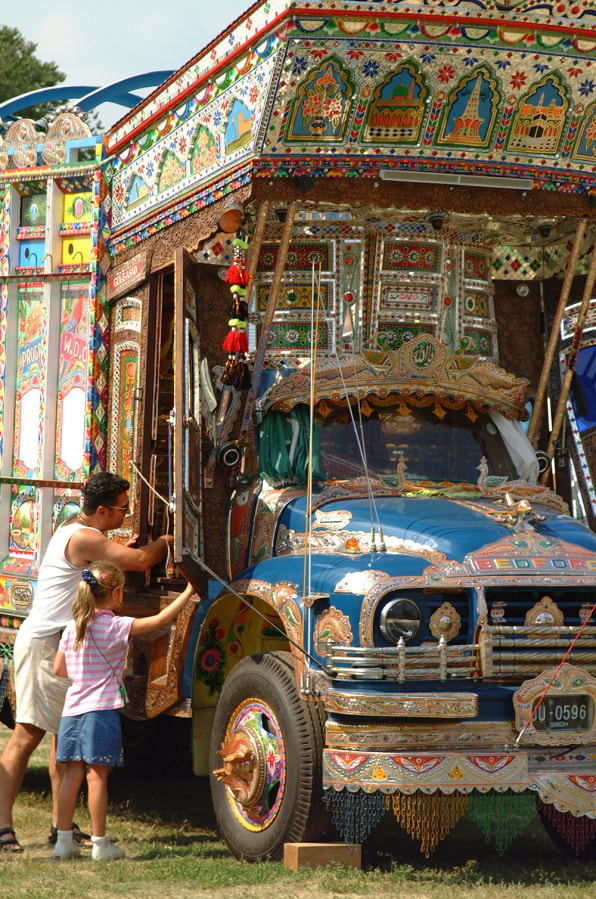 Jingle Trucks date back to the 1920s, when long-distance Bedford Trucks got pimped out with outrageously festive paint jobs before hitting the road. Today hundreds of artisans continue the tradition in Karachi for clients who attract business with lavishly decorated trucks, busses and taxi-cabs.
Ali first exported Jingle Truck aesthetics to the United States in 2002, when he and body work wizard Jamil-ud-Din created an eye-popping attraction for the Smithsonian Institution Folklife Festival.
When he's not operating his own open-air workshops back in Karachi, Ali travels with a few brushes and packets of fluorescent paint powders for overseas projects. Wrapping up work on the three-week paint job commissioned by USC Pacific Asia Museum, Ali talked to Co.Create about perfect circles, blindingly bright colors and other tricks of the Jingle Truck trade.
Ali, who does nearly all of his work freehand, credits the steadiness of his brushwork to rigorous training as a child apprentice. "When I was eight years old my father gave me a large blank surface and for months, he made me draw just lines," he recalled. "Nothing but vertical lines, until I got that perfect, and then horizontal lines, until I got that perfect. I was never allowed to use a pencil or a marker, I had to do it all with a brush. And then my father told me to make a circle with one stroke going clock wise. And then I practiced going counter clock-wise. And then I'd fill that circle with stars, like the kind you see on a telephone."
Ali progressed from there, learning to illustrate flora, fauna and faces during his eight-year apprenticeship. At age 16, he recalls, "I worked day and night and painted an entire truck by myself, for free, to prove that I could compete with the masters."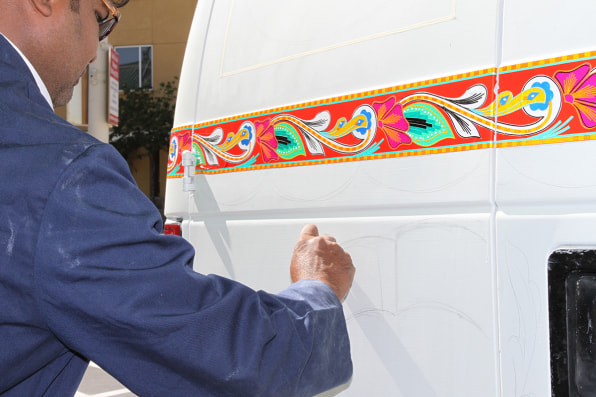 For subject matter, Ali blends his own visual vocabulary with imagery suggested by the client. "Sometimes the truck owner might want me to include face of his son," said Ali, who also incorporates requests for legendary heroes, movie stars, myths, and words of wisdom. For the California vehicle, museum officials asked Ali to make reference to the bear from the state of California flag bear, the Hollywood sign, a bald eagle, and ocean sunsets.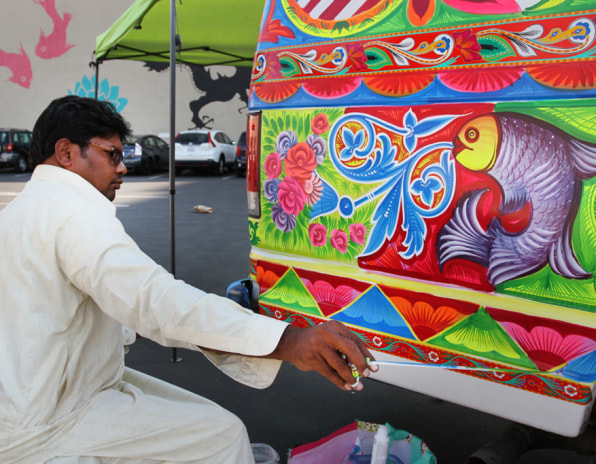 The Jingle Truck's hyper-saturated color palette serves as a sort of ambassador of good will for trucks driving through potentially hostile terrain, said Ali. "I use a whole range of colors that represent joy and happiness and peace. A jingle truck might travel from the coast of Pakistan, to India, or Afghanistan or central Asia, so there is no bother for them."
Ali said that in Pakistan, trucks tricked out in bright colors and dense designs translate into good business. "Our clients want to make their trucks stand out. When people look to hire a truck, they feel that if it looks fancy and newly painted, then it's probably in better condition and they trust it more."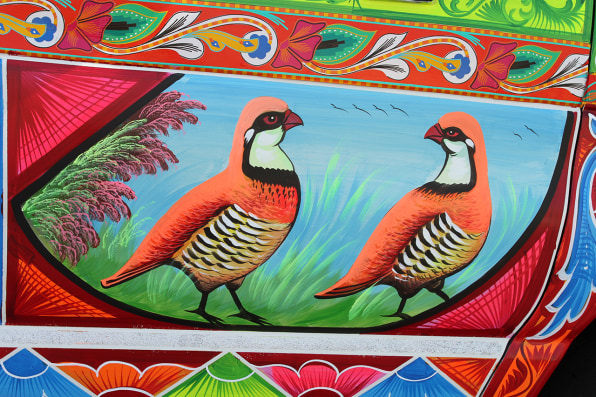 Although he's got plenty of work in the offing, including truck-painting stops in Poland and Toronto, Ali worries that Jingle Trucks could be nearing the end of the road. "Most people who do this kind of painting, even my students, are mostly my own age," he said. "Whenever I visit a country I visit, I tell the young people they should learn this art because it provides them income and it's an art form that not be allowed to die out. I'd love to see government collaborate with artists from different countries to decorate public transit. Each country has its own visual language, like spoken word except this would be word of art."