Twitter's introduction of the "Audio Card" last week makes it easy to forget that Twitter #Music was at one time a separate app, and the company's cornerstone attempt to harness one of its most consistently popular topics of conversation: music.
The #Music app was iced last April. But the app was part of a broader strategy that included a website which was never publicly released.
These internal prototypes, provided to Co.Labs by people involved in their creation, offer a peek at what could have been.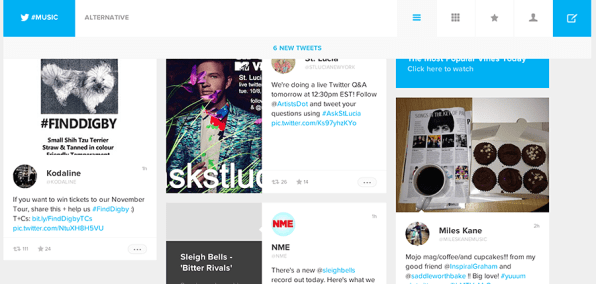 The idea was to pull in all types of content relating to artists, including tweets, Vines, audio, and videos. Users visiting the site would have initially seen streams of general trending music data. They also would have been been able to select popular genres or search for specific artists.
The website also featured artist profiles which would have collected relevant music data around the artist that fans were sharing.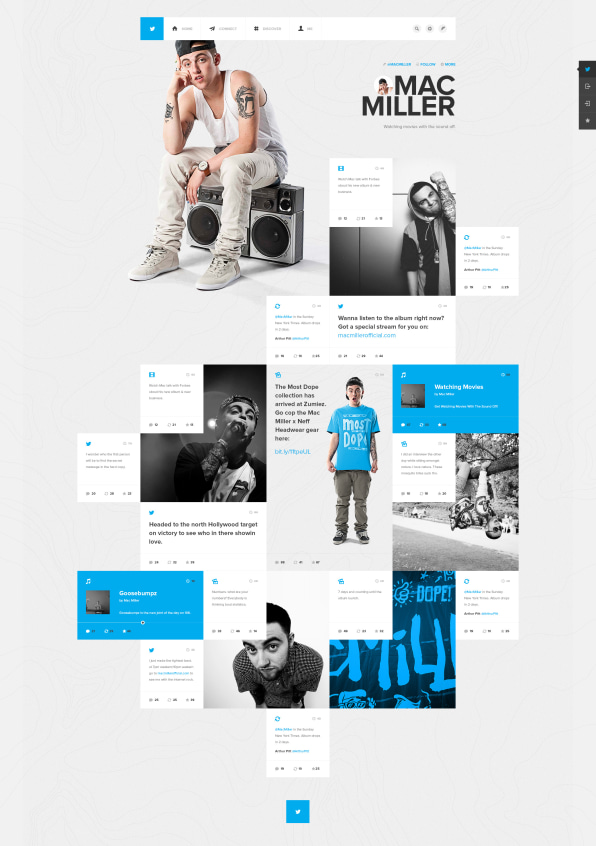 Stephen Phillips, the former head of Twitter Music, worked with design studio Twofold to build the prototypes and pitch them to Twitter executives.
In an early description of the project, Twofold said: "Our concept centered around using large, bold imagery to further personalize the artist page while presenting the content in an organic, yet structured layout that flowed like a stream as the user scrolls."
Twofold was then contracted to design the Twitter #music mobile app. The website version would have functioned in a similar fashion to the music discovery site We Are Hunted, a company that Phillips co-founded which was acquired by Twitter to bolster its skunkworks music project.
This website idea was abandoned in late 2013 to focus on music and audio inside the Twitter stream rather than a separate app and website.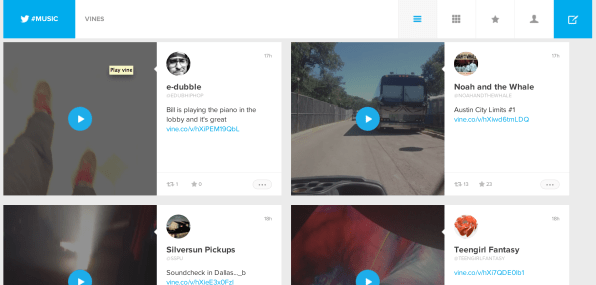 After the Twitter #Music app failed to gain traction, the music efforts within Twitter split into two directions. The first was to make deals with other companies around the music data it was collecting and seeing. Lyor Cohen's music company 300 Entertainment was the first to make an exclusive deal to use Twitter's music data. Cohen's goal was to break new artists based on patterns it was seeing in the data. But to date, 300 has not signed any artists from Twitter and uses it mainly as a utility.
The second direction is the Audio Card, which brings music directly into the stream–and should allow it to flourish the same way Vine has expanded mobile video for Twitter. The Audio Card project is the brainchild of Bob Moczydlowsky, the current head of music at Twitter, who fleshed out some of these ideas with Phillips early in 2014. Richard Slatter, another cofounder of We Are Hunted, was the project manager for Audio Card and was described to me as critical in getting the current music partnerships in place.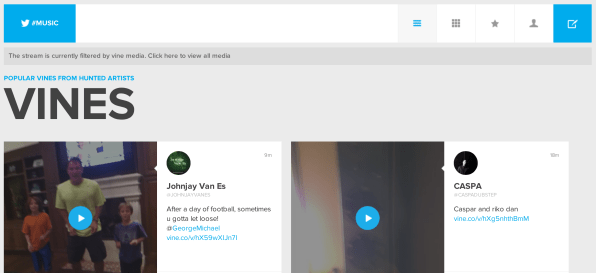 Phillips left Twitter this past summer to scratch his own discovery itch by founding Wonder.fm. The service scrapes SoundCloud data to highlight things like the most played or popular songs.
"My goal is to identify the best new emerging artists before they make it big," says Phillips. "Both Hunted and Wonder are based on SoundCloud, because that's where a lot of really new artists are playing today. But whereas Hunted used blogs as a proxy to measure popularity, Wonder uses SoundCloud like and play metrics directly. So Wonder is finding music days before Hunted ever saw it."
In other words, Twitter #Music might be dead, but there's still plenty of success to be found for the company that figures out how to mine Twitter for music. The latest to make an attempt is Jawbone. The company best known for its fitness wearable just launched a new product called Drop, a Twitter-fueled audio player for iOS that creates playlists from tweets.