Julia Waneka has always brought Buster ("like Buster Bluth") to work. She picked up the 12-week-old Golden Retriever on a Sunday evening three years ago, and brought him to work the next morning. She was working at a PR agency at the time that had a dog-friendly policy.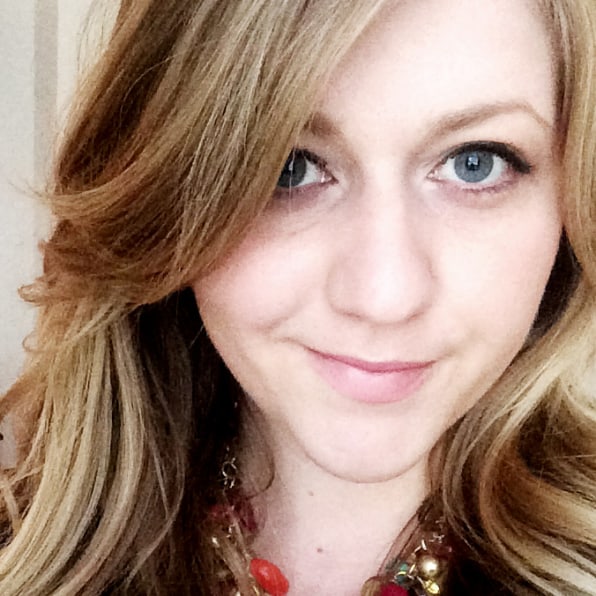 At first, she worried that Buster was too much of a distraction. He drew the attention of coworkers. He barked sometimes. She regularly had to take him for walks. "But what was cool about that," she recalls, "is that I began to have a this kind of rhythm. Okay, I'm bringing a dog to work for the day. What does that mean for my schedule?" She learned how to pace her work around the breaks she would have to take. And ultimately, these breaks served her work. "When I'm stuck creatively, probably my natural tendency is to bump my head against the wall." But 15 minutes outside with Buster gave her a whole new perspective on things.
In late 2012, Waneka began searching for PR work in San Francisco. By then, she had one criterion that was pretty non-negotiable. "I regularly used the search term 'dog-friendly office,'" she recalls. Eventually, she found a posting for a position at an agency called Sutherland Gold. There were images of dogs on the site. "It was clear that dogs were part of their culture," she said. She applied, got the job, and accepted cheerfully.
At Sutherland Gold, there was a new dynamic: Buster had a coworker. She was a small dachshund-terrier mix named Gertie, and the two simply didn't get along. Gertie would wait till Buster wasn't looking, steal his toy, and trot off. "That was kind of the dynamic," Waneka recalls. "They were just keeping each other at arm's length."
After a few weeks, though, the dynamic suddenly changed. Gertie, though much smaller than Buster, decided to pick a playful fight with him. Buster might easily have dismissed Gertie, or worse. "We were all kind of nervous for her," recalls Waneka. "He looked like a lion compared to her."
Instead, Buster rolled over to his side and started play-fighting right back. "And that was just their daily M.O., all-day wrestling," says Waneka. Again, Buster (and co.) had brought a positive dynamic to the workplace, and made Waneka (and co.) a little bit happier. "You can't take yourself too seriously when there's this big dopey-face rubbing his back on the carpet next to you.," says Waneka. "It keeps levity around. You're able to talk with coworkers and break the ice."
Though she and Buster were happy at Sutherland Gold, an opportunity for both of them soon arose that they couldn't pass up: a position in communications for Whistle, which makes what they call "a FitBit for dogs." They joined the company in June.
As might be imagined, Whistle is the dog-friendliest office of all. At Whistle, Buster joined a full cast of characters, which Waneka roughly correlates to figures from NBC's Parks and Recreation.
There's Barkley, who belongs to the Director of Firmware. He patrols the office, keeping the other dogs from getting too wound up. Waneka calls him the Ron Swanson of the office, for his "No, I will not" attitude. Duke, another dachshund-terrier mix who belongs to the CEO, has a "larger than life personality" and "definitely thinks this is his office." Duke's Tom Haverford. "You're not always laughing with him. Sometimes you're laughing at him."
Alley, a rescue pitbull, is the "quiet boss" of the group, intimidating the other dogs of the office with her swagger. (That's Donna.) Sasha, an English springer-spaniel is "very mellow," "very sweet," and "very stoic." Somewhat awkward around the other dogs, he prefers human company. (Ben Wyatt.) Arlo, a shepherd-catahoula mix, is "wiry, excitable, and lovable." (Chris Traeger.)
And dopey, playful Buster is Andy Dwyer.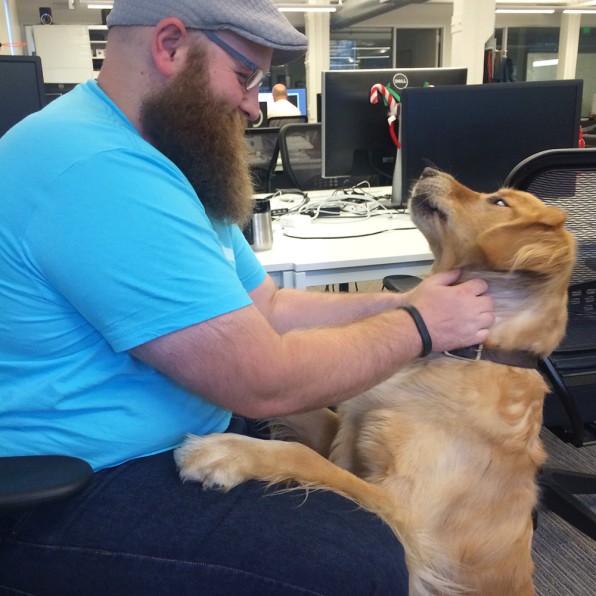 Buster's favorite coworker, though, may be John–one of Julia Waneka's human colleagues. John doesn't own a dog, but as Waneka says, "He doesn't need one at Whistle. He has five dogs every day." John and Buster took a particular liking for one another, though. John walks Buster every day, and brings him pet toys back from business trips. Buster recently elected to take a nap under John's desk rather than Julia's. "I'd be lying if I said I wasn't slightly jealous," she says. "But it's nice to know other people like your dog. They're such an extension of your personality."
If Buster's story makes a dog-friendly work policy seem like a productivity sink for your employees, think again, says Waneka. "A lot of research shows that it actually increases productivity," she says. "People stay at work when they don't have to rush home to let their dog out." Also, the camaraderie and levity a dog brings "can increase collaboration and build better bonds between coworkers," she feels.
Also: employees simply need breaks. "If you're not going to really encourage that balance, I think people will find that break for themselves anyway. Better to have it be a shared experience rather than smoking or checking Facebook."