What if you found out the two key ingredients of your favorite beer were puppy tears and powdered Black Rhino horn? That maybe, might, sort of convince you that the means aren't really worth the ends before moving on to a Straw-Ber-Rita.
A new campaign from World Animal Protection and agency BBH London provides this sort of wake-up call for elephant rides, peeling back the curtain on the magical world of the popular holiday treat with a perky new PSA. But perhaps more importantly, the team behind the sad shot of truth is using donations to make its site the top Google search result tourists looking for elephant rides see. The more people donate, the more others will see the campaign, turning the tourists who were the issue into part of the solution.
Read more below about that campaign and the rest of our picks for this week's best in brand creativity.
Note: This video has been temporarily removed.
What: A cinematic portrayal of a stranded soldier, to encourage veterans to call the for back-up when they get back home.
Who: Iraq and Afghanistan Veterans of America
Why We Care: Suicide rates among male veterans under 30 jumped 44% between 2009 and 2011. This action-packed PSA uses the visual language of battle to emotionally illustrate the fears and challenges many soldiers face upon returning home.
What: Virgin America spoofs the bulk of other major airlines with a campaign–including a five-hour-and-45-minute film–for a fictional new airline brand representing the no frills, cattle call, non-purple-illuminated competition.
Who: Virgin America, Eleven
Why We Care: You can't make fun of how incredibly, mind-numbing your competition's flight is from Newark and San Francisco any better than making a commercial that is just as eye-melting boring as the flight itself.
What: A PSA disguised as a real tourist promo for elephant rides that tells the torturous truth behind the popular attractions in places like Thailand, India, Indonesia, and Bali.
Who: World Animal Protection, BBH London
Why We Care: Not only is it smart to use the machinations of online ads and SEO to target its tourist audience, but hearing the reality of how trained elephants are treated in the same tone as a peppy tourism ad, makes it sound like a perfect holiday for sociopaths.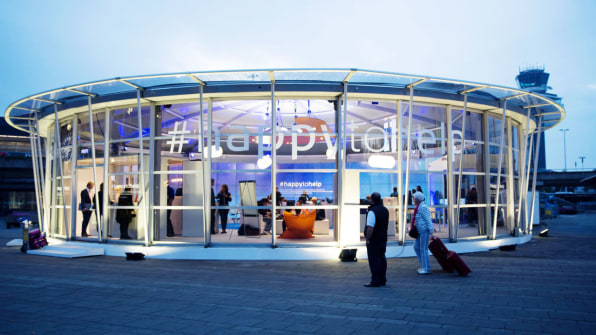 What: A global social campaign aimed to prove the airline has the best customer service in the business.
Who: KLM, DDB & Tribal Amsterdam
Why We Care: The brand has set up teams in travel hubs like Amsterdam, New York, Sao Paulo, and Hong Kong to monitor social channels of KLM customers, but also those flying with competitors. The team is doing everything from offering advice over social media to actual help like retrieving a forgotten passport so someone can still make their flight, and even hired a speed boat on the Hudson River to help out anyone who risks missing a flight–any flight–from being stuck in traffic on their way to JFK. In an era of diminishing expectations among airline customers, this strategy shows a brand willing to go the extra mile.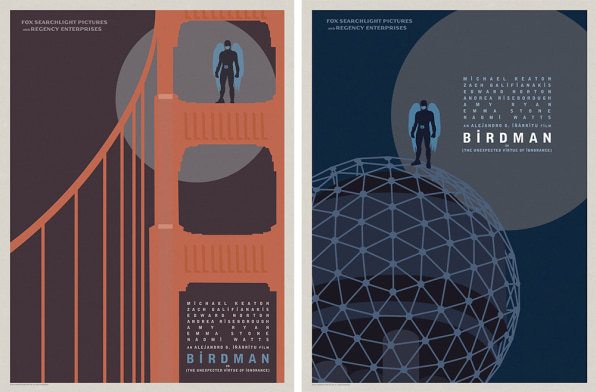 What: A series of non-traditional, stark, and minimalist posters for Alejandro González Iñárritu's new film starring Michael Keaton.
Who: Fox Searchlight, Badass Digest
Why We Care: A unique movie poster is about as common as a unique movie trailer, which is to say it's about as common as a unicorn starring in a character-driven adult drama. But by most accounts, Birdman is a comment on things like identity and Hollywood's obsession with superheroes, and these posters nicely balance between the movie's nod to the title character's blockbuster past and its own artistic storytelling.