For Victor Wang, 27, innovation was born from mourning.
When Wang and his family moved from Taiwan to Canada, he was still a child and his grandmother remained in their native country. Living alone, she became depressed, homebound, and developed dementia. Wang's family couldn't afford an around-the-clock caregiver, which meant guilt and a feeling of failure for him, and a tragic hardship for her.
That experience, combined with Wang's background as an MIT graduate student studying human-computer interaction, led him to create GeriJoy, a company that provides virtual care companions for seniors.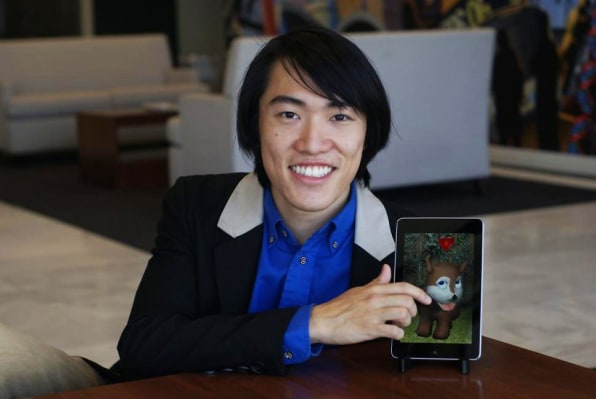 GeriJoy uses an Android tablet with talking pet avatars–voiced by remote caregivers based in the Philippines, where English is an official language–to give seniors constant companionship and 24/7 monitoring. The service is designed to to ease the burden on family caregivers, many of whom struggle to provide ongoing care for a parent who may suffer from cognitive issues like dementia.
GeriJoy, which is based in Cambridge, Mass. and funded by investors, is just one of many tech startups focused on seniors who aren't independent. Technologies like it could help address America's caregiving gap. At least 10 million people over the age of 50 are caring for their aging parents, according to a 2012 study. Thanks to the baby boom, the U.S. population of people age 45-64 will remain flat over the coming years, while the 80 and older population will increase. This will lead to a decline in the population of potential caregivers and increase caregiving burdens for families, hospitals, and nursing homes. Wang and other aging experts say technology can help fill this gap, and do it at a much lower cost. If a human can't provide everyday in-person care, they argue, we need to figure out new solutions.
But is your Nana really going to spend time with a virtual pet avatar?
Wang says the company chose to use dog and cat virtual companions because pet therapy has proven health benefits for seniors, especially those with dementia, such as reducing stress, providing social interaction and emotional comfort.
"It's a friendship and relationship that's much more lighthearted and joyful than what they might have with an adult or human avatar," he says.
Wang founded GeriJoy in 2012 with fellow MIT researcher Shuo Deng. Though family caregivers subscribe to the $249-a-month service, the company primarily targets private-pay facilities such as home care and assisted living providers. GeriJoy's remote staff is trained extensively on how to relate to seniors, and some of them have health care or nursing backgrounds.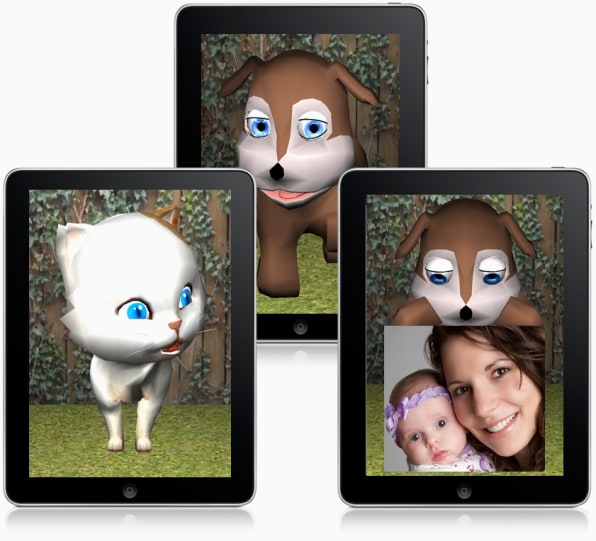 "They can provide any kind of non-physical care," Wang says. "That includes asking them how they're doing, asking them about their life stories, and reinforcing positive memories and friendships." Addressing the isolation that the elderly sometimes deal with is a huge task–depression affects 6.5 million people over 65, according to the National Alliance for Mental Illness.
Remote caregivers also can remind seniors to take their medication and do other health maintenance tasks. Wang says he's tried to make GeriJoy as easy as possible to use. The Android tablet is always plugged in and sits on its own stand. Remote caregivers can notify a senior if the tablet is unplugged and tell them to plug it back in.
GeriJoy is part of the recent spike in tech companies developing a kind of Internet of Seniors: VGo, a New Hampshire company, uses telepresence robots to facilitate in-home health care visits; BeClose uses sensors to track a senior's daily routine and report it to caregivers; and GrandCare uses wireless health devices to monitor a senior's weight, blood pressure, and medication schedule.
Katy Fike, the founder of Aging2.0, an organization focused on innovation in aging, said GeriJoy and other companies show how effective technology can be for caregiving.
"They're a great example of high tech meets high touch," Fike said. "They're using technology but they still have the human component. They've found a way to deliver and scale care and really change the economics [of caregiving]." (In August, GeriJoy was part of Aging2.0's pitch event for startups, which included more than 120 executives, investors, nonprofits, and others in the aging and long-term-care industry.)
Though technology can help address caregiving issues, some doctors say it isn't a cure-all for America's current health care challenges.
"If you don't have human capital, it's a novel substitute," said Dr. Jeremy Barron, a geriatrician at Johns Hopkins Bayview Medical Center in Maryland. "These types of technologies are helpful, but not as helpful as face-to-face human communication."
"Social engagement is very important for people's cognitive function and well-being," he added. "The more we can get older people out of their houses doing enjoyable, meaningful things with other people, the better their quality of life."
Jim Wambach, the CEO and founder of Sensen Elder Care, a California-based aging in place provider, currently has two clients using GeriJoy.
"It provides a tremendous amount of information to the families and to my staff on what's happening when we're not there," Wambach says. "I don't think there's anything that would necessarily replace an in-person visit and that level of eye contact and warmth, but if a person bonds with the avatar, that's certainly a nice addition."
Wang certainly hopes so.
"The ratio of potential caregivers to older adults needing care is constantly decreasing. The way that GeriJoy is solving that is by maintaining that human compassion," Wang says about his remote caregivers. "There are actually plenty of caregivers in the world. They're just not in the U.S."