Eager to prove to non-customers the quality of its customer service, this week (October 13-17), KLM Royal Dutch Airlines is offering help to as many travelers as possible–including those not even using KLM–on and offline, through an ambitious global social campaign called #HappytoHelp.
If you forget your passport on the way to the airport over the next few days, you could find KLM arranging for a driver to take you back home to get it. Unsure, what to pack for that last minute trip to Ibiza? What out for a tailored weather report, courtesy of KLM.
The airline has even hired a speed boat on the Hudson River to help out anyone who risks missing a flight–any flight–due to being stuck in traffic on their way to JFK.
"They wanted us to do a campaign around customer service," explains Pol Hoenderboom, creative director at DDB & Tribal Amsterdam which came up with the idea for the campaign and is now running it.
"In the Netherlands, however, KLM is known for its customer service and being a social brand that's quick and witty. We set out to find a way to demonstrate this through actions to a wider audience."
Starting with the premise that the best promotion for customer service is … great customer service, the agency developed a social media strategy in which KLM would identify travelers' problems by monitoring Twitter and sifting input from KLM ground staff.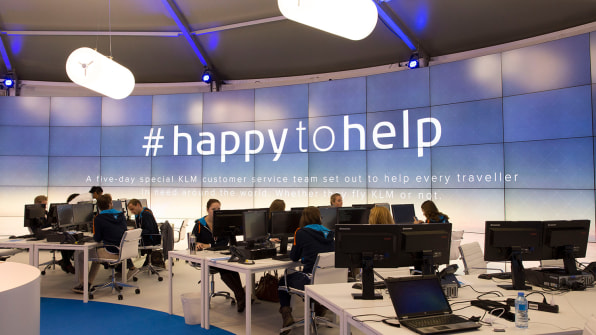 Selected problems would then be solved in a variety of ways, ranging from actual physical intervention–helping someone retrieve a forgotten passport and still make their flight, for example–to providing one-to-one advice or information through social media.
"Imagine the impact if you are now flying with KLM but it is KLM that gets you by motorbike to the airport in Hong Kong to board your American Airlines flight home," Hoenderboom adds.
To make this happen, up to 250 people–comprising KLM customer service representatives and agency personnel–will undertake social monitoring round-the-clock in search of travel problem-related postings over the next five days.
KLM has built a special "command center" for the campaign at Amsterdam's Schiphol airport and additional teams will assist based in New York, Sao Paulo, and Hong Kong.
The airline also has film crews on standby to shoot filmed responses to customers' problems and record footage of the most interesting and unusual problems solved which can be seen on YouTube.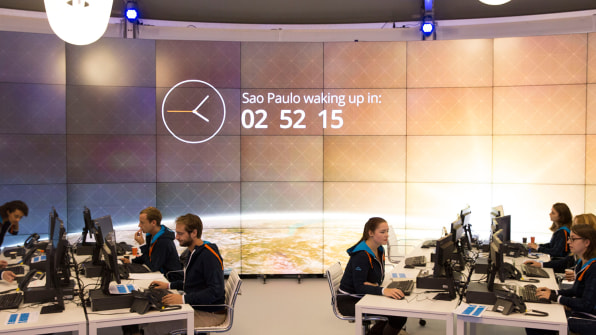 "The biggest challenge we face is that this is so massive and we have no knowledge of anyone having every tried anything like this before," says fellow DDB & Tribal creative director Bart Mol. "How will we do it? The answer is, though we have some idea we don't yet fully know."
While aiming to help as many people as possible a balance will be struck between volume and quality, however.
"This is all about demonstrating through action KLM's superior customer service," adds Mol. "But as important as how many people we help will be the unexpected or unusual problems where, we hope, the magic will happen."
Many brands have started brand newsrooms and DDB & Tribal has created a number, for clients including Heineken and McDonald's."But while others have been focused more on identifying topical content around which a brand can communicate and be witty, this initiative for KLM is all about actions not words–it's all about what we actually do," he continues.
#HappytoHelp is surely one of KLM's boldest social strategies to date–which is saying something, given that the airline is at the forefront of social marketing and customer service.
Recent social activity includes Meet & Seat, an initiative involving KLM passengers making seat choices according to other passengers' Facebook and LinkedIn profiles, and KLM Surprise, a campaign for which KLM gave random surprises to passengers checking in via Foursquare while waiting to board a KLM flight.
Just last month, the airline launched an online video to promote its new lost and found service. Featuring a beagle called Sherlock claimed to be (but not really) the airline's newest employee, the film has notched up 12 million-plus YouTube views since launching three weeks ago.
Live updates of how KLM's latest social strategy unfolds can be found at #happytohelp.