Visitors to the Nissan Europe stand at the Paris Motor Show are being offered a chance to become a rollerblading android by playing "Chase the Thrill," a new VR experience powered by Oculus Rift.
A collaboration between digital specialist D2NA/DigitasLBi France and London-based production company Unit9, "Chase the Thrill" was conceived both to bring alive key features of the Nissan Juke and push VR to its limits, its creators claim.
The idea was inspired by the recent Nissan Juke TV ad "Tested to Thrill," Jean-Baptise Burdin, creative director at Digitas LBi explains.
"It came out of discussions with TBWA for a 360 degree campaign for the Nissan Juke. We saw an opportunity to create an experience for people to feel the excitement of driving and set out to do so an innovative way that would really get their hearts beating," he says. "We wanted to work with Unit9 because of their experience in VR and their directors who understand both interactivity and storytelling–two skills which are hard to find combined."
One of the first decisions to be made was just how the user would interact with the VR experience. The team was keen on a treadmill–allowing the user to walk and run while wearing a VR headset–and chose WizDish: an omnidirectional treadmill platform with no moving parts (other than the user, who moves on the spot while connected to sensors and wearing wears specially designed shoes).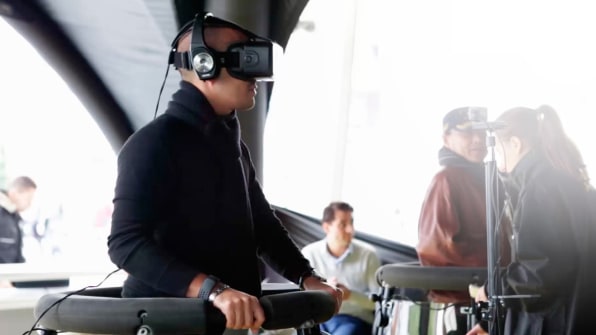 The concept for the experience, in which the user becomes a rollerblading android chasing a Nissan Juke, was developed in partnership with the team at Unit9.
"The vision was for a Blade Runner-esque simulated city environment that would pick up cues taken from the TV ad, such as the distinctive red neon," Henry Cowling, creative director of Unit9's specialist Unit9 VR division, explains. "The android itself is inspired by the design of the car with elements of the brand and model an integral part of its DNA."
Working closely with director Gevorg Karensky, an expert in interactive storytelling, a storyboard was developed plotting the key moments of the experience, for example, when the android jumps and looks down.
"Though we began with a storyboard, the thought process was more like a game's development than a script for TV," says DigitasLBi senior copywriter Anthony Banks.
"You have to think beyond the emotional response to create a whole world, to decide the path the player will take through that world, their role within it, including what form they will take with what abilities and how they will interact with it."
Sets and all components were created using CGI.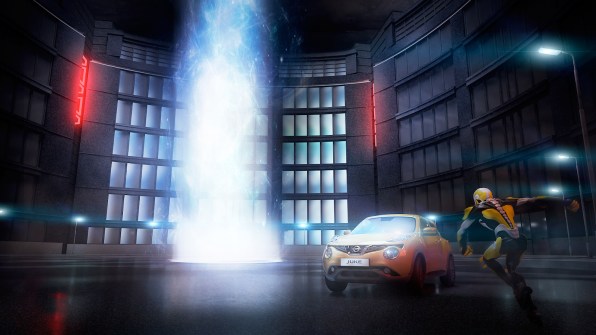 A key difference from conventional production is the extent to which user experience drives narrative, Cowling adds: "It's essential to construct everything according to the user's perspective as theirs is, in effect, the camera's. And you need to take care to ensure the experience does not make them disoriented or sick."
There were a number of technical challenges. "We needed to modify the WizDish treadmill to meet our needs–including the addition of bespoke safety rails–and ended up writing a whole new control system from scratch," Unit9 tech lead Maciej Zasada says.
Furthermore, though work began using the DK1 version of Oculus Rift when the next version –DK2–became available mid-way through production, the team switched, which meant parts of the code had to be redesigned.
It was worth it, though, Cowling insists, for enhancements such as the DK2's addition of positional tracking. "The step up is equivalent to moving from watching a 3D film to being in a room where things actually look as they would if they were real," he says.
Another important aspect of the project's development was exploring how immersion within the VR experience could be deepened by integrating additional technologies, such as wearables, Cowling adds. By wearing wrist monitors, 'Chase the Thrill' participants can compare maximum heart beat and time taken to complete the experience with their friends.
"People come to motor shows to discover new concepts and get excited about the future. That's why with Chase the Thrill we hope to give people a taste of the future of gaming and interactivity," says Nissan Europe head of events Thomas Rodier.
Unit9, however, are confident VR's brand communication experience goes further.
"If, as an industry, we unlock the potential of VR then we will swiftly see it become it as important as the TV commercial," Cowling adds. "But we also believe this technology will be incredibly important to the future development and consumption of all media."
"Chase the Thrill" can be experienced by visitors to the Paris Motor Show until October 19th.