Bo Ren's path to product management at Facebook began as a nervous wallflower.
Bo came to the U.S. at age four where she grew up in Portland, Oregon. She joined Lincoln High School's debate team to overcome her fear of public speaking, dissolving her shyness into curious confidence. In college, she meandered endlessly between majors–philosophy one semester, biology the next–until finally double majoring in economics and psychology with a focus on neuro-economics. She turned down law school to join Sunrun, a solar service startup, as a customer service support rep. Answering calls from customers led her to discover a field called product management.
Bo started on Facebook's Android Core Experience team in August, as part of the company's Rotational Product Management program. She's also a columnist at HerStory and Women 2.0, and writes on Medium about her unconventional career path.
Here, Bo shares her tips and tactics for creativity, and what gets her motivated to start each day.
When you feel uninspired, what gets the creativity flowing?
When I feel like I am doing the same thing over and over again expecting a different result, I reach out to people who are smarter and more creative than me. You never know when you're close to the peak of your mountain so it helps to look to others for reference. Talking to someone who I look up to inspires me to activate my creativity. I like people who challenge my assumptions and point of view. A good debate usually sparks something in me! Friction yields progress.
On a typical weekend, where would we find you?
I am a Pacific Northwest girl raised in Oregon so nature is my oxygen. I enjoy taking my road bike on long rides from San Francisco to Marin, hiking, shooting photography, yoga, and enjoying rejuvenating meals with friends. Find me at Urban Flow for a 9 a.m. yoga class with Rusty (he plays Madonna and JT) or in a woodworking workshop. My latest project is making my own coffee table!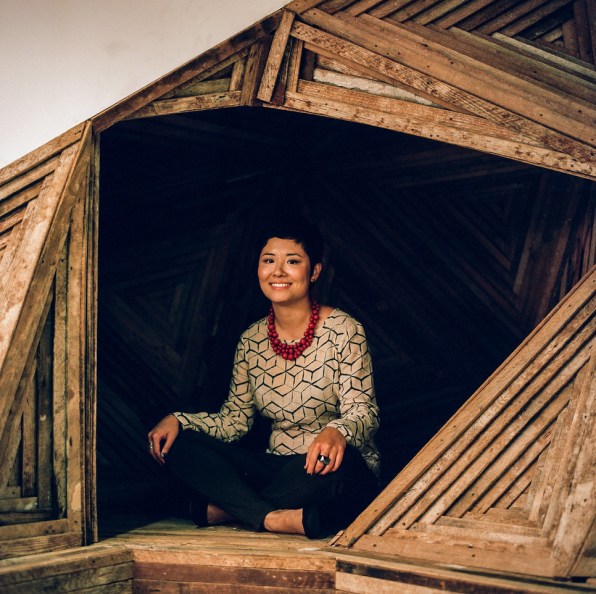 What's one thing that can get you to jump out of bed in the morning?
Good people. Knowing that I can constantly meet intriguing people who inspire, fascinate, and challenge me, helps get me out of bed without coffee. Your happiness is a function of the quality of people you surround yourself.
If you could go back in time and only have five minutes to spare, what would you tell your younger self?
Stop thinking you're inferior to everyone else. Stop living in fear. Relax. Enjoy it.
Is there a hidden side of you that would people be surprised to learn about?
I never feel like I completely fit into any environment. I see myself as neither 100% American or 100% Chinese. I deeply identify with Amin Maalouf's concept of "Patchwork Identities" in his book In the Name of Identity. Like Maalouf, who is a French-Arab-Christian, I sometimes have difficulty reconciling the different aspects of my identity.
Name three things you avoid at all costs.
Complacency, the Hedonic Treadmill, and unhappy relationships.
Tell us about a time you felt accomplished.
I felt most accomplished when I turned down the law school of my choice. Up until that point, my life had been a safe and linear path. Not going to law school was an inflection point towards paving my own path and living on my own terms. Had I not declined law school admission, I would not be where I am now, in an profession that I didn't know existed in college.