Apparel is a multibillion-dollar industry, but its manufacturing and supply chains still haven't been disrupted by technology. And it's not because they work well.
"I think the global supply chain for apparel is an area that is so complex that until this point nobody even wanted to touch it," says Bob Bland, founder and CEO of Manufacture NY, a fashion incubator in the Garment District of Manhattan.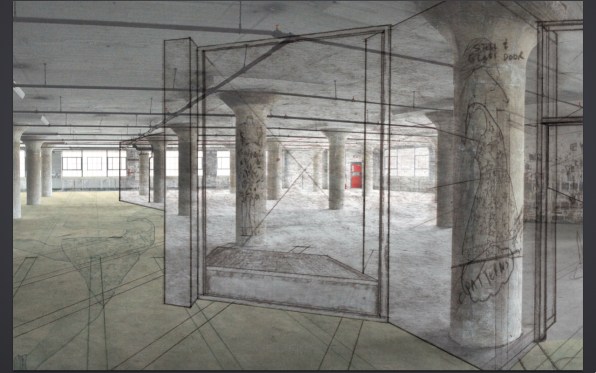 Bland and her team are relocating to an enormous factory space in New York City's next hot neighborhood, Sunset Park, with the hopes of changing all that. If they succeed, it will mean a flood of new independent fashion companies and wearable device manufacturers for the city. By experimenting with small-batch, on-demand manufacturing, Manufacture NY could also produce innovations that ripple out to every company that creates and ships physical goods just about anywhere. It's an incubator that could just as easily produce an Oracle-killer as the next vertically integrated fashion label.
Manufacture NY will have space for companies and individuals building apps, hardware, new textiles, fashion labels, and manufacturing processes. Bio-fabrics and bio-leathers, grown in the facility's wet lab, will be led by the director of the building's tech annex, MIT PhD in tangible media Dr. Amanda Parkes, who just won a Business of Fashion award for her role at Manufacture NY. There will also be open sourcing industrial knitting machines, digital printing, and other tech that most hackers would never normally be able to get their hands on.
And that makes fashion a lucrative place to be hacking right now. "When some people say 'fashion' they mean marketing and retail, but where the money really is," says Bland, "is process innovation." If you can map supply chains throughout the world, then you can figure out more efficient ways to source materials, make and finally ship goods. "That's where huge companies who have tons of money need these solutions and don't have them," says Bland.
Applications for the incubator space, which is being designed by Ole Sondresen, the architect behind Kickstarter's converted pencil factory and Etsy's headquarters here in New York, will begin in early 2015.
"This is a new typology for an office," says Sondresen. "There aren't many manufacturing spaces that are designed, they're mostly built and engineered, so it won't be a typical manufacturing space either; it has the components of incubator space, labs, and offices."
The diagram below is a sketch of the floorpan as it might develop. "We're phasing the buildout to accommodate people from all specialities," says Bland.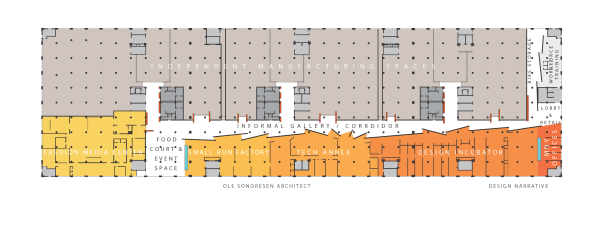 One of the space's flagship machines is a vertically integrated system for mass customization. Fifteen years in the making and created by a company called AM4U, this "system" is actually a group of machines and processes that allow people to custom design, order, and manufacture all sorts of unique garments–on demand, in batches as small as one.
"We'll be using 12,000 square feet to pilot this mini-factory where you can be online anywhere in the world, design a piece, order, and have this automated process produce a pair of leggings in 30 minutes," says Bland.
For companies in residence, spaces will scale from small coworking offices all the way up to for co-located manufacturing floors from 2,000 to 30,000 square feet. The owner of Liberty View Industrial Park, which encompasses Manufacture NY and a total of 1.2 million square feet of total industrial space, is hoping Manufacture NY will help the area become the destination for young designers and creatives now that other industrial centers, like Greenpoint Design and Manufacturing Center, and the spaces at Brooklyn Navy Yards and Army Terminals, are at 98-100% capacity.
The secret to taking these experiments to market is inclusivity, says Bland. "This can't be done over the heads of the industry, because the real commodity in fashion is ultimately relationships with suppliers and manufacturers," says Bland, who created her own label, Brooklyn Royalty, before founding Manufacture NY. "I've seen startups try to do it without cooperating with traditional fashion and manufacturing, but so far they aren't successful."
That's why the Sunset Park space has such an emphasis on so many disciplines. But when working with big fashion companies, that reckless up-all-night feeling that pervades some incubators would send the wrong message.
"Some of these users are manufacturers, some are them are tenants," says Sondresen, "and we're gonna be moving heavy machinery, moving goods in and out. You want to expose all users to a shared experience," he says, "but the challenge is to make that safe, interesting, practical, and efficient."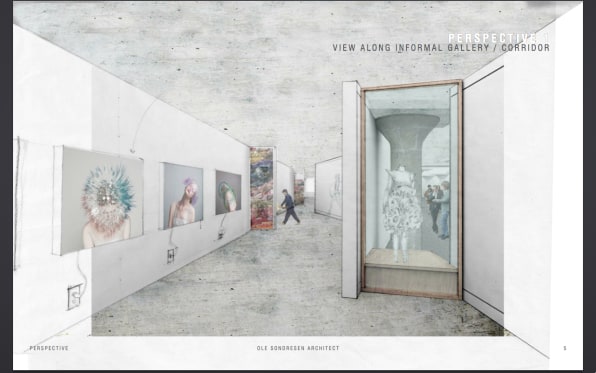 Funding will also be done cooperatively, through a public-private partnership and an SBA Growth Accelerator Fund grant which Bland says is the "beginning of an ongoing financial relationship" with the SBA.
"There's a huge amount of innovation and money waiting for the technologist who comes in and works with the fashion community and takes a fresh look at the supply chain solutions," Bland says. And that money will get funneled into middle class jobs that she says will integrate traditional, artisanal fabrication techniques with technology and embedded sustainability practices.
"The question is not whether it can work," says Sondresen, "It's what does it look like when it's working?"