"We're on our street. We've just started walking on Fairfax Road," says Barry Beck. He and his wife, Marla, are COO and CEO (respectively) of Bluemercury, a $100 million luxury beauty retailer celebrating its 15th anniversary. The key to their successful business, which has enjoyed the same longevity as their marriage? A nightly walk, it turns out–the walk from which Barry and Marla are calling me now.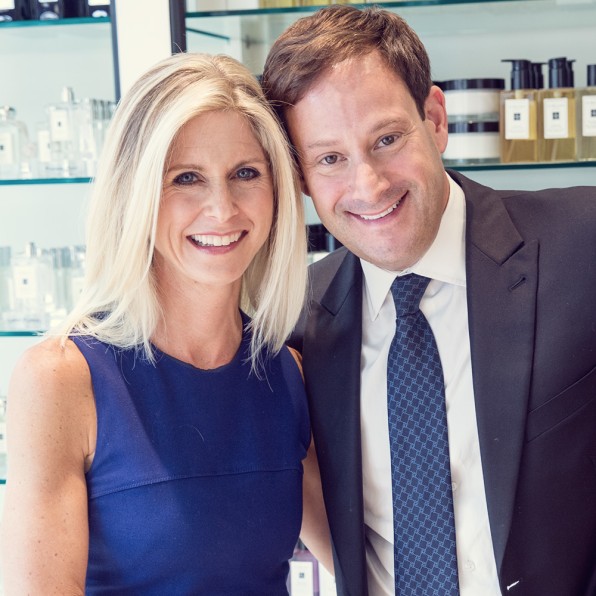 "We started this tradition right when we started Bluemercury, when we lived in Georgetown," says Marla, her voice invigorated from the walk. "We were in the startup phase, with a lot of stress, and we'd walk every night down to the monuments. That's how we blew off steam." Back in those days, they didn't always check the weather reports. One time, they got caught in such a deluge of rain, and had to pull garbage bags out of cans to use as slickers. Another time, they got caught in a lightning storm and had to call friends to pick them up.
The walks bond the two together, keep them healthy, and give them time–at least 20 minutes, often as much as an hour–to puzzle out the business. It was on one such walk in 2000 when the pair struck upon a new vision for Bluemercury, which they had initially intended to be a pure e-tailer. The pair were having trouble getting additional investment. Needing revenue quickly, they decided to open a brick-and-mortar store, pursuing a "clicks and bricks" strategy. Today, Bluemercury has some 60 stores, with plans to hit 100 by 2016.
"We realized on one of our walks that we had to open up a retail store," says Barry. "The Queen of England once said, 'There's nothing that can't be figured out on a good walk.'" It's a nightly ritual, he explains, usually taking place around 10 p.m., after their three kids are put to sleep.
"I just grabbed Barry's sleeve," says Marla, explaining a brief pause over the line. "He tends to get caught up thinking and talking, and forgets to look for cars, so I have to make sure he's not run over."
The walking habit is one they take with them everywhere. Having just opened a seventh store in Manhattan, the husband-and-wife team are frequently in New York. Though they stay in Midtown, they walk to their favorite sushi place in lower SoHo. "Round trip, it's gotta be five miles," says Barry.
They walk nearly every night, though on rare occasions–if one of them is sick, or if severe weather prevents it (they often walk in moderate rain)–they may occasionally miss a night. "I feel like we're missing something when we don't walk," says Marla. "I sleep much better when we walk."
"Now we're on Bethesda Lane," says Barry. "We actually have a store here." Soon, indeed, as they enter a more commercial area of the neighborhood, traffic can be heard coasting around them.
Barry has a habit of seeing business metaphors in their walks. "The other day we were walking and talking about how things were really clicking in our business. The customers are happy, the beauty experts are happy, the landlord community is happy. Everything's going great. And then Marla gets stung by a bee! It was pretty bad, actually. I started to worry she was having an allergic reaction. And it's another metaphor of life and business: Just when everything's going great, you really gotta be prepared, because something's gonna sting you."
In the summertime, when the Becks decamp to a New Jersey beach community, the routine shifts. Rather than set out on their walk at the same time every night, they rely on tide charts (or lately, an app called Tide Chart) to tell them the time of low tide, when the water has receded and the sand is packed tight for optimal walking. Asics are the team's preferred footwear brand. "We have about 20 pairs," says Marla. The Asics begin their lives as running shoes, then get demoted to walking duty, before finally ending their service as beach shoes.
The pace at which they walk also serves as a barometer for their stress levels: Barry knows something's on his wife's mind if she's inadvertently power-walking; Marla knows Barry's consumed with work if he's dragging his feet as he sends text after text.
"Now we're on Wisconsin Avenue," says Barry, referring to a major Bethesda thoroughfare. "It might get noisy." Passing luxury condos under construction, Barry begins to muse about how cheap it has become to borrow money, fueling developments like these. "It's a funny thing for a husband and wife to talk about, but this makes us think about the cost of capital. The market's long overdue for a 20% correction. We look at these buildings and say to ourselves, 'Does this thing get finished?'" And if it doesn't, how does that affect Bluemercury? (It's a business-minded family, to say the least. Barry says his nephew's first words to him were, "Markets fluctuate.")
It's not the only time their walking environment has influenced their business strategies. On one walk through downtown San Francisco, the pair got to talking about The Gap (which had corporate offices nearby). Analyzing The Gap's decision to move from third-party brands to creating goods of their own, the Becks realized they wanted to make a similar move with their own business. The result was a Bluemercury moisturizing product, M-61.
They don't only talk business, though. They catch up on their marriage, they talk about their kids, they talk about their passions (tennis for her, golf for him). "We're sounding boards for each other," says Barry. "It's almost psychiatry. We know and respect and admire each other so much."
And if they didn't walk? "I would just feel like something was missing," says Marla. "Don't you feel the same way?" she asks Barry.
"It's a critical time for us. This is our time," he concurs. "Other people say, 'Friday night is date night.' We don't have that. Date night is every night, walking and talking. It's kept us in a happy marriage with a successful business with healthy kids."
There's a pause, then the sound of a scuffle. "She's holding me again," says Barry, explaining that he'd almost walked out blindly into the middle of the street again.
Then, Barry and Marla arrive back on the street where they live. "Now we can see the stars in the sky," says Marla. "We're almost back to our house."
One night, they did the math: three or four miles a night, roughly six nights a week, more than 15 years: They'd nearly walked halfway around the world. "We talk about how we hope in the next 15 years of our life, we finish our loop around the world together," says Marla.