Volvo is looking to challenge the conventions, and clichés, of car advertising with "The Swell," part of a new global campaign for the Swedish carmaker which breaks this week.
The commercial, for Volvo's XC60 model, features a woman night surfing. "We set out to communicate the car is dynamic and responsive without resorting to simply making just another ad with car driving down a mountain road. The idea we came up with is all about seeking feeling," Grey London global creative director Hollie Newton explains.
The challenge was finding a way to present this which would be both immersive and engaging. Night surfing offered a powerful visual image as it is an activity during which all senses are heightened.
The shoot, however, was not without its challenges.
Filmed in August, the spot required a location that both looked Swedish and offered the right combination of weather, moonlight and tidal conditions. Durban, South Africa, had all this and more.
Filming was highly technical–shot on, in and through the water–and took two nights from late afternoon to post-sunset as some light was needed for the through and underwater filming.
"Shoot underwater at night and all you see is darkness. So these shots were filmed in lighter conditions then darkened by grading down in post-production," Newton says.
"Shark trackers and shark nets were also a must as there is a high risk of shark attack on that coast, especially after dark."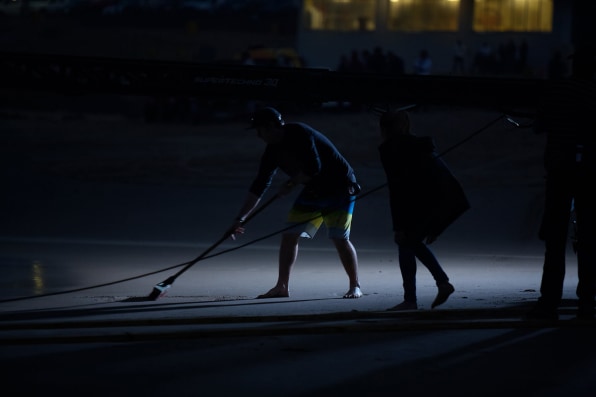 "The Swell" was directed by Marcus Söderlund through Academy. Director of photography was André Chémétoff. Underwater DoP was surf film supremo Allan 'Willy' Wilson. The surfer featured in "The Swell" is Cape Town resident and experienced surfer, 46-year-old Lysette Forsyth.
The ad, Grey London's first work for Volvo since winning its account, marks a more visceral creative approach for the Swedish car brand.
"There's an interesting tension between nature, humanity and technology that feels very Volvo," Newton adds. "Going forward, this will be a key feature of our work."