Weird how the thing that happens on the last day of a month can come to define the whole month, but that's certainly the case with October. We have now entered the thirty-one days in which your chances of hearing words like "shocktober" and "spooktacular" go up about 1000%. Rather than being scared of this candy-clotted swath of Autumn, however, you should embrace it like a sugar-starved Tribeca child who somehow got hold of a Snickers. Because in addition to delicious chocolate and rumored goblins, October also has a lot of entertainment options that are pushing the boundaries of creativity. In order to help you separate the worthwhile from the time-wasters, Co.Create has prepared a ghoulish guide to the most promising movies, shows, albums, and other fun stuff coming your way this October. (Actual ghoulishness may vary.) All treats, no tricks, and far fewer Halloween-related puns than this introduction would suggest.
Anabelle, opens October 3. Remember that creepy doll that seemed kind of pointlessly shoehorned in amidst all the other creepy goings-on in The Conjuring? Well, its name is Annabelle, and this is her spinoff movie.
Gone Girl, opens October 3. Spoiler alert: even if you know the Big Twist in this thriller starring Ben Affleck and Rosamund Pike, there is so much going on beneath the surface that you won't be able to look away–or look at your wife or husband the same way again.
Whiplash, opens October 10. Fast-rising star Miles Teller, excellent in 2013's The Spectacular Now, plays an eager jazz drummer under the harsh tutelage of J.K. Simmons, about whom we are not j/k-ing when we say we love him. It's an intense film that caused a stir at Sundance this year.
St. Vincent, opens October 10. Bill Murray plays a late-period Bill Murray-like war vet who befriends the young son of a neighbor played by Melissa McCarthy. Murray and McCarthy!
Birdman, opens October 17. No, it's not a biopic about Cash Money Records rapper Birdman. Instead, Michael Keaton stars with Edward Norton and Naomi Watts in a surreal meditation on what comes after fame. Inherent Vice aside, this sharp left turn for Babel director Alejandro González Iñárritu is many cinema snobs' most anticipated film of the year.
Fury, opens October 17. Not content with having fought Nazis to great effect in Inglourious Basterds, Brad Pitt stars in this film about an army Sergeant leading a 5-man tank crew behind enemy lines in Germany at what would prove to be the end of WWII. Jon Bernthal, formerly of The Walking Dead, co-stars alongside noted performance artist Shia LaBeouf.
Dear White People, out October 17. Writer/director Justin Simien raised funds for his passion project about black students at an Ivy League college with a successful Indiegogo campaign.
Force Majeure, opens October 24. This Swedish film about a family on a ski trip facing down an avalanche won a Jury prize at Cannes this year.
Nightcrawler, opens October 31. Your favorite actor Jake Gyllenhaal continues his string of interesting roles off the beaten path by playing a freelance crime journalist who gets tangled up in some nasty elements of nocturnal L.A. Gyllenhaal lost a lot of weight to play the role, but don't worry–he's still way more handsome than most skinny journalists.
Fishing Without Nets hits theatres and VOD through Vice Films in October. Director Cutter Hodierne first debuted this stylish story of Somali pirates at Sundance in 2012 and won the Grand Jury Prize for Short Film. As a feature back at Sundance this year, it won the U.S. Dramatic Competition Best Director award.

Caribou – Our Love, out October 7. Kaleidoscopic retro-rocking one-man band Daniel Snaith returns with his first Caribou album in four years.
Johnny Marr – Playland, out October 7. Long-ago Smiths guitarist and current day badass Johnny Marr takes a break from temporarily joining other bands (Modest Mouse, The Cribs, etc) for a new batch of solo tunes.
Jessie J – Sweet Talker, out October 14. All Jessie J wanted to do was make the world dance. Now that she's done it, you can hear what the singer is up to now.
Mary Lambert – Heart On My Sleeve, out October 14. The general consensus on the Grammy love Macklemore's "Same Love" received seemed to be Macklemore should go away, but hooray for Mary Lambert! Perhaps the songwriter will capitalize on that well-earned goodwill with this new album.
OK Go – Hungry Ghost, out October 14. When they're not making crazy-viral videos or devising apps, OK Go likes to go into the recording studio and do songs in album-form.
Thurston Moore – The Best Day, out October 21. The former Sonic Youth frontman and husband of her majesty Kim Gordon, Moore continues his prodigious non-ic Youth output with this new solo project.
Lil Wayne – Tha Carter V, out October 28. 10 years ago, Lil Wayne was a young rapper of very little regard. Five years ago, he was one of the most popular musicians in the world, and just beginning the autopilot mode he has enjoyed ever since. Considering that The Carter V is supposed to be his final album, though, we're expecting big things.
Run The Jewels – RTJ2, out October 28. Last year's collaboration between the most aggro producer/rapper out there, El-P, and Southern dynamo Killer Mike, has already spawned a sequel. May it be equally thrilling!
She and Him – Classics, out October 28. Zooey Deschanel takes a rest from breaking hearts on The New Girl to break the hearts in your earholes with the latest from She and Him, her ongoing music collaboration with M. Ward.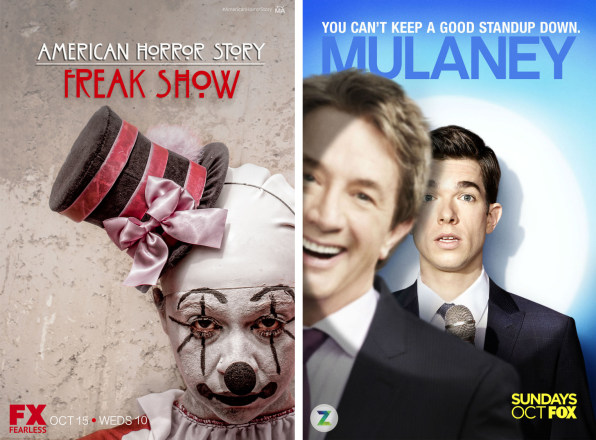 Former Saturday Night Live star Bill Hader, currently killing it in theaters with The Skeleton Twins, comes back to the show as a host on October 11. Expect the return of Vinny Vedecci, Vincent Price, and some bro named "Stefon."
Stalker, October 1 on CBS. Detectives track down all manner of stalkers for the LAPD in this new series created by Scream writer and Dawson's Creek-doer Kevin Williamson.
Bad Judge, October 2 on NBC. If you saw the movie Bad Teacher and thought, "Oh man, why can't this be a similarly titled show about a judge starring Kate Walsh," executive producers Will Ferrell and Adam McKay are way ahead of you.
A-Z, October 2 on NBC. Sure, this sitcom is centered around the very sitcom-y romance betwixt someone named Andrew and someone named Zelda–hence the awful title–but Ginsberg from Mad Men (Ben Feldman) stars, so A-Z gets the benefit of the doubt. For now.
Mulaney, October 5 on Fox. John Mulaney is a master stand-up who turned out to be one of the most talented young writers to land on Saturday Night Live in years. This sitcom he created and stars in is anchored by Elliott Gould, Martin Short, and Nasim Pedrad. So why does the preview fill me with such anxiety? Here's hoping this show ends up worthy of its creator.
The Flash, October 7 on The CW. Superheroes! On TV! That couldn't possibly go wrong or boring!
American Horror Story: Freak Show, October 8 on FX. Probably the coolest aspect of this show is that it resets every season, starting over with mostly the same cast, but a completely different milieu. Since we've already done haunted house, insane asylum, and witch coven, there was no place to go but clown town: the circus!
Jane The Virgin, October 13 on The CW. This loose adaptation of a Venezuelan telenovela, since relocated to Miami, is about the accidental artificial insemination of a woman who'd been saving herself for marriage. Color us intrigued.
World Series, late October on Fox. Watch it with your dad and get angry in his honor whenever the team he likes does bad!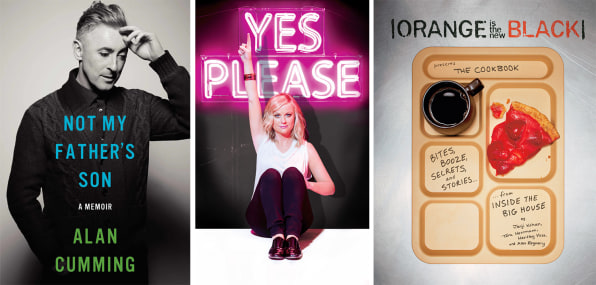 Alan Cumming – Not My Father's Son, out October 7. If Cumming is half as captivating a memoirist as he is a performer, this will be one hell of a read.
Marilynne Robinson – Lila, out October 7. The Pulitzer Prize-winning author keeps her streak of graceful, poetic novels with one-word titles alive with another deeply religious work set in the town of Gilead.
Colm Tóibín – Nora Webster, out October 7. The latest from irish literary star Tóibín follows a widow and mother of four, as she makes her way through the haze of grief to build a life for herself and her children.
Thug Kitchen Cookbook: Eat Like You Give A F*ck, by the creators of the popular website, out October 7. Are you a lazy fuck when it comes to cooking healthy, veg-filled meals? You're doing it wrong!
Jenji Kohan – Orange Is The New Black Cookbook, out October 14. "Prison Punch" is but one of 65 recipes included in this companion book for the popular Netflix series about being trapped in a women's prison with lots of backstory.
Amy Poehler – Yes, Please, out October 28. Walk right up to your nearest seller of fine books and when they ask if you'd like to purchase this collection of stories, thoughts, ideas, lists, and haiku, just say the title.
William Gibson – Peripheral, out October 28. Have you ever considered that the future might be scary? That is something you have in common with William Gibson! His follow up to Zero History is about a high-tech game that might be more than a game. (It's more than a game.)
Nuruddin Farah – Hiding in Plain Sight, out October 30. The acclaimed African author's latest is about a woman who travels to Nairobi to look after her recently killed half-brother's children–that is, unless their chaotic estranged mother intervenes.

National Ships in Bottles Day, October 4. Take a ship and stuff it into a bottle like there's no tomorrow!

Evaluate Your Life Day, October 19. Or as I like to call it, "Sunday."

National Cat Day, October 29. Because you never know when cats will be made illegal on the Internet and you'll never see them again.
Did we miss anything that you're totally stoked about? Enlighten us in the comments below.