The pirate ship arrived at dusk.
Maneuvering into Kidsville, the children's camp at Burning Man, the vessel picked up some three dozen exuberant youngsters and parents and "sailed" them a mile and a half into the deep desert playa. The Xylovan (a vehicle encased with playable xylophones) and Mars Rover Art Car (a replica of the Curiosity rover that blasts music and blows fire) followed, garnering whoops and cheers from passersby.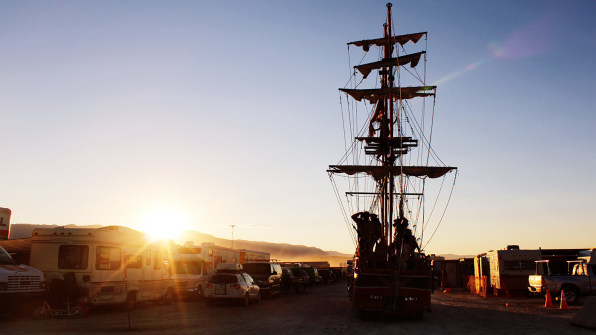 The kids disembarked to a crew wearing orange NASA-themed jumpsuits and bearing scientific wonders: a 4.5 billion-year-old meteorite from the asteroid belt and "anti-gravity" demonstration of Lenz's Law, where an aluminum tube slows the fall of a strong magnet.
But the pièce de résistance was the Black Rock Observatory (BRO)–two 21-foot domes housing a 20" telescope for nighttime viewing, and white light and h-alpha solar telescopes.
"Who wants to see Saturn?" yelled "Major" Tom Varden, a Lancaster, California, photographer and artist, who spearheaded the BRO. The hands went up. "Meeeee!"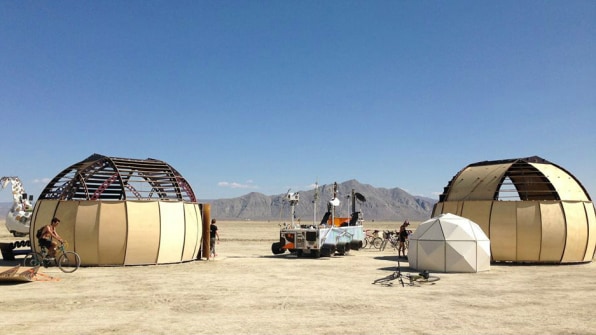 Space-themed installations and lectures occasionally dot Burning Man–a 70,000-person end-of-summer bacchanalia in Nevada's Black Rock Desert known for its technology-infused art. But this group–billed as the Desert Wizards of Mars–is unique in its concerted effort to bring space science education here in a big way. An 80-member team from seven countries, they include builders, designers, and machinists, not to mention an accountant, architect, marine biologist, and four NASA scientists and engineers (though NASA is not affiliated with this project).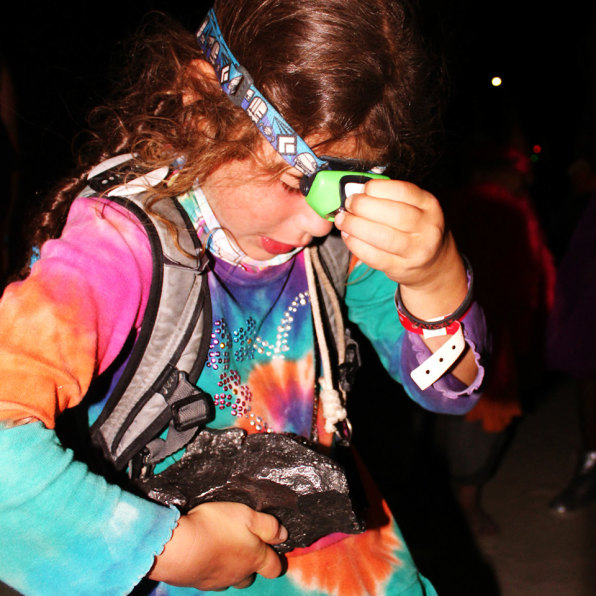 "We're trying to raise awareness," said "Admiral" Charles White, a knowledge manager at NASA'a Jet Propulsion Laboratory in Pasadena, California, who organized the building of the Mars Rover Art Car, also called MRAC or "Dustiny" (a play on playa conditions). "I was very alarmed by how many people still believe the sun goes around the earth, according to a recent study by the National Science Foundation. That ignorance is still out there. A lot of people see science as stuffy, but it's not. How else can we explore the planets? I want to convey to the public that science can be fun."
Burning Man is a perfect setting for this message, because its installations involve so much technology, he added. "The LED lights, the structures, sound–you have to know science to pull off this art."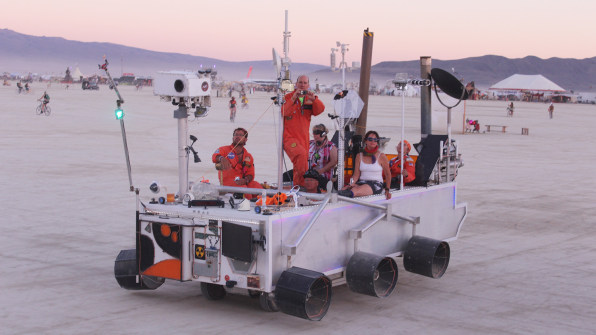 MRAC debuted at Burning Man last year–inspired by Curiosity's successful 2012 landing on Mars. "From that moment, I decided to build a Mars rover art car as a probe to beam Burning Man back to the world," says White.
The art car is a translucently encased modified Cushman work truck with a tight turning radius, outfitted with LED lights, sound system, seven cameras (including night vision and infrared), laser range finder (which determines distance to an object), NOAA-registered weather radio station, high-gain VHF and 5 GHz dish and omnidirectional antennas, and a rocket stove rigged to blow fire out of smokestacks and cook grilled cheese sandwiches.
The antennas enable Internet transmission. "Our purpose was to broadcast Burning Man art and science onto YouTube and Ustream for people who couldn't make it," said White. Their 2013 live webcast of the Man burn garnered thank-yous from around the world. "We heard about a man in Haiti who ran two miles home to watch when he heard we were broadcasting."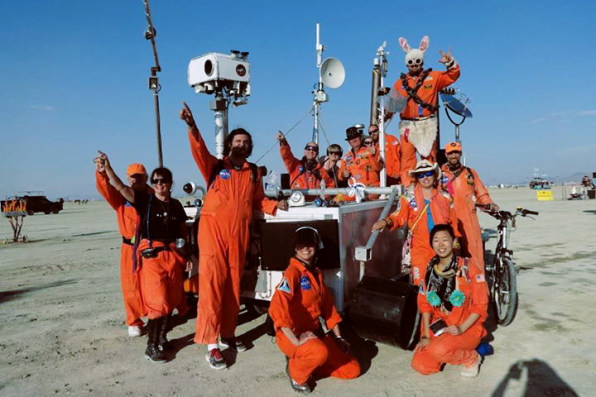 Varden, meanwhile, began percolating on the idea of an observatory after his first burn in 2011. "Burning Man is a city whose primary export is inspiration and awe, and there's an imperative to give back," he said. "I knew at least it would be me and my telescope in deep playa blowing minds one at a time. But then the idea caught on and resonated with a lot of people."
Culver City, California, architect Gregg Fleishman, who designed Burning Man's Temple of Whollyness last year, devised the BRO domes. Michael Risch, a professional observatory builder from Munich, Germany, helped provide telescope accessories and operate the telescope. The wooden structure uses no nails, but fits together with slats and pegs, takes six to eight hours to erect and dismantle, and lies flat for transport. Varden supplemented the project's roughly $38,000 cost through a Mount Wilson Observatory viewing party fundraiser, a Kickstarter campaign, and money from Maui Makers, a Hawaii maker space with a DARPA grant for space promotion projects through its SpaceGAMBIT program.
"I've wanted to share the planets and space with Burning Man kids for over two years," said Varden. "It's been a lot of work and a long road, but I couldn't be happier to give back to the city a little bit."
The Desert Wizards' space education efforts also extended beyond BRO and MRAC, into other Burning Man arenas. Matthew Reyes, a.k.a. Motorbike Matt, a technology strategist for Ames Research Center in Mountain View, CA, spoke at Phage, a science camp running nightly lectures, about do-it-yourself space exploration and NASA's attempts to engage makers and creative problem solvers.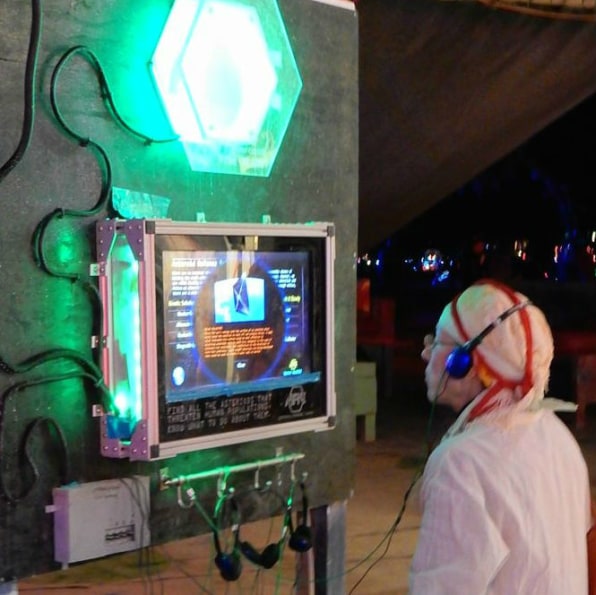 Jerry Isdale, Maui Makers founder and SpaceGAMBIT project director, also set up the Asteroid Response Center in Center Camp, the event's main hub. Designed to help promote NASA's Asteroid Grand Challenge to find and divert asteroids threatening Earth, ARC featured an interactive electronic kiosk teaching people about asteroids and threat they pose.
"We're trying to get builders, makers, and citizen scientists involved in finding easier ways to track them and divert them from Earth, or capture them so we can mine them and use them to build more space stations," said Isdale.
These projects are already making real world appearances: MRAC at regional burn and rocketry events, BRO at the Sept 12 Kickstarter Film Festival in LA, and ARC at the Sept 20-21 World Maker Faire in New York.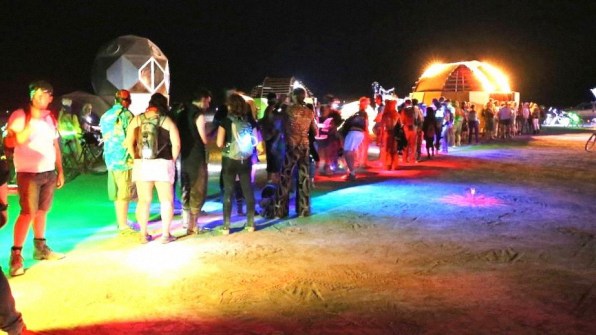 But as this particular evening wore on, the ship returned the exhausted children to their camp. MRAC began webcasting live science talks by several Desert Wizards, while the BRO viewing lines grew to over an hour's wait.
"A big part of what we're doing out here is educational outreach and showing people that they can get involved and do more," said Isdale. "Hopefully we've inspired a few of the kids who were just here to get more involved in space, and we can get more builders and twentysomethings caught up in it as well. I already heard from a kid who saw the Asteroid Response Center last night and decided he was going to go back to school to learn about it and do something with it. I count that as a major success. To hit one kid like that, that's beautiful. That says we're on the right track."