Shooting for eight weeks in the desert, director John Curran had no problem putting Mia Wasikowska through her paces for Tracks, which tells the true story of Robyn Davidson's 1977 trek across 1,700 miles of Australian outback. However, another one of the film's stars presented unexpected challenges, Curran says, "The baby camel had issues."
That would be Mindie in the role of "Goliath," one of four camels who accompanied Davidson on her trip. "That scene where the baby camel's feet get burned in the fire and Mia had to wrap its feet? That really happened on the last day of shooting," Curran says. "I filmed Mia taking care of Goliath and after that, the camels just refused to walk any more so I made a little moment out of it."
For the most part, Goliath, Bubs, Dookie and Zeleika took direction well, Curran says. "I'd never worked with camels before so I didn't know what to expect. Robyn hooked us up with camel wrangler Andrew Harper and he delivered four amazingly distinct camels and their doubles." The quartet's alpha male, for example, could growl and snap on command, then revert to "pussycat" demeanor, according to Curran.
"Picking stuff up and walking through the desert is what these camels do for a living, so for them the shoot was easy. You'd load them up and tell them to walk for a mile. They'd do that, then come back and stand around waiting for their next scene. They looked to me like chilled out Zen monks. When we finished for the day, they'd walk 20 miles through the night to the next location and meet us there in the morning."
In real life, Davidson spent two years working with camels before she embarked on her expedition. Wasikowska had three days to hang out with her cast mates and learn commands like udu which means stop, ibna (stand) and hoosh (sit).
New Yorker Curran back-packed around Australia on a lark when he was in his mid-twenties, the same age Davidson had been when took off for her nine month walkabout. As a filmmaker, his fondness for the great outdoors found expression when he shot remote regions of China for Naomi Watts and Edward Norton's lush 2006 Painted Veil period piece. He says, "When you go out to beautiful places, it's pretty easy to just shoot 'em and make it look beautiful. If you bring a camera crew and a really good cinematographer to photograph, that's a real joy."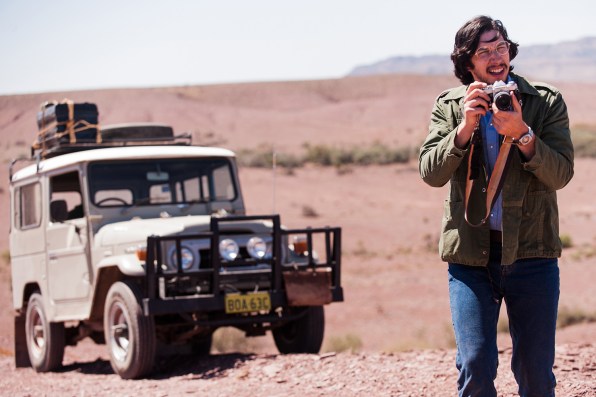 Inspired by pictures of the expedition taken by National Geographic photographer Rick Smolan, played in the film by Adam Driver, Curran insisted on shooting Tracks on film. "Everyone accepts that film is a dying medium and more than anything, that was probably the reason I wanted to shoot Tracks on film," says Curran. "If this is going to be my last movie shot on film, I want to go out on something I feel really proud of visually."
As visual reference, Curran and cinematographer Mandy Walker looked to 1971's Walkabout, David Lean's epic Lawrence of Arabia, and paintings by Australiain landscape artist Sidney Nolan. "Somebody could have shot a digital version of the story, hand-held, run and gun, with four people in the crew but I wanted to have the texture and scope and quality of movies from the period when the story took place, in the 1970s," says Curran. "That meant we were going to need a pretty decent sized group of people. "
Curran spent weeks scouting scenic vistas that matched up with descriptions in Davidson's book. "After we got all the locations nailed down, the most difficult thing on the shoot was getting out there every day. You kill your shooting time driving and everyone's exhausted and dirty after these these bumpy rides, so by the time you arrive you don't have a lot of hours left in the day because you're chasing the sun. We were working faster than I've ever worked before.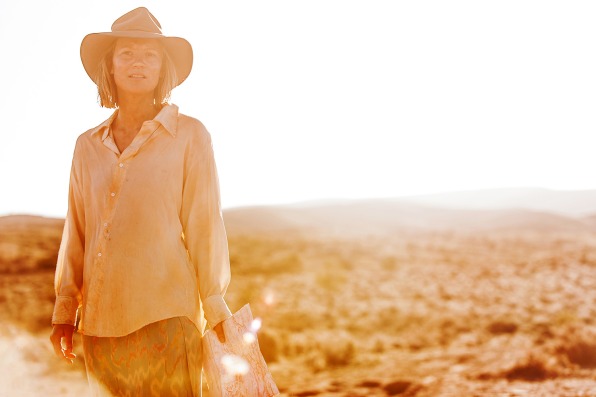 Curran frequently showcases Wasikowska/Davidson, her dog Diggity and the camels isolated against desert sky and sprawling landscape. The illusion of seclusion required painstaking coordination, he explains. "We'd drive a dozen vehicles out to the shoot–big grip trucks, caterers, the ports-potties, power generators, you've got to haul everything out there and put up a tent so people can eat lunch and get out of the sun, the wardrobe wagon, etc. (Since you're) determining your angles based on natural lighting you get from the sun, if you turned the camera too much, you'd see all the guys and their crap and their equipment in the frame. I spent a lot of time waiting for people to move their cars out of the shot."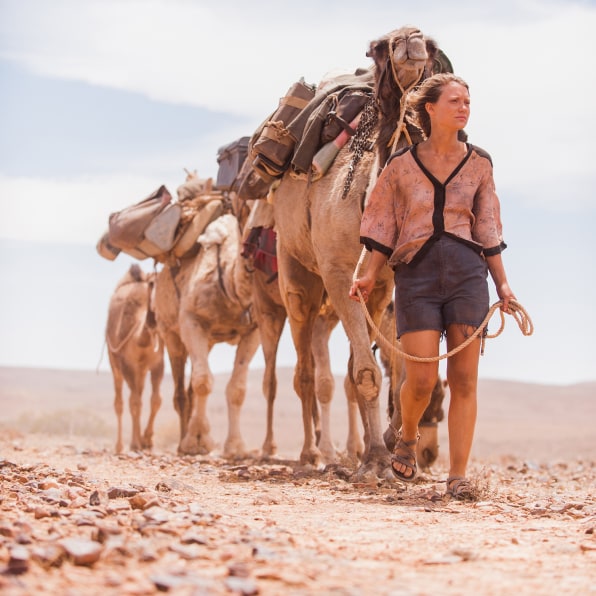 Davidson's journey, recounted first in a 1978 National Geographic spread and then in her 1980 bestseller Tracks, lacks the classic three-act structure expected from a Hollywood movie. Curran added dramatic heft to the story by including information he'd learned about Davidson's tragic family history to help explain the character's profoundly anti-social disposition.
The film also gets an infusion of energy with the entrance of Mr. Eddy, played by Aborigine non-actor Rolley Minutma. Curran says, "In the book there's a much bigger component where Robyn talks about the plight of Aboriginals during that period," Curran says. "Instead of getting wrapped up in the politics of the situation, the way I came at it was to show Mr. Eddy not as a representative of a diminished culture but simply as a human being. There's a lot that's explicit in the book that's implicit in the film."