InTouch, a long distance communication device which uses light and touch rather than video calling to deepen emotional connection, and BreathingStone which generates music from a user's heart rate to combat stress, are among a collection of Internet-of-things prototypes which were unveiled September 17 at the London Design Festival.
The objects–commissioned for an initiative called Objects Sandbox–are intended to broaden debate in the countdown towards 2020 when 50 billion things will be connected to the internet, according to one recent estimate.
The initiative's aim is to explore new questions around material culture and the shape of the experiences and interactions we have with our physical and virtual worlds.
"We want to re-balance the debate around the IoT and connected technology by re-focusing attention on softer issues, such as what will make these next generation products useful, magical or beautiful," Objects Sandbox producer Tom Metcalfe explains. "The concepts explored and questions raised are therefore as important as the products themselves."
Two of the connected products, for example, challenge widely-held assumptions around the power of screen-based video-powered storytelling.
Reflector, designed to more intimately engage children with historical objects, allows users to hear or print out fragments of information simply by tilting the object with the shake of a hand to learn more about an object and to assemble its story themselves.
Curpanion, meanwhile, is a personalizable device conceived to unlock the stories behind neglected museum taxidermy. As well as allowing access to digital content–including the sounds of the stuffed creatures on display–users can use the device to curate their own menagerie.
Other Objects Sandbox prototypes on display will include a piece of jewelery designed to allow fans to explore the connection between a favorite piece of music, TV show or film and the places they visit and The God Article–a connected musical instrument with touch and breathing sensors that allow musicians to improve their playing through distance music learning.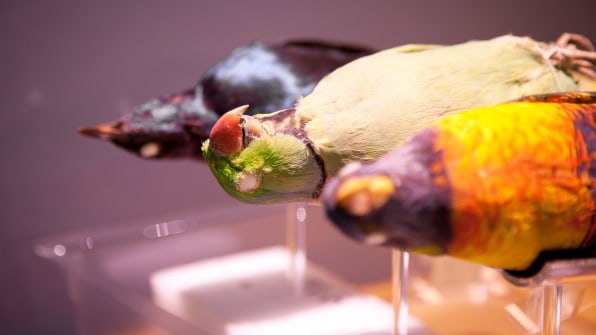 All six prototypes were developed in just three months by multi-disciplinary teams from across the UK–each comprising academics, creative and tech entrepreneurs whose expertise spans fields as diverse as geography, music composition and coding.
£50,000 in development funding for each was provided by Research & Enterprise in Arts & Creative Technology (REACT), a collaboration between the University of West England, Bristol creative center Watershed and the universities of Bath, Bristol, Cardiff and Exeter.
"All of the IP associated with the prototypes is retained by the creative companies involved in each to further exploit," Metcalfe says.
"Though the funded developed phase is now over, we will continue to help with other support–in raising follow-on funding, for example–in the hope that at least some of these Internet-of-things product prototypes will become marketable products in the real world."
Objects Sandbox Showcase runs from September 17 to 21 at Christie's, London.